Email is one of the most popular and oldest practices to communicate with the people through the internet. Now-a-days, almost every person uses email for business or personal purpose to communicate with others. As email communication changed day-by-day, so you must use the latest forms of email to connect with the people easily, safely and quickly. So, if you are the owner of an Android phone or tablet, you can use these devices to connect with the people easily and quickly through the email.
There are thousands of free and premium email apps available for Android devices. You may not taste all email apps that can help to increase your productivity. So here, I'm going to share some best email apps for Android in this post. All email apps in this post come with several features and functions and also you can use these apps for free.
Best Email Apps for Android
Inbox by Gmail
The Inbox by Gmail is one of the most popular and free email app for Android, which comes with several features. You can use this app for free to take control on emails easily and quickly. This app will help you to organize your inbox, get important mails first and increase your productivity easily. This is a best email app for those people who use Gmail heavily for business purpose and can manage their emails with several advance features.
The Pros
Highlight option helps to get the most important information without opening the message
Get and open similar messages quickly
Reminder option
Built-in search option helps to find the important mail quickly
Integrate with Gmail
The Cons
Not good to handle multiple email accounts
Not good enough for business purpose
Microsoft Outlook
The Microsoft Outlook is a pretty good email app for Android phone and tablets. This is an official email app from Microsoft to make your life easier and increase productivity. You can use and manage multiple Outlook, Gmail, etc. email accounts with this app. You can also attach files from OneDrive, Dropbox and emails directly.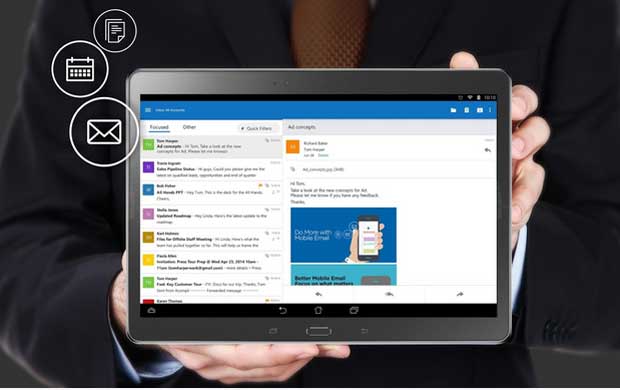 The Pros
Automatically short your mails based on importance
Easily delete, archive or schedule mails
Built-in calendar
Create and organize meeting schedule
Search option to find important message or contacts
The Cons
Slower than Gmail
Not user friendly for business use
Gmail
The Gmail is the official mail app from Google, which is another best email app for Android phones and tablets. The user friendly interface of this app helps to save your time and keep your message safe. The latest version of this app comes with simple and elegant design. The app also integrates with Google Now and Drive to increase user experience and productivity.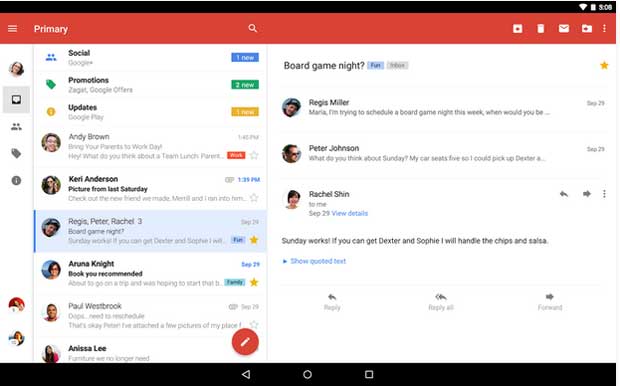 The Pros
15GB of free storage
Use multiple email accounts including Gmail, Outlook, Yahoo, etc.
Keep your inbox spam free
Short your mails automatically in various categories
Two step account verification and recovery option
The Cons
Several users find difficulties with the sign-in option
Mailbox
The Mailbox is a free email app for Android, which is developed by Dropbox. If you use only a free email client then this is a best option for you. With the simple and beautiful interface, you can send and receive emails fast with various features. You can easily swipe message to archive or delete when you want. As the Mailbox, check your mail from the cloud, so it delivers mail to your phone safely.
The Pros
Create email schedule
Scan for mail and conversion
Snooze email option
The Cons
Only available for Gmail and iCloud email accounts
myMail—Free Email Application
The myMail is another free and best email app for Android, which support all major email services. This app helps to keep your mails safe and secure by filtering spam mails automatically. Just login with your email user and password and your mail app is ready to use.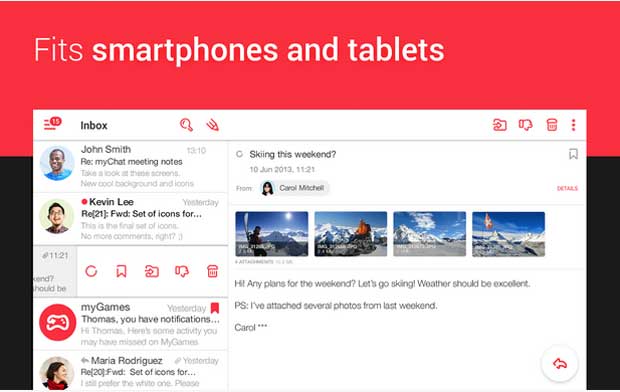 The Pros
Support Gmail, Hotmail, Yahoo, AOL, Apple, my.com etc.
Built-in real time notification
Easy navigation
Create email signature
Organize your mailbox
The Cons
Some users find difficulties to set-up IMAP and POP3 email accounts
Aqua Mail – email app
The Aqua Mail is a popular and a free email app for Android to use almost all popular email service. This app support Exchange and IMAP accounts as well as POP3 accounts. There is a PRO version of this app available with more features like set-up more than two email accounts, remove promo signature and much more.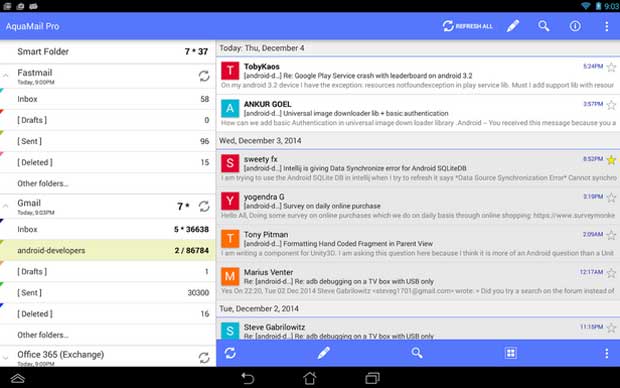 The Pros
Integration with Tasker
Integration with Light Flow, Enhanced SMS and caller ID etc.
Support Yahoo, Gmail, Hotmail, Fast Mail, Apple, AOL, etc.
Built-in widgets
Save attachment as file
The Cons
Some user finds difficulties with the Outlook email service
No Resend/Draft Sync.