Want to cook something new or delicious? But you don't know how to cook, where to collect cooking ingredients or how to organize them? Don't worry; your smartphone can help you to be a better cooker. You can do many things with your Android phone or tablet and get help for cooking is one of them. Just find some best Recipe Apps for Android; download and install them on your phone or tablet. They will guide you to cook delicious snacks.
When you search for recipe app on the web, you will find thousands of recipe apps where some are free and some are premium. After spending some hours on researching recipe apps for android, I find some Free Recipe Apps for Android that will really works great and will help to cook lot of foods easily and quickly. So let's have a look on these best and free recipe apps on bellow.
5 Free Recipe Apps for Android
All Recipes Free
Want to make your breakfast or dinner within a short period of time with simple ingredients? Then the All Recipes Free is one of the perfect recipe apps for you. You will find all ingredients available and inexpensive of this recipe app. This app will guide you how to cook quickly, make some delicious foods as well as healthy.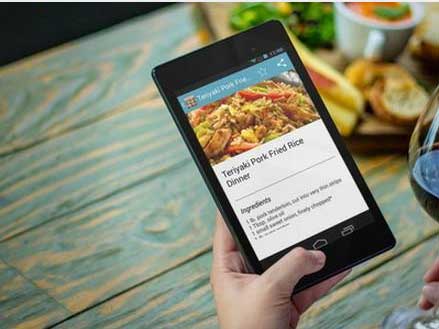 Key Features
Use in offline, no internet access required
Thousands of cooking recipe
Load the full app within 2-3 minutes depending on your machine
From breakfast to dinner, you will find everything here
Size: 48MB
Requires Version: 3.0 and up
More than 1,025 reviews on Google Play
Rating: 4.0 out of 5
Cookpad Recipes
The Cookpad Recipes is one of the most popular and Free Recipe App for Android that you can use to get and share recipe with images. This is a community app where people can share their own recipe, so this one of the large platform to find new and hot recipe. You can also ask any cooking related question and will find answer within a short period of time.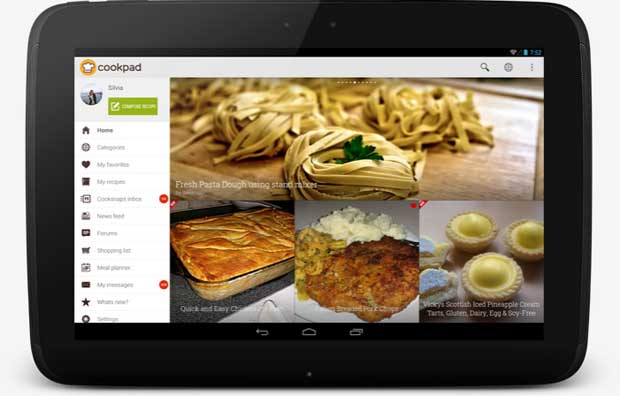 Key Features
Scan and find recipe by ingredients
Community on food recipe
Save your favorite recipe with quick access feature
Share your own recipe with images
Share recipe link through mail and social media
Size: Varies with device
Requires version: Varies with device
Over 43,739 reviews
Rating: 4.3 out of 5
BigOven
Need a Recipe Apps with more than 350K recipes? Then download BigOven right now. More than 11 million people download this app to get new and savory recipe for free. This app will help you to find the perfect meal for the perfect person and also help to organize your home or office kitchen. You can also save and organize your personal recipe with this app.
Key Features
Get highlighted collections and menus, curated by season, holiday, sequence, lifestyle, diet, and more
Organize your grocery list
Create meal plan and share via email
Take a recipe picture and scan it with BigOven
Get more with premium membership
Size: Varies with Device
Requires Version: Varies with Device
More than 28,751 reviews
Rating: 4.3 out of 5
ChefTap Recipe App
The ChefTap Recipe App is another great and Free Recipe App for Android that will help to import recipes from any recipes website. You can create and save your own recipe from any English language recipe website for free. Search millions of recipe on the web with ChefTap Recipe App.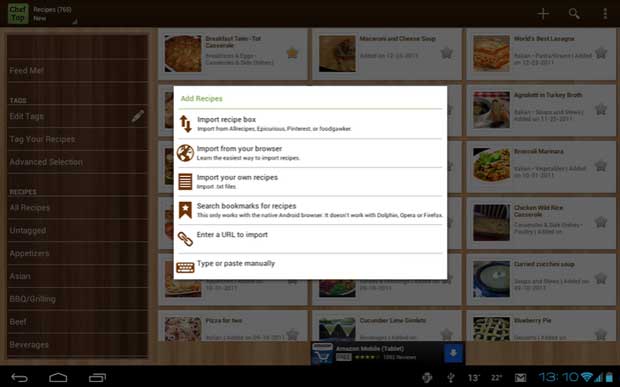 Key Features
Import recipe from Pinterest Pinboard
Custom text size with user friendly interface
Short recipe by new, recently used, ingredients etc.
Add or edit recipe
And much more features
Size: 11MB
Requires version: 4.0.3 and up
Over 6,593 reviews on Google Play
Rating: 4.4 out of 5
Evernote Food
The Evernote Food is a great and best recipe app for Android that will help you to save your favorite recipe. You can also discover new recipe that will help you to cook new and tasty food easily and quickly. With this app, you can also search recipe on the web and save here. Add or edit recipes with images.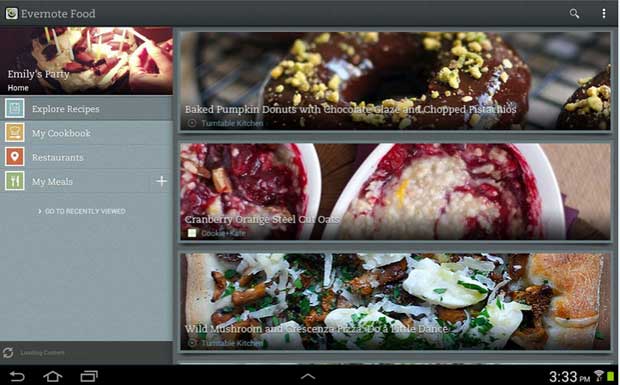 Key Features
Thousands of recipes for free
Search restaurants near to you
Location based map view of restaurant
Create and share meal with your friends and family through mail or social media
Size: 12MB
Requires version: 2.2 and up
More than 16,191 reviews on Google Play
Rating: 4.2 out of 5