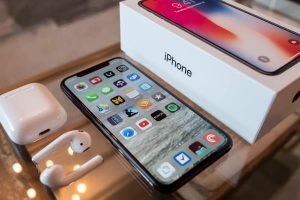 Is this your first Apple device to purchase? Congratulations are in order as you join the family.
It's not a complicated device to use. And that's because the manufacturers had the end user in mind when coming up with this device.
As a first-time user, you might be overwhelmed and feel a little perplexed. However, take a deep breath and let all the worries fly through the window. Below is a definitive beginner's guide for IOS
What's iOS?
First things first, do you know what iOS stands for? It's the operating system's name, which powers the iPod touch, iPad, and iPhone. It's quite similar to macOS, which powers the Mac or win Face ID- do you have an iPhone X?dows, which powers the PC.
Apple strives to update the software often. One free major update is always available for any iOS user. The iOS receives constant updates which squash bugs, patches up any security holes as well as add fascinating features. iPhone and iPad have their differences. Especially the hardware specifics make up most of the differences. However, the majority part of their operating system is somewhat identical. It can be somewhat expensive to acquire a new iPhone and enjoy its features. Nonetheless, you can check out cheap iphones Australia and grab your self these amazing apple devices.
Setting up an Apple device
The first thing that you get to do after removing your appliance from its box is turning it on. You then proceed to activate it. You will find the power button on the right side if it's an iPhone. While for your iPad, you need to check on the top edge.
As a new iPhone user, you will proceed to insert your SIM card. It's accessed using the included SIM release tool on the door. In the off chance you fail to insert your SIM card, then there's no way you will be able to activate the iPhone. Let alone proceed to set it up
Here's a definitive procedure to set up your device
Step 1: Activate the device
Once you turn on your new acquired device, you need to select your preferred language. Then you will choose the country or region you are in currently.
You may get asked if you would like to use a quick-start. It's usually used to migrate any settings from an older device if you had any. If you had an Apple device previously, you could proceed by following the instructions on your screen.
There's another alternative. You can choose to hit set up manually. Then, you can select a Wi-Fi network to connect your device online.
You need to be patient and wait for the entire activation procedure to come to a halt. After which you can enable the following interfaces
Face ID – do you own a iPhone X? If yes, then don't worry if you are asked to scan your face. It's to facilitate the recognition process.
Touch ID- here's an Apple's fingerprint recognition advanced technology. It's an efficient and time-saving method that you will come to appreciate. It eliminates the need for passwords as well as passcodes each time you want to use your device. No more cramming passcodes as you might easily forget them
Passcode– face ID and Touch ID are the most significant revolutions in apple devices. However, it never hurts to go old school. You need to have a good and secure passcode. A six-digit or more is entirely safe as it gets. Moreover, you can choose a complex passcode by use of the passcode options button.
Step 2. set up a new or restore
The next step you will come across is setting up a new Apple device or repairing it.
Did you have an older Apple device? If yes, you can connect it to any of your Mac or PC devices. You can proceed to launch iTunes and then create a backup.
Then, you ought to select 'Restore from iTunes Backup.' Once you choose the appropriate backup, you can become assured that all your data, contacts as well as apps will get migrated.
Did you have an iCloud backup? Then you need to choose 'restore from iCloud Backup.' The procedure uses the internet. Thus, you need to be quite patient as it can take a while. You can select this option is you had lost your previous device. You can also use it if you intend to create a fresh local backup if iTunes isn't possible.
However, all this may sound Greek if this is your first apple device. Not to worry, with the time you will get the hang of it. If it's your first iOS device, you can select 'set up a new iPhone/iPad' or 'move data from android.'
Moving data from an android device to an iPhone is quite simple. Apple has made some significant milestones to offer an app that majorly automates the entire procedure.
Step 3: Create an Apple ID as well as logins
If you chose the last option to migrate or set up a new, your final step would be to log in with an Apple ID. If you don't have one, you can easily create any of your choices.
Don't worry about the 2-factor authentication. It's for your safety as well as security. It's a default interface that verifies who is using the device. It also protects the account by ensuring the right owner is using it
Step 4: Final touches
The last step is accepting the terms of service. You can choose to read it or click accept. After this, you can enjoy the following services and so much more.
You will see the location services, apple pay, Siri, iPhone analytics, app analytics, actual tone display, home button click, display zoom, among others.
You might come across issues such as battery drain or update issues. However, it isn't a cause for alarm. You can backup your apple device and restore the machine after resetting it.
All phone batteries tend to lose their ability to retain charge over time, usually, after a year or two upon usage. You need to equip yourself with life-saving battery techniques. Let these two minor issues hinder you from purchasing your dream apple device. You can choose to get a cheap iphones Australia at significant discounts and in top-notch working condition. Use the above guide to configure your device, and you will be good to go.