Nowadays, almost all people handle various accounts with user ID and password. Most of the people fail to manage their account because some of them forgotten their password, someone lost, and someone got hacked. So you must save your password to keep your online accounts safe and secure.
You may use various methods to keep your account password and user ID. But in this modern era, you can easily save and protect your password with your Android device like smartphone or tablet. Just choose a best and free Password Manager App for Android device, download it and install it on your device. This will help you to organize and save your passwords.
Here, I'm going to share some best and free Password Manager Apps for Android. You can easily use these apps on your device because they come with a user-friendly interface. Just choose anyone from this list and get it now for free.
Password Manager Apps for Android
aWallet Password Manager
The aWallet Password Manager is one of the most popular, best downloaded and top-rated Password Manager App for Android device that is used by millions of people. This app comes with the high security feature that will help to protect your password from any kind hacking attempts. You can use a master password to keep your password safe.
Key Features
Store password, credit card or banking information
Search features
Backup your data in USB drive
Export data in CSV format
Save password in category wise
Generate strong password
Size: 2.1MB
Requires version: 2.2 and up

Keeper® Password Manager
The Keeper® Password Manager is another Free Android Apps for Password Management. You can use this app on your Android device for free. This will help you to store all of your online account password and other information like credit card information or banking information.
Key Features
Secure password manager with encrypted and unbreakable feature
More than 7 million users use this password manager app
Multilanguage supported
Easy to use
Two-Factor Authentication
Secure sharing make it easy to share password
Size: 12MB
Requires version: 3.0 and up

1Password
The Guardian ranks the 1Password as the number one password manager of the year 2014. This is another popular Password Manager App that you can use on your Android phone, tablet and the PC version also available for PC. You can easily sync data from one device to another device with this App easily.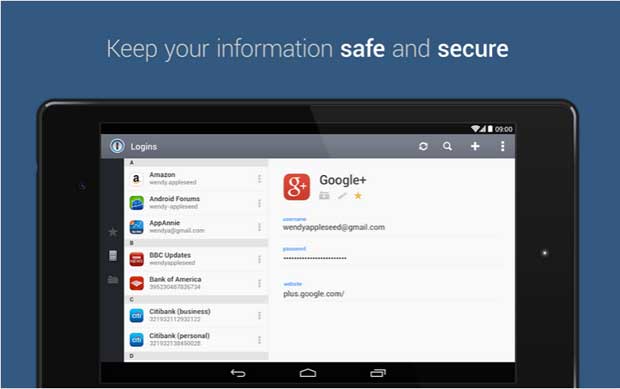 Key Features
Create strong and secure master password
Save any kind password and secrete data
Control app through website
30 days Free Trail
Size: 4.4MB
Requires Version: 4.0 and up

mSecure Password Manager
The mSecure Password Manager Password Manager comes with a high rating that you can use for free. The user-friendly interface makes it easy to use this app for a newbie to advance users. You can easily create a master password and save your entire online accounts password.
Key Features
Filter record by name or group
Advance search option
Auto lock feature
Reliable and complex password generator
Easy to sync with Dropbox
And much more features
Size: 11MB
Requires version: 2.1 and Up

Password Safe
The Password Safe is my last recommended Password Manager App for Android that you can use on your phone or tablet for free. You can trust this app as 100% safe and comes with an advanced security feature to protect your data from hacking attempts.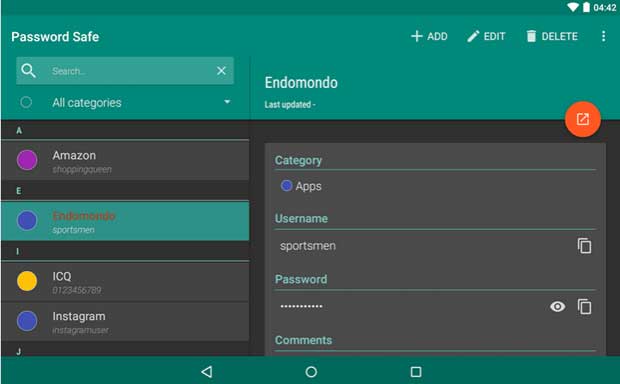 Key Features
Powerful and complex master password
Store password by category wise or name
Auto backup
Export or import data with CSV format
Pro version available with more features
Size: 11MB
Requires version: 4.0 and up

Save