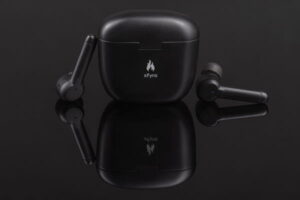 High-quality earbuds are a must-have for many people, including gym-goers and commuters. They enhance daily activities with your favorite songs without irritating or harming your ears.
But not every product offers the same capabilities. The xFyro ANC Pro earbuds stand out from the competition with first-rate audio, convenient noise-suppressing technology, and an ergonomic design.
Each component of the earbuds features robust properties.
Graphene Speakers
True wireless speakers are small, meaning their sound pales in comparison to headphones. However, the xFyro ANC Pro earbuds feature a material that delivers terrific audio despite the compact design.
It's called graphene, a nano-particle with impressive properties. It's one of the thinnest, strongest materials in the world and is highly convenient for tiny speakers. It doesn't degrade over time, allowing it to handle intense vibration. Other speakers suffer damage or break down due to loud volumes, but graphene can take this pressure head-on without distorting your songs.
As a result, there's clear audio across the entire spectrum, and the bass beats are sweet. The graphene build ensures it serves you for many years without deteriorating.
Active Noise Canceling (ANC)
The earbuds come with advanced noise-suppressing technology that can recognize more than 6,000 sounds. Powered by beamforming mics, the xFyro ANC Pro listens to your environment while playing music. Upon detecting the sound, it reacts quickly, categorizes it, and responds before it reaches your ears.
The algorithm intercepts nearly any sound and determines if you need to hear it. If deemed critical, the noises pass through the speakers and enter your ears without interrupting your song.
This way, you can keep listening to music and remain aware of your environment. Loud songs won't silence any alarms, sirens, and approaching traffic.
On top of that, the AI detects voices speaking to you. Consequently, you don't have to take the earbuds off to talk to your colleagues, neighbors, bus drivers, or baristas.
While the technology is incredibly useful, it drains your battery quicker. However, you can toggle between standard ANC, Transparency Mode, and no ANC to save your battery and modify your listening.
Fantastic Water and Dust Protection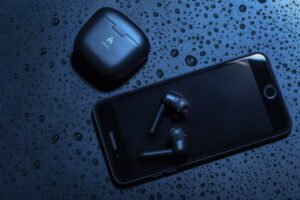 xFyro's breakthrough earbuds, ARIA, hit the headlines for their superior waterproofing properties. The ANC Pro isn't as robust in this respect, but these earbuds can also survive extreme weather conditions. They are IPX5-rated, meaning they can endure any amount of rainfall, from sprinkles to monsoons.
The gadget also has an anti-dust seal to keep debris out. Therefore, you can wear the earbuds to a dirt biking session or beach volleyball game without worrying about damage.
Bluetooth 5.0
The earbuds use the most advanced technology available for commercial headphones – Bluetooth 5.0. It provides instant pairing, seamless listening, and lag-free calls. There's also a 30-foot range, allowing you to leave your smartphone in your office or locker while on the move or working out.
Excellent Compatibility and Long Battery Life
The xFyro ANC Pro can be connected to several devices, including tablets, iPods, laptops, and Android phones. Different gadgets don't reduce sound quality – the earbuds consistently provide crisp audio.
Another great thing about the earbuds is their long battery life. They can last up to 10 hours on a single charge, and the carrying case comes with an additional 90 hours.
Listening Experience on a Whole New Level
The ANC Pro improves upon various features of its predecessors to offer a top-grade listening experience. The graphene speakers and active noise canceling allow for immersive sessions, whereas protective seals keep the earbuds unscathed. Considering the high-capacity battery and Bluetooth 5.0, there's hardly anything to take away from this cutting-edge device.
To find out more about the ANC Pro, go to xFyro's web page www.xfyro.com.