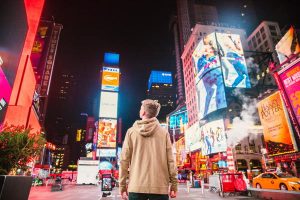 Each area of human's business has its own laws, interrelations and, of course, vocabulary. When we talk about marketing, it is very different from itself 10 or 15 years ago.
Technological progress has brought a lot new in it and the evaluation is not going to stop. No wonder that newcomers feel ill at ease when try to remember all the notions and slang words. Surprisingly, ad network and ad exchange became too often used wrong, sometimes without understanding of the notion at all.
Adsmediabrokers is going to resolve this awkward misconception and put some clarity into the issue once and forever. You might have guessed that both of the notions cover advertising area, but let's have more precise look at them.
This term refers to earlier forms of advertising. After Internet being invented, marketers have mentioned that people are not so interested in traditional medias like TV or radio. The were still using them, but the level of activity became lower as people left for online world.
First ads were published and sold mainly by personal agreements. It is generally called direct advertising. Brand owners used to write to those who could be useful for them. Companies were buying some inventory to attract attention of those who can be their clients.
But the issues was time-consuming and not so effective, especially if you the Publisher is not something like Forbes or The Times. It was decided to create a centralized place – ad network, that could offer different ad solutions for businesses of different types and sizes.
Everything seemed quite pleasant as what you mainly needed to do was to create your account and tune the settings for your ad campaign and enjoy the results. The biggest problem is in fact not about cost for ad campaign that becomes affordable almost for everybody nowadays, but dishonesty and fraud. Both the platforms and publishers tried to cheat to have some more money. The cases were sometimes proved, of course, but it is quite difficult to invest money with realizing that some part of it will go nowhere.
Another problem was about targeting. The coverage was too general, advertisers were often offered websites that are likely to contain necessary audience. While a user, in his turn, could have too bright cocktail of ads that no one was taken seriously at all. To say it simply, there was a lack of personalization.
Luckily, it became possible to be corrected.
What is an ad exchange and how programmatic is connected with it?
Marketers started thinking about making the process more transparent and personalized. Besides, it would be good to exclude all third-parties.
It is the moment when programmatic comes to the stage. Its idea about showing a particular ad to a person that, according to his or her characteristics like age, location, gender, interest, marital status, device type and so on, is more likely to be interested in it. As a result, we get advertising personalized and cheap.
When we talk about ad exchange, it is a place where website owners, presented by private people, advertising networks or other possible gatherings, show the displays they would like to sell. Advertisers can study them and offer their price.
Some prefer buy each display individually – it is generally called Real Time Bidding. The process of bidding happens during the time of page loading. The advertiser just tunes his campaign about preferable audience and prices he is ready to pay. Human interaction is hardly possible here as the amount of the data processed is more than just huge, it is ocean-wide.
In some cases it is beneficial to pay for either a pack of displays or a period of time. The choice of recipients is organised the same way above, while the approach is called programmatic direct.
Who is better?
In fact, a lot depends on the needs and peculiarities of your particular company. Some of them may prefer the first variant, however, using both of the method will certainly be winning. Experts were saying that traditional ad networks will die out very soon. The trick is that both of the approaches adopt some features from each other, a big fusion is expected very soon.