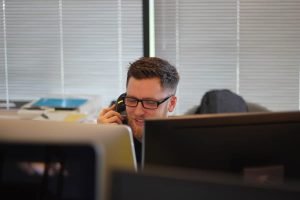 Call centers are a requirement for any successful business that wants to maintain their profitability. Without having the means to aid customers to their satisfaction, businesses would suffer great losses.
Lately, these call centers are moving out of those high rise buildings and into the virtual world, and there are a few good reasons for this. See below to learn more about how virtual call centers are expanding. 
Cost 
The cost of running a traditional call center includes rent and utilities. With the emergence of the virtual call center, these costs are obsolete, since employees are working from their homes instead of an office building. This cost efficiency is a big reason why virtual call centers are growing more popular.
Managers and employees can still interact as they would in person, over the phone, and through cloud based call center software. This means that supervisors can still listen into phone calls and are always available for difficult calls during operation. The only difference for the employee and supervisor is that they don't see each other face to face — unless they are video chatting, of course.
Technology
Technology is ever-changing with the emergence of cloud based platforms and predictive dialer systems. And so nothing is impossible when it comes to virtual call centers.
Cloud-based platforms are the best way to go for virtual call centers because they allow for all of the metadata and information gathered by each phone call to be placed on the cloud. The cloud can be accessed by management at anytime for analytical and organizational purposes. The best thing about this is that the information can be accessed immediately.
Predictive dialers use algorithms for call generation, which saves the user time and the call center money. With the ever changing rules and regulations for call centers in different countries, predictive dialers ensure that the call center is compliant with all rules by adding the information into the algorithm that generates the calls. This allows you to adjust your sample size and include different geographical areas.
Global outreach
Every entrepreneur dreams of having the world at their fingertips. And with the emergence of virtual call centers the world is at your fingertips. Global outreach is trending with the emergence of social media and internet advertising. The only way to keep up with the growing global economy is to employ virtual call center employees all over the world.
This way, you'll have multilingual agents and agents that are available during the day (in their timezone) while you're asleep in your bed. Without a virtual call center, it isn't possible to keep up with the demands of overnight customer service, and your company can get a bad reputation for being unreliable or unsupportive of their customers.
Staying on trend is important especially when technology has the world changing at a fast rate. Using a virtual call center for your call center based solution will end up saving you money, allowing you to keep up with your metadata and reach customers all around the globe. Plus, which employee doesn't want to wake up and walk into the next room in their sweatpants to start their day instead of getting dressed and running around to get to work?
If you're thinking about changing to a cloud based version of your call center, you won't regret it. You'll be able to overlook your data, manage your employees, and serve customers globally all from the comfort of your living room.