The LG V30 is one of the most awaited LG smartphones that will release in the middle of this September. According to the most of the smartphone experts, the V30 will get immense popularity with its lot of features, functions and attractive design. However, if you have a plan in mind to get this LG Flagship, then it's time to look for some accessories. Using the right accessories will keep your device secure, make it functional and you will feel comfortable to use it. And in this post, we are going to share some Best and Essential LG V30 Accessories. This list includes LG V30 Cases, Back Covers, Flip Covers, Screen Protectors, Chargers, Cables and other accessories.
Let's check our recommended list of best LG V30 Accessories to get your desired one now at a reasonable price. And almost all accessories currently available in the market or pre-order, so get your one now.
Best LG V30 Accessories (Essential and Must Have)
Best LG V30 Cases and Covers
Spigen Liquid Crystal LG V30 Case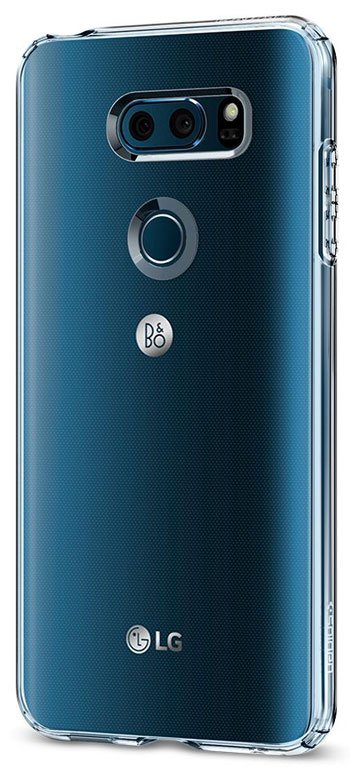 Almost everyone loves to show their expensive flagship including me 😛 That's why they love to use a crystal clear transparent case cover to protect their flagship. The Spigen is one of the most popular and well-known smartphone accessories manufacturers. They come with a Liquid Crystal Clear LG V30 Case with elegant design and premium quality. You will surely love the lightweight and flexible design. The air cushion technology used in all corner of this case to protect your V30 from accidental drop damage.
TopACE Superior Quality Extremely Light Super Slim Soft Shell Cover for LG V30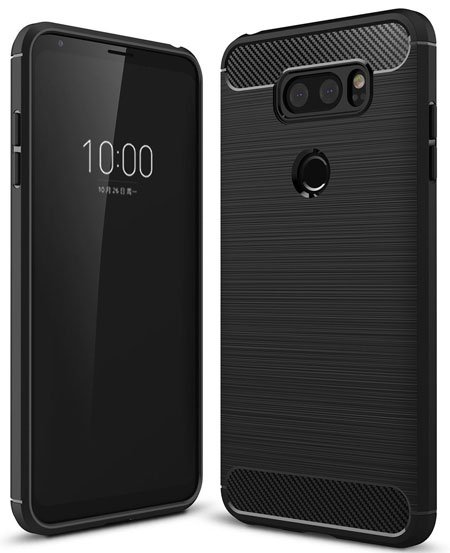 The TopACE LG V30 case is an Amazon's Choice LG V30 Case that already got sales and positive feedback from buyers. This is a premium quality case that specially designed for the LG V30 2017 version. The case made from high-quality materials to ensure maximum protection against drop, bump or hit damage. The comfortable grip makes this case ideal for smooth operation. And the precious cutouts provide easy access to all buttons, headphone port, camera, mic, charging port and sensors.
SUPCASE Full-body Rugged LG V30 Holster Case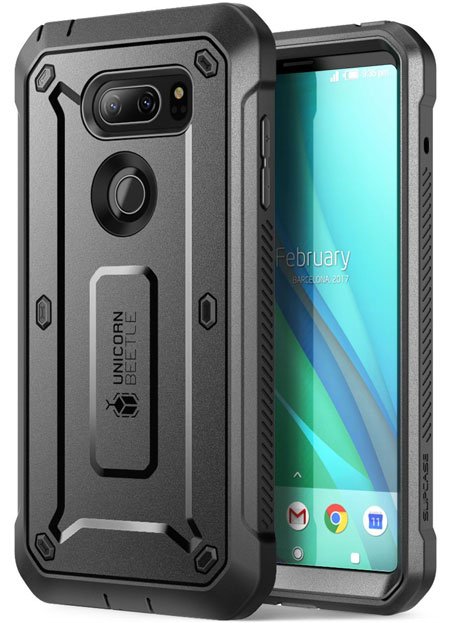 A full-body rugged case can protect your smartphone from massive damage and scratch. If you are not aware of your smartphone protection in everyday life, then a full-body rugged case is the best solution for you. The SUPCASE comes with an LG V30 Full-Body Rugged Holster Case with built-in screen protector. So you don't need to buy an extra screen protector to keep your device screen safe from scratch or fingerprint. However, the SUPCASE LG V30 Case comes with dual layer design and advanced protection against shock and scratch. The 360-degree rotatable belt clip makes it easy to carry your phone and keep it secure.
LG V30 Case by MP-MALL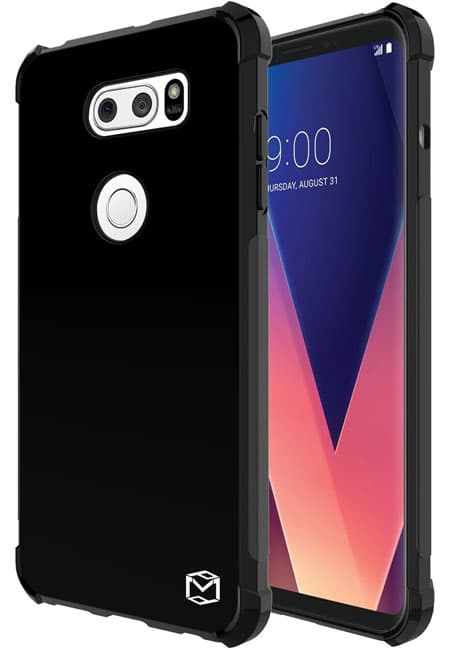 The LG V30 Case by MP-MALL also specially designed for the LG V30 2017 version and available in three different colors. The custom-fit and sleek design help to protect your V30 without adding extra bulk. Although this is a case, it looks like a Back Cover that ensures long lasting protection against shock, drops and scratch damage. The individual inner dot pattern will help to prevent air bubble and keep your device color safe.
LK Luxury PU Leather Wallet Flip Protective Case Cover for LG V30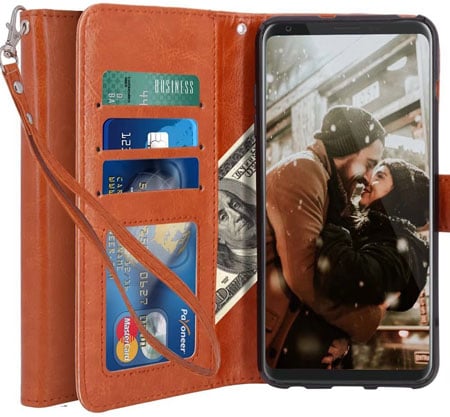 If you are looking for a leather wallet case or flip style case to protect your LG V30, then this one could be the best option. The secure wallet case made from high-quality materials and available in four different colors. The four corner protection and inner soft TPU gel will keep your flagship safe from drop, scratch or shock damage. To convert this case as a wallet, there are three card slots and one money slot available to store credit/ID card, money or documents.
Best LG V30 Screen Protectors
Wellci [2 Pack] Tempered Glass Screen Protector for LG V30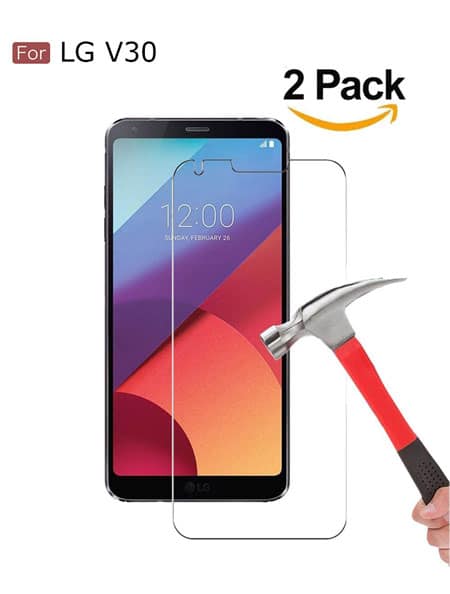 The Wellci is a renowned smartphone accessories brand. Like cases, covers and other accessories, they also come with a 2Pack tempered glass screen protector for LG V30 smartphone. The 0.26mm thin screen protector ensures maximum protection without affecting the device touch sensitivity. The 9H hardness of this protector provides screen protection against scratch or drop damage.
IQ Shield Tempered Ballistic Glass Screen Protector for LG V30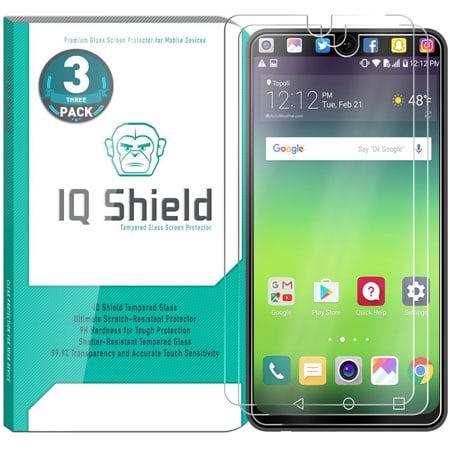 The IQ Shield LG V30 Screen Protector is a premium quality screen protector that comes with lifetime replacement warranty. The tempered ballistic glass screen protector ensures 99.99% transparency and won't affect the touch sensitivity of the device. The .33mm thin glass with 9H hardness specially cut for the V30 handset, so it will perfectly fit on your device screen. And ensure protection against scratch, fingerprint, oil, dirt or dust.
SPARIN 2 PACK 3D Curved LG V30 Screen Protector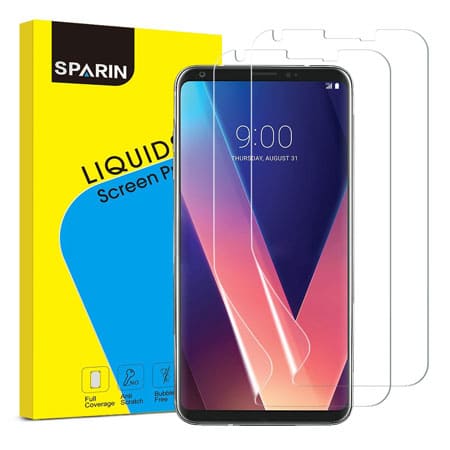 If you are a fan of SPARIN smartphone accessories, then you can check this SPARIN LG V30 Screen Protector. The tempered glass screen protector designed correctly to ensure maximum curved edge coverage. The protector made of particular combination of glass materials to keep the screen safe from everyday hazards.
LG V30 Chargers (Wall, Home, Travel and Car Chargers)
Quick Charge 3.0 AUKEY USB Wall Charger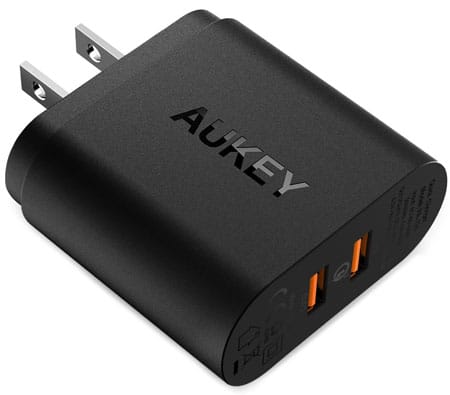 The AUKEY Quick Charger 3.0 USB Wall charger is a universal smartphone charger that comes with dual USB ports. You can use this charger at home, office or while traveling to recharge two devices at a time including your V30. As the LG V30 supports the Quick Charge 3.0 and this charger also comes with the same feature, so you can recharge your V30 battery 50% within 30-35 minutes. The built-in safeguard protection will keep your device safe against overheating, overcharging or short-circuit.
LG Type C Micro USB Wall Charger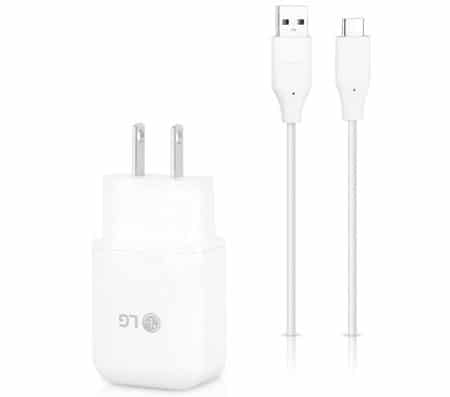 Using an official charger to recharge your device is the best idea to keep it safe overheating or overcharging. The LG Type C Micro USB Wall Charger is an official LG charger that comes with fast charging feature. There is Type-C USB charging cable included with this charger, so you don't need to buy an extra cable.
LG V30 Car Charger by iRAG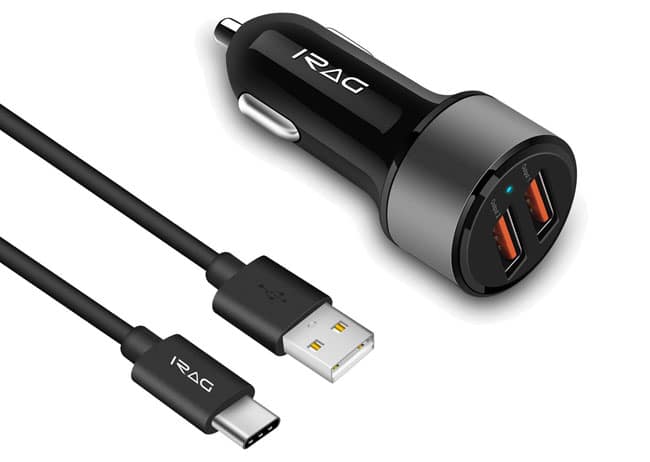 Looking for a premium quality LG V30 Car charger with reasonable price? Well, the iRAG comes with an LG V30 Car charger including dual USB ports and a 6-feet long USB cable. Both USB ports support quick charge 3.0 technology, so you can recharge your V30 and other devices faster while driving. And each port can auto detect charging device and deliver charge according to device capabilities.
Boxgear Combo Charger Set for LG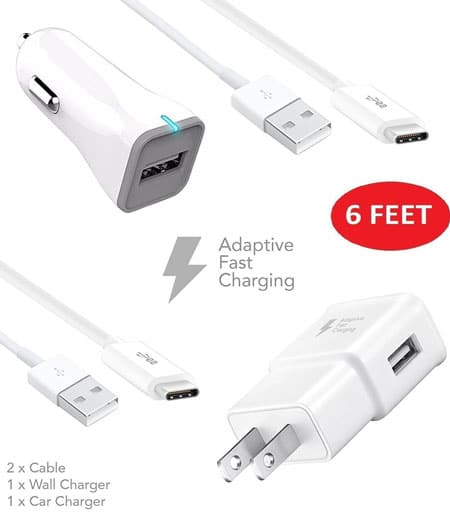 The Boxgear offer a Combo Charger Set for LG C30 including a wall charger and a car charger with two 6-feet Type-C USB Cables. So if you are looking for both wall/home/travel and car charger, then this package is the best option for the price and quality. The adaptive fast charging technology can recharge your device battery 75% within 30 minutes. And it won't harm your device battery. The Boxgear also offers lifetime replacement warranty for this charger.
Best LG V30 Wireless Charger
CHOETECH Qi Fast Charge Wireless Charger

According to several sources, it's confirmed that the V30 will come with Wireless Charging feature. So you can consider a wireless charger to recharge your LG V30 at home or office. The CHOETECH Qi Fast Charge Wireless Charger is a universal smartphone wireless charger that comes with a reasonable price and premium quality. This wireless charger comes with fast charging feature and two different charging modes. The built-in two coils offer wide charging area so that you can place your device horizontally or vertically. For safety reason, the charger comes with overcharging and over temperature protection features.
Other Essential LG V30 Accessories
BrexLink USB C Cable 2 Pack (6.6ft)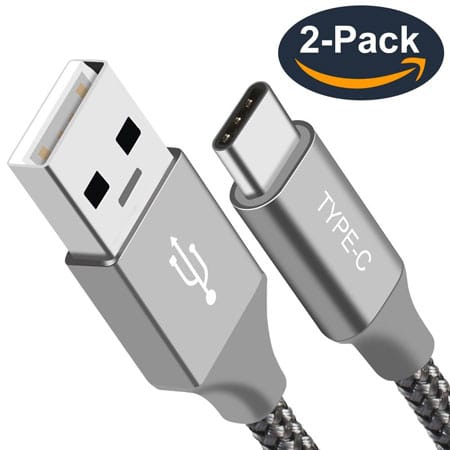 An extra USB Cable is an essential accessory for smartphone users. It can be used to sync data from PC to Smartphone or recharge device from other chargers while not carrying an original charger. However, the BrexLink comes with a 2 Pack 6.6ft long Type C USB cable for LG V30 users. The cable covered with aluminum housing and sturdy nylon fiber that makes this durable and long lasting. As the cable compatible with any Type-C devices, so you can also use it for other smartphones and tablets.
Ailun Type C Adapter, Micro USB to USB C Adapter, [3Pack]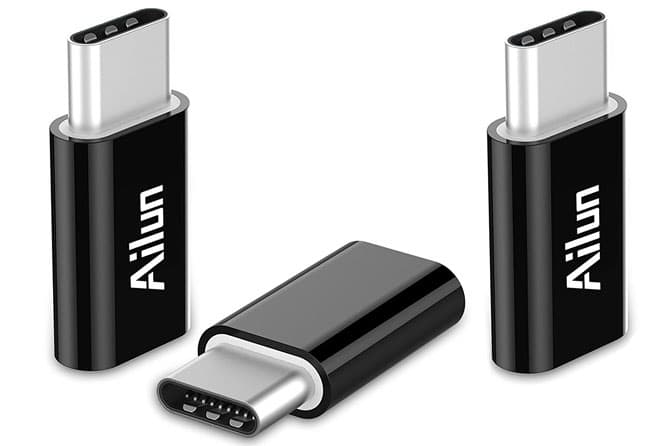 A USB Type C Adapter is an essential and must have accessory for those LG V30 users who need to travel randomly. This adapter will help you to use a traditional Micro USB charger or cable to recharge or sync data easily. So, you don't need to carry a Type-C charger or long cable anywhere you go. Just get this adapter and keep it on your wallet.
Final Words
This is not a complete list of LG V30 Accessories. We will keep updating this list, and you can help us to do this. Use the below comment option to let us know about your LG V30 Accessories List or If we missed to include any accessory that is important and essential. And don't forget this list on your social profiles if you find this helpful.