2017 marked the year when Samsung, fresh off the back of exploding batteries, entered the burgeoning AI market. In a contest already filled with Siri, Cortana, Alexa, and Google Assistant, Bixby is the Korean company's attempt to provide intelligent services to its customers without additional manpower. However, while full app integration and innovative features are promised, the new Samsung S8 with Bixby has had a mixed review, and there have been complaints of missing or poorly realized features.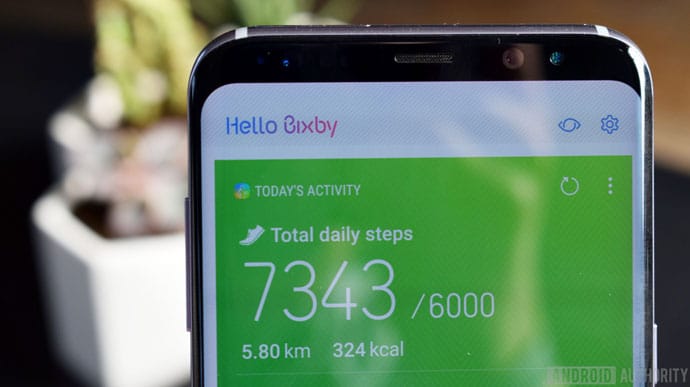 Image Source: Android Authority
3 Ways to Connect with Bixby

The Bixby combines well-known features for AI units with some new, innovative features designed to give it a leg up over its more established opposition. These include 3 ways in which to engage the Bixby:
Talking to it
Text commands
Tapping
Bixby allows users to switch between the 3 modes though as you'll see below, one of them might not be working when you get the phone. It also includes the usual features such as a panel of widgets and the ability to set reminders and an augmented reality camera.
The standout feature, however, is the ability for it to perform certain tasks for you, so you don't have to engage with it as much as with other devices. For example, it can be commanded or programmed to make changes to photos such as shading without you having to manually do it. It can also integrate with IoT smart home devices for you.
Overall, it's goal is to give the user the ability to define how he or she engages with the phone. It is possible, for example, for someone to not have to touch the phone at all but to still be able to engage with it. This means being able to activate applications via voice command alone as well as features within those apps. Currently, this will be designed to work with 10+ Android Apps unique to Samsung devices and also with others such as Google Play Music.
No Voice Control?

The launch, however, went badly for Samsung when it was announced that its main feature – voice control, won't actually work when the devices are shipped to the U.S at the end of April. Well, that's really useful. The dedicated Bixby launch button which can be re-mapped does at least work however, to mess up the main feature, is a huge PR nightmare for a company still reeling from its battery fiasco.
The Samsung statement reads as follows:
"Key features of Bixby, including Vision, Home, and Reminder, will be available with the global launch of the Samsung Galaxy S8 on April 21. Bixby Voice will be available in the US on the Galaxy S8 later this spring,"
It is safe to assume, therefore, that the device's production and shipping, including the awesome looking bezel-less display was set in stone to such a degree that a tech failure could not halt it. They must have decided a delay in rollout was more harmful to the company's reputation and revenue than its core feature not working. It remains to be seen if customers will buy the phone without the voice activation or if they will wait until its working and being tested by other consumers or trusted review sites.
Missing Features

Verizon customers were left stunned when it was confirmed that the Verizon Galaxy S8 with Bixby integration will be missing its Amazon camera detection feature. The key feature allows users to use their camera to identify an item, find it on Amazon, and purchase it right away. Bixby is already missing various features at launch, but this is proving to be even worse for Verizon customers. This also comes as a blow to Amazon vendors who are looking to optimize their product sales to Verizon customers. As a result, it is no surprise to see that Verizon and Amazon are working on a way to get this feature to work on the phones, but they have not announced an ETA for it yet.
Negative Reviews Overall

Sad to say, while the ideas behind Bixby are fantastic, the reviews have not been. Of course it does not help that its key feature is not working yet, and that its second biggest feature is not working for one major carrier. However, while the hardware itself, the Samsung Galaxy S8 is getting positive reviews, Bixby is suffering badly from Samsung's decision to ship without this feature. Reviews from sites such as TechCrunch suggest that its results so far are scattershot, but have the potential, when refined and improved, to be one of the great AIs which could unite all of Samsung's other Galaxy products.