Playster is the world's first all-in-one entertainment service and offers a large variety of games, movies, music, TV shows, ebooks and audiobooks. In the past few years, the company has grown significantly by signing deals with major publishers and labels, like Warner Music Group and Sony Music Entertainment.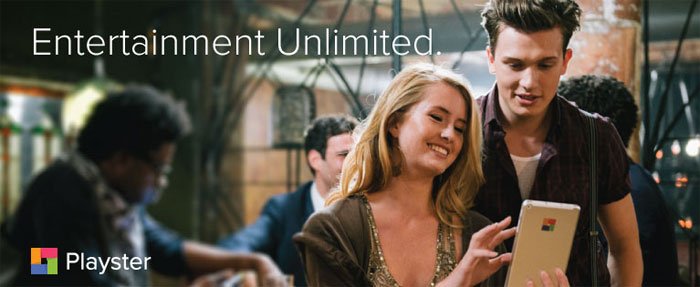 Today, the company offers a wide variety of popular titles from the five big publishers, including Macmillan, Penguin Random House, Simon & Schuster and HarperCollins, as well as other major content creators, like Paramount, Gameloft, and Starz.
The design of the application is extremely user-friendly and users can navigate through the content seamlessly. It creates recommendations based on your mood and listening and watching habits, and you can enjoy a variety of expertly created playlists as well.
Features of Playster

Playster's big advantage over the competition is that it offers a significant stream of unlimited content, such as movies, games, books, audiobooks, music and TV shows. If you want to try the service risk-free, you are not required to pay for the first 30 days of your subscription.
Moreover, the design is very simplistic, and it is quite easy to navigate between the various media types. Accessing Playster can happen through a web browser, such as Safari, Google Chrome and Mozilla Firefox, as well as through the iOS and Android applications.
There's also an option to download content to enjoy it offline. There are expertly curated playlists at your disposal, which you can enjoy on a daily basis, and you can even create your own playlists with the click of a button. There are plenty of educational materials, too, that can teach you about a variety of topics, including languages. There are also Bibles in many languages for religious individuals.
Playster's Family Plan will allow your children to enjoy kid-friendly content by using a different login from yours, making sure that your recommendations and preferred settings are kept separate from theirs.
Pricing
Playster is really trying to revolutionize the streaming industry by providing unlimited access to content for one low price. For example, access to books and audiobooks will cost $9.95 per month, movies  is $3.95, music is $9.95 and games will cost you just $4.95. If you'd like to enjoy all of these services, you can opt for the all-in-one plan at $24.95 per month and enjoy access to everything.
Playster's Deals With Warner Music Group and Sony Music Entertainment
The Montreal-based all-in-one streaming services increased its catalog significantly after signing lucrative deals with Warner Music Group and Sony Music Entertainment. These are two of the biggest and greatest music labels in the world and their catalogs include millions of new performers and legendary artists.
Save
Save