Once upon a time, the camera was just a part of a mobile phone, but now the camera is one of the main parts of a mobile phone. Because of the selfie trend, the camera has become one of the important parts, that we don't want to consider. In spite of these things, sometimes your camera just can't give you the perfect shot. In that case, you need a perfect selfie camera to take a perfect shot. As we know, selfie trend has become popular, so there are tons of selfie camera apps available on the Google Play Store. It might be difficult for you to find out the best one among them. For this reason, we recommend you to check this top 10 Selfie Camera Apps for Android.
Best Selfie Camera Apps for Android
You Cam Perfect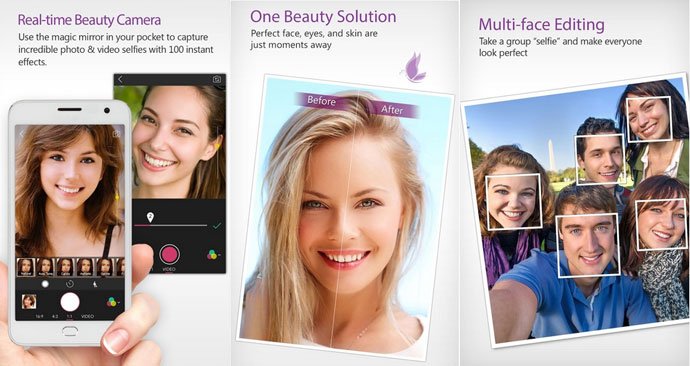 You Cam Perfect is one of the must-have Selfie Camera Apps for Android users who always love to take selfies. Take great selfies with real-time skin beautifying effect & filters technology to look pretty. Multi-face detection and easy smile feature will let you beautify your portrait pictures in seconds. After taking great selfies, you can edit them with editing tools. It has tons of tools to edit photos including, one-touch filters, crop and rotate, blurry background, vintage, and HDR effects. Other key features you can also have like, face refresher, cut out & object remover, and much more to have a perfect selfie.
Recommended: Best Camera Apps for Android
Retrica – Discover Yourself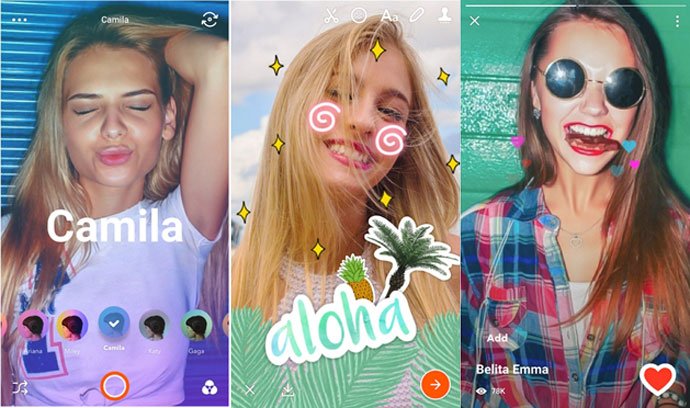 Retrica is one of the Best Selfie Camera App for Android phones and tablets. Retrica is very popular apps around the world, and it has more than 300 million trusted user, and the reason is obvious. Retrica offers you one-touch filter for every occasion for an instant ready selfie. You can take a selfie using real-time filters focusing on your beauty, and it will save your time. You can also have, live photo and GIF maker, instant collage maker, fun stickers, doodle & text, and easy sharing option.
Cymera: Collage & PhotoEditor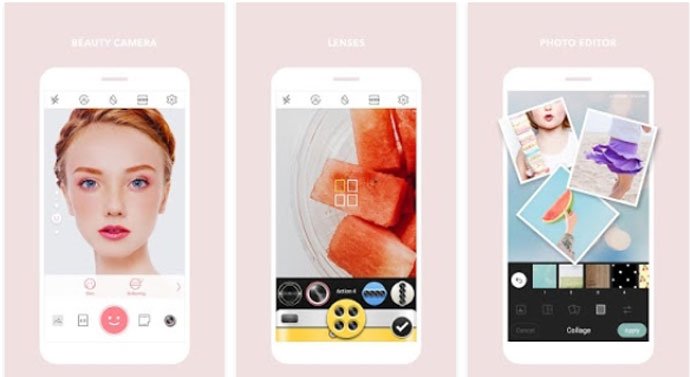 Cymera is a very powerful camera app for Android. Take photos to look natural with one of the best professional beauty tools. The app will let you take perfect instant selfies with 130 plus ready filters. Just click the photo and adjust to your taste. At the same time, it also has some special effects to make your photos pop, and you can create your favorite filter list. Another interesting thing is that it has seven different camera lens and tons of photo editing tools. It also includes, retouches features, dream body shape feature, sharing option, and others.
Sweet Selfie
Let the app help you to take great photos with good quality. Sweet Selfie is another great Selfie Camera App for Android phones and tablets. Take stylish photos with trendy filters and special stickers of Sweet Selfie Cam. It also has tons of features including, smart auto beautifying technology to save time, stylish photo collage, option to blur the background, vintage and retro, and others. So, you can take great photos with Sweet Selfie's rich features.
Candy Camera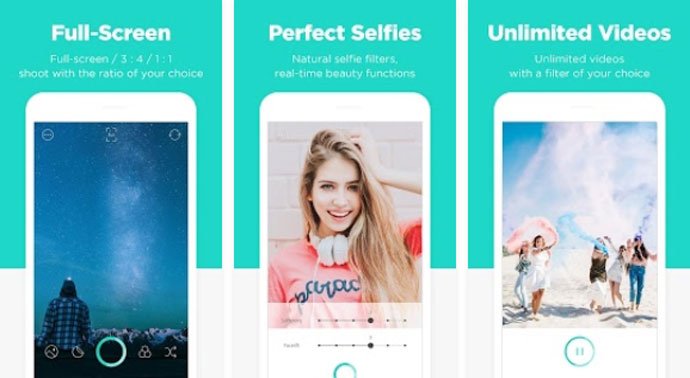 Candy Camera is another must-have Selfie App for Android to take cool pictures. It's an editor's choice app, and it has more than 300 million users with a good number of rating. Use their beautifying filters and silent mode to take great pictures anytime anywhere. You can also use a wide range of selfie filters which will show you the real-time picture to take a perfect shot. Ater taking pictures now you can use beauty functions to add some extra dimension to your pictures. Additionally, you can have stickers, photo collage, and silent camera.
Beauty Plus – Easy Photo Editor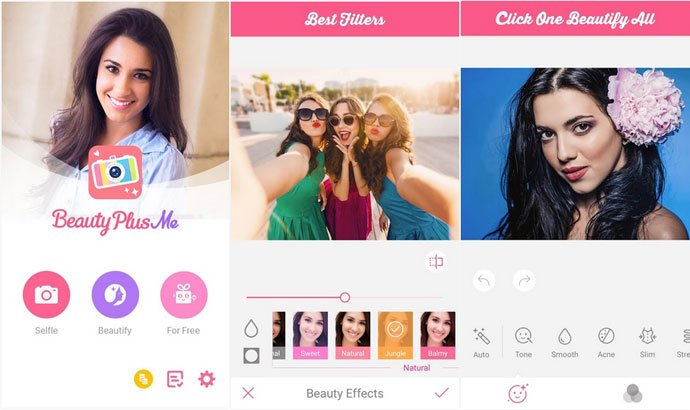 Now express your style and personality with the help Beauty Plus selfie camera. Another great option for your Android device to take awesome photos. The app offers you to take a natural look photo with Beauty Plus. Beauty Plus has tons of photo editing tools including, blemish eraser, smooth skin tuner, brighten eyes & whiten teeth technology, eye color changing option, special effects, and much more. In one word, the app is all set to deliver you great pictures.
Perfect365: One-Tap Makeover
Perfect365 is a selfie camera app with highly customizable tools. It has all the basic and advanced tools to become a perfect selfie camera app. The app offers more than 20 beauty and makeup tools including, liner, lipstick, shadows to make your photos as stylish as you want. Now comes to the on-tap filters, it will allow you to use more than 200 ready filters with a single click. Popular filters, awesome editing tools, creative ideas, everything is available in this app.
Line Camera – Photo Editor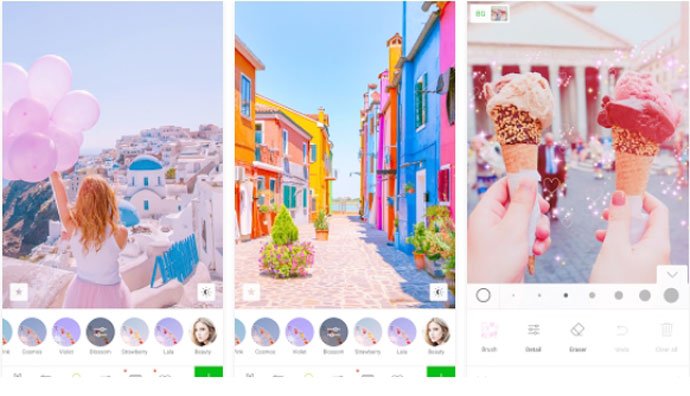 Line Camera is a highly recommended camera app which can deliver you great selfies. Line Camera is a popular app like Retrica and SweetSelfie. Line Camera has a different way to click photos. You can take a selfie with your built-in camera app, then you can edit the photo with its quick filters, or you can directly click photos with Line Camera. Line Camera also provides photo collage, stamps, brushes, instant filters, option to add text, and much more.
Bestie – Best Beauty Camera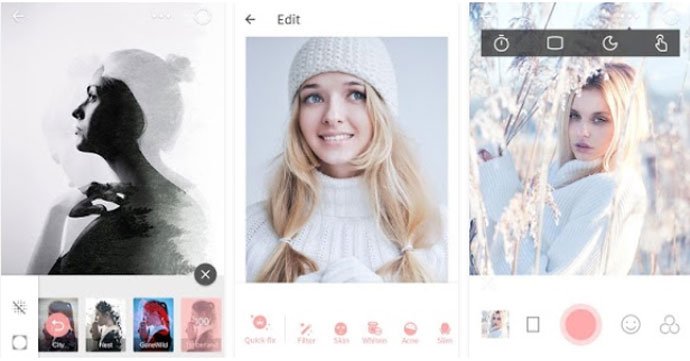 Click beautiful photos using this powerful selfie camera app. Use the real-time beautifying effects to click cool selfies. It has natural & radiant complexion retouching, skin smooth & brighten effect, blemish & marks remover, and 100 plus ready filters to click an instant selfie. It also has some great filter to click portraits like professional portrait filters, real-time filters, and others. The app will also provide you animated stickers, all-in-one selfie camera, intelligent beauty editor, and much more.
B612 – Selfigenic Camera
B612 come from the Line Corporation, and they already delivered so many awesome apps including Line Camera. The app specially made to take selfies, and it already has more than 300 million users around the world. You will be able to take mind-blowing selfies using the live beautification adjustment. On the other hand, you can express yourself through fun stickers and AR filters by effortless glamorous shots. Take photos with B612 and make your memories more colorful.
Final Words
Selfie is the longest trend that we are following. Morning to night and social network to our mobile gallery, the selfie is everywhere. Probably, you are also want to take a great selfie of you and want to share with others. In that case, follow our 10 free Best Selfie Camera Apps for Android. Download the best one, and click pretty & cool selfies.