Nowadays smartphone is an important part of our life. Morning to night we carry it for our need. Making calls, messaging, clicking photos, listening song are the most important task of a smartphone. Everyone is busy with capturing their special moments by smartphone. Manufacturing companies are also making their products with a good camera so that people can click some awesome photos. Program, parties, dinner, sports everywhere people are taking pictures and share those with their friends and family members. That's why people are trying to make their photos look better, and smartphones are helping them with some best photo editing apps for Android. Through those apps, you can edit your photos for a better look than before.
Make your better look and style using these 10 Best Photo Editing Apps for Android Devices.
Top 10 Free Best Photo Editing Apps for Android
Snapseed
Snapseed is one of the best photo editor for Android made by Google. Its edit picture like desktop software's. Doesn't matter your screen is how small are, it will make it like a desktop. Edit a Raw image is not an easy task with a smartphone, but you can edit your RAW image in Snapseed. On the other hand, everyone is looking for blur image, blur background, specific blur part, all these things you can do with Snapseed. It has a ton of features, unlimited filters, which can change your pic with one click. Crop, rotate, adjusting color, white balance, adding text, brush, vignette almost everything you can apply for a pretty image.

Pixlr – Free Photo Editor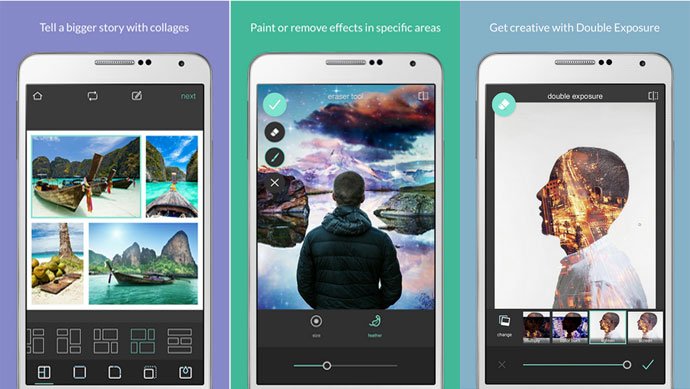 Pixlr is another best photo editing software for Android all around the world. It has become a vastly popular app with its tons of features. It comes with more than 2 million combinations of effects, and it's free. You can edit your pics like a pro with this beast. Set your color tone with its auto one touch fixing option. Photo collage with multi-layout and backgrounds, double exposure, pencil drawing, ink sketch, special effects, filters, everything you can get you want. You can add a stylish caption for social sites. No doubt you are going to have a better picture with Pixlr.

Photo Editor by Aviary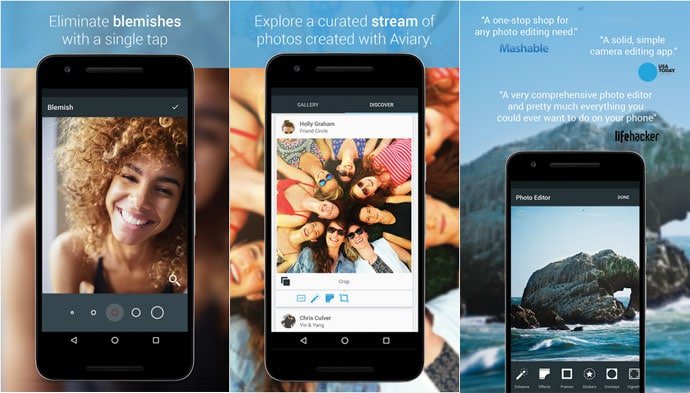 If you are searching for a quick and easy photo editing apps, Aviary is one of the easy and quick photo editors for Android. This quick setup can save your time and keep you happy with its effects and filters. It's most of the features work with one touch, so if you want to save time, you can use this. This one has some unique tools, like cosmetic tools, stickers, teeth whitener, red eye fixing, blemish remover, etc.

PicsArt Photo Studio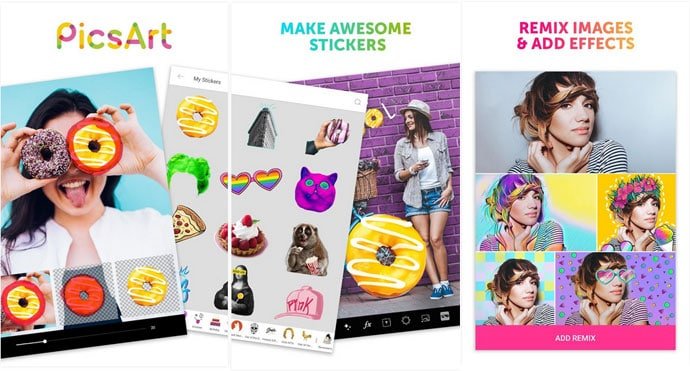 PicsArt has been running for a long time, and it has been downloaded more than 500 million times till the date. Editing photos with PicsArt are more easy and fun. You will find tons of usual effects and filters to edit your photos. Presently, PicsArt giving you photo collage, photo grid, free and premium photo stickers and collage, text adding options with multiple font and text style, AI and Prisma style effects, more than thousands of clipart.

Adobe: Photoshop Express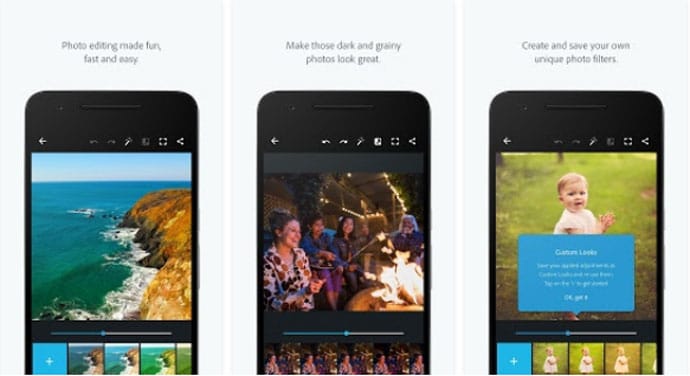 No doubt, that Adobe is one of the most famous photo editing software for the desktop user and professional photographer. But now you can also get Adobe for your Android devices to edit your favorite photos. With basic photo editing tools, it has some built-in advanced photo editing tools too. One touch option of this app is great for contrast, exposure, and white balance, which make your edit quick and easy.

PhotoDirector Photo Editor App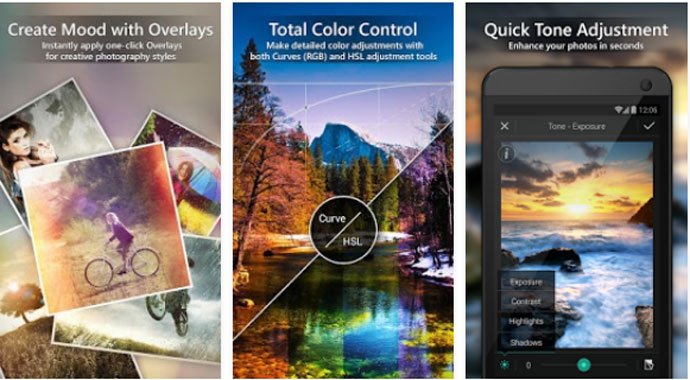 This one is quite newer than other photo editing apps, but it has become very popular with its unique and special editing tools. With more than 50 million downloads and a good amount of rating can easily realize you that how good is this one. You can solve tough white balance problem with one click, easily adjust HSL sliders and RGB color channels. On the other hand, you can add live photo effects using PhotoDirector. To give your photo a stylish professional look you can use the app.

Fotor Photo Editor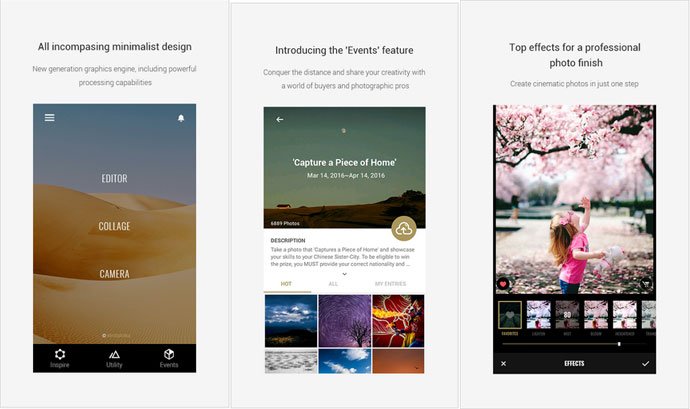 Another amazing photo editing software is Fotor Photo Editor. Good quality is very important to us, and Fotor is trustworthy for this. Fotro has some wonderful effects, filters, and lots of customizing option for your photos. Focus feature, enhance functions, scene effects, and mostly the updated stickers, frame, filters, and fonts make it useful to you.

Photo Editor Pro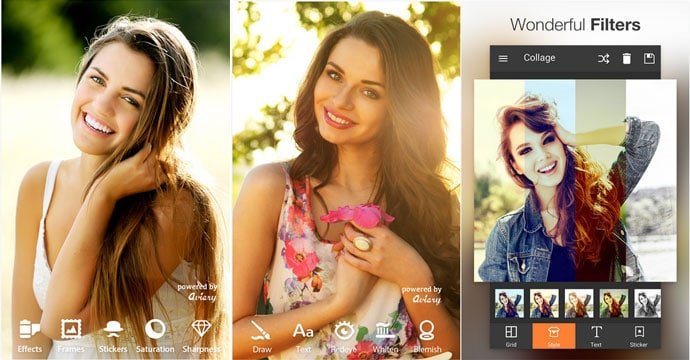 Photo Editor Pro is another best photo editing apps for Android. Regular photo editing options mixed with modern photo editing options to make this app popular. You can use tons of effects, filters, frames and stickers to your photos. If you never edit any photos, still you can edit photos with Photo Editor Pro. Build in photo collage features will give you the result within a second. Extra layout, stickers, natural effect, will give you a better look than before.

Photo Lab Picture Editor FX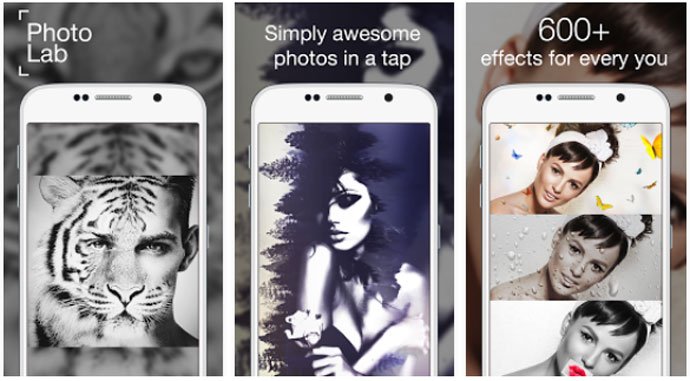 Photo Lab is another photo editing app that comes with Neural Art Style. The app is offering you a smart and quick option for your photos, which can make your photo into artwork with a touch. Face photo montages is another awesome customizing option to add some extra look on your photos. Photo collages, photo filters, realistic photo effects, photo frames, everything is here for your perfect photo editing.

Airbrush – Easy Photo Editor
Finally, we came at number 10 with Airbrush. Unique, surprising and amazing photo editing apps of the present time. Blemish and pimple remover of this app will give you a fresh and beautiful look. You can slim and reshape your selfie and photo, Brighten eyes and whiten teeth, Real-time editing technology, Natural filters, Artistic features, all come with it. Some of the effects are really cool for your stylish look.

Final Thoughts
All things considered, our experts recommend you these 10 best photo editing apps for Android. Pick your desire one and make your look better than before, and share with your friends and family members. No doubt, you are going to have some awesome photo editing apps to edit yourself or your buddy one.
Save