Torrent is one of the most popular and easiest ways to share and download large size files using a Torrent Client. Generally, you may use a Torrent software on your PC to download or share large size files. But now can download any size files using a Torrent client from your Android smartphone or tablet. As a Torrent client, you need to use a Torrent App on Your Android Device.
Different Torrent App comes with various features and functions, but the particular download function is same. At first, you need to download a Torrent file for the specific document that you want to download and open it with a Torrent app. Some Torrent app comes with real-time streaming, so you can take a preview if you are going to download a media file.
However, there are several Torrent Apps for Android available in the Google Play Store and the other apps market. You need to download the best one that works fine and can download any type torrent files. So after a handy research on several torrent apps, we found some best and Free Torrent Apps for Android Device. Let's have a look at the list and download your favorite one now.
Free Torrent Apps for Android
µTorrent®- Torrent Downloader
We know that you are popular with the µTorrent if you have ever used a Torrent software on your PC. The µTorrent is one of the most popular torrent clients for PC that comes with various features to download large size files. Now, it's also available for Android device to download your favorite movies, TV episode, music files or any kind large documents from your Android tablet or Smartphone. The user-friendly interface makes this app perfect for both beginners and advanced level users.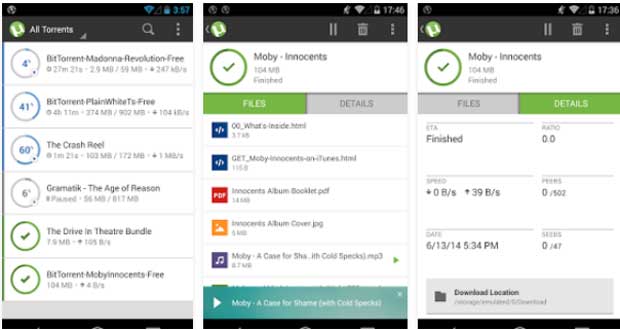 Key Features
Integrated media audio and video libraries and streaming player
Clean and elegant design
Lightweight and fast loading torrent app
No limitation for file size or download
Advance Wi-Fi mode to save mobile data
Choose destination to save downloaded files
Available in more than five different languages

BitTorrent
The BitTorrent is another most popular and top downloaded Torrent App for Android that is perfect for both smartphone and tablet. Using this app, you can download any size software, movies or any kind files. There is an integrated media player available in this app to play music and videos directly from your device storage.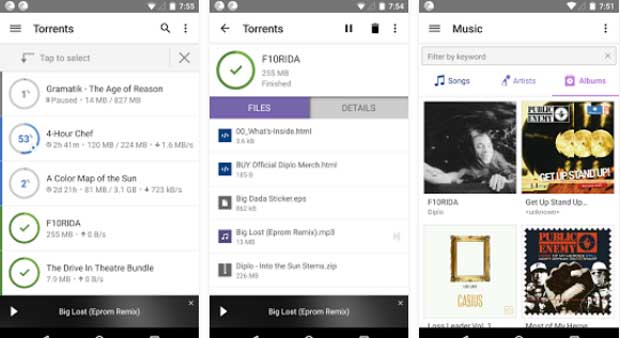 Key Features
The new version comes with high download performance
Integrated music and video libraries
High-quality sound and video quality
Choose downloaded file storage
Multi language supported

Flud
The Flud is a simple and high performing torrent client app for Android that is used by thousands of trusted users to download their essential files. You can also share files from your smartphone or tablet directly using this app. Like other torrent client apps, Flud also has clean, beautiful and easy to use interface.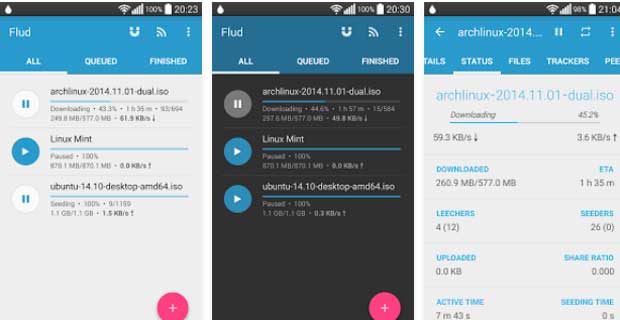 Key Features
No download or upload limitation
Select specific files to download
RSS Feed supported
Move downloaded files or while downloading
Support big size files (Up to 4GB)

aTorrent
The aTorrent is another Bittorent client app for Android that comes with all basic torrent functions and elegant design. Like other torrent clients, the aTorrent also works with P2P connection to download large size files. The only negative side of this app is, the free version comes with Ads.
Key Features
Built-in search option
Open torrent files directly from the browser
Download multiple files at a time
Choose specific files to download
Set download speed

tTorrent Lite – Torrent Client
The tTorrent Lite is a P2P and simple torrent app for Android devices to download large size movies, software, files or documents. With the help of high speed internet connection and this torrent client app, you can easily download large size files within few minutes.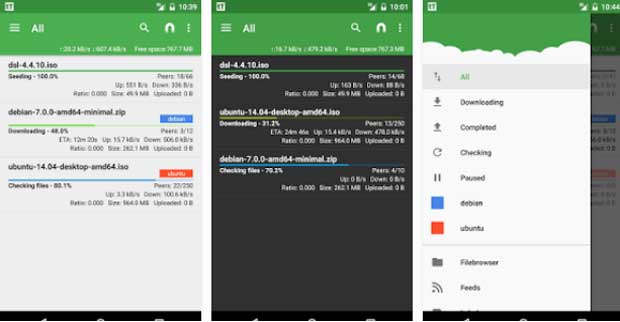 Key Features
Built-in search option
Share files from your device
Download single or multiple files at a time
Wi-Fi mode for faster download
Support RSS and Magnet Link
IP filtering features

Save