Bloggers who capitalize on the functionality and versatility of Android OS now boast complete mobility as well. The mobile operating system has dominated the entire smartphone industry since 2010, increased to an unmatched 80% global market share of device sales. Success in this platform has transmitted to portable tablets as well, with Android devices securing the market lead from 2012 onward, and are projected to continue that momentum into the year 2020 and beyond.
With over 2.9 million apps available for purchase and download on Android's App Market, Google Play, and bloggers can feel spoiled for choice when searching for the perfect app to easily create and publish content on their site. With fantastic guides available for step-by-step direction on creating the perfect blog (even for those just starting out!) and these top 10 Android blogging apps, you can easily produce and share content anytime, anywhere.
WordPress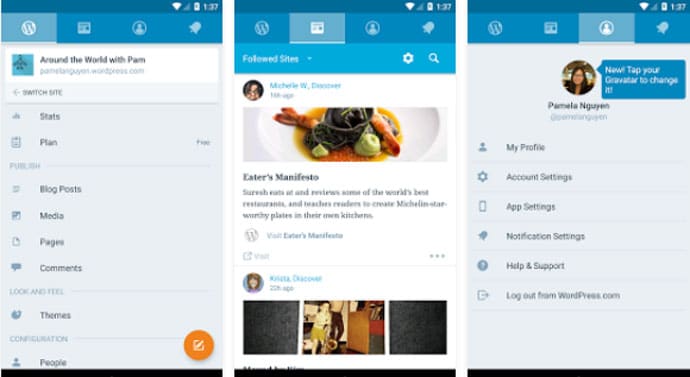 If you've ever browsed the Internet, you've most certainly stumbled upon a WordPress site. Powering 27% of the top 10 million websites, WordPress is an industry giant most lauded for its clean design, customization options, and hundreds of themes available to cater to the needs of any blogger, no matter the topic. The mobile app allows for publishing and editing content on the go, statistic monitoring, and comment management with an easy-to-use interface.

Blogger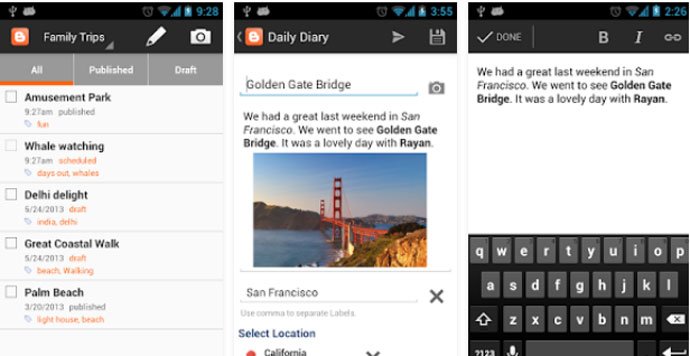 This app was developed by Google, Inc. and displays the sleek user experience popularized by the tech company. Blogger offers many of the post/edit options of WordPress, yet does not charge the average $13 of its users who boast their own domain site. For smartphone or tablet users who like to keep all of their information accessible with one set of login details, Blogger is an obvious choice as it allows for Google credential sign-on and the option of controlling multiple blogs from one account.

Tumblr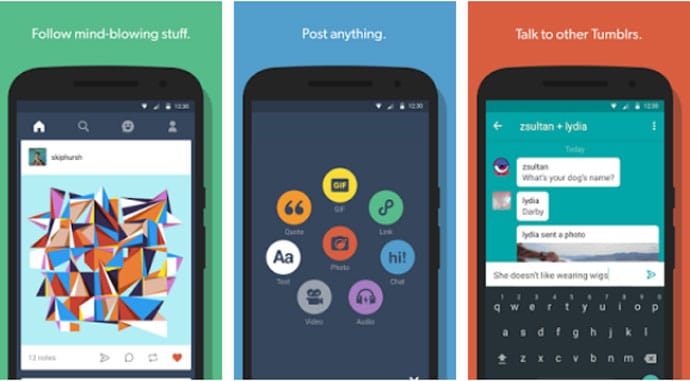 If you're constantly snapping pictures on the go, or have a blog with mostly image-based content or uploads, then Tumblr is the mobile app for you. While Blogger and WordPress effectively support text-heavy blog posts, their image sharing options are trounced by Tumblr's image/video/gif/chat-link services.

Simplog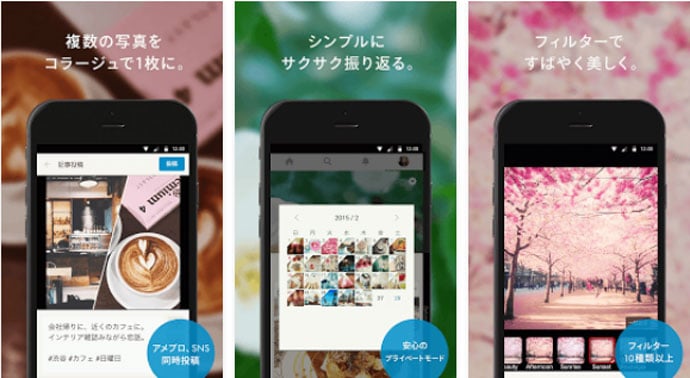 If you're a blogger who wants your thoughts published in seconds with the succinctly of sites like Twitter, all from the comfort and convenience of your mobile keyboard, then the Simplog app is for you. Simplog is a completely smartphone-centric blog you can record and share your life in real-time, with seamless Facebook, Ameblo, and Twitter incorporation.

BlogPost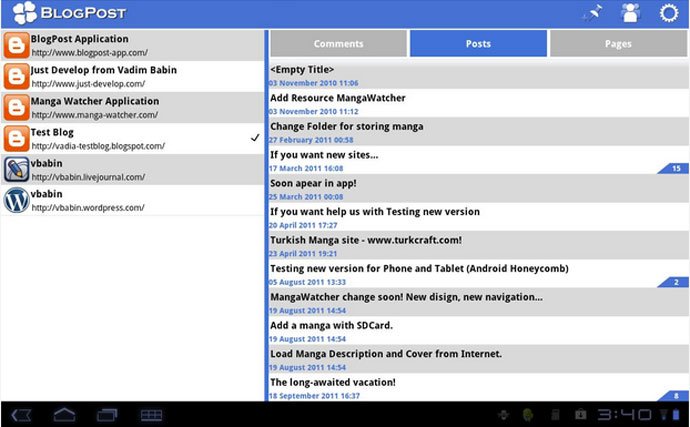 The BlogPost is a great-fitting app for users comfortable with the style of Livejournal and Blogspot. With both a text and visual component, bloggers can easily embed image and video content into their posts and tag their content for easy searching and sorting. This blogger client also includes comment management for those who wish to interact with their sharing audience.

Writer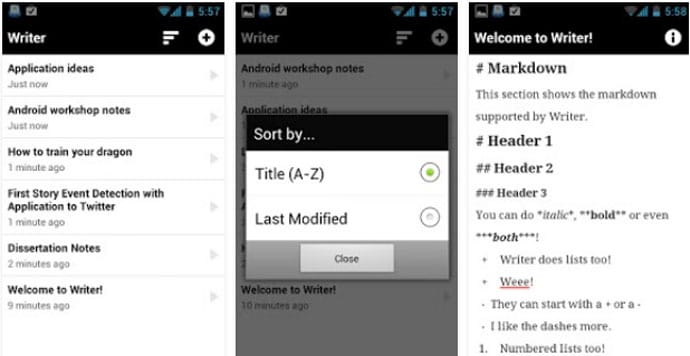 This app stays true to its title, in that its focus is exclusively on content creation instead of formatting or customization. If you're looking for an outlet to type your thoughts on-the-go, as they come, then writer is for you. This is an ideal writing app for professional bloggers and writers. As explained by the developer, "Writer's philosophy is Keep It Simple. Writer tries to be as basic as possible, giving you somewhere to turn your thoughts into text, markdown support, and some statistics. Nothing more. Nothing less."

Buffer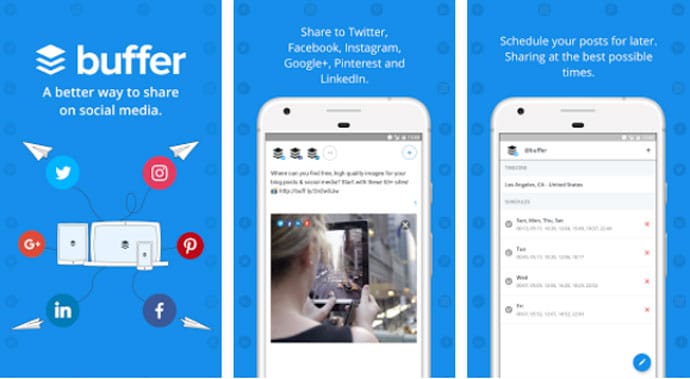 As a blogger, you're of course aware of the role social media serves in promoting and sharing your unique content. Buffer is a one-stop-shop for multi-account social media management and allows for both time-staggered and automatic sharing. If you wrote an incredible article but don't want to post it at a statistically low-traffic time for your blog, you can set Buffer to post for you automatically across all of your accounts.

Squarespace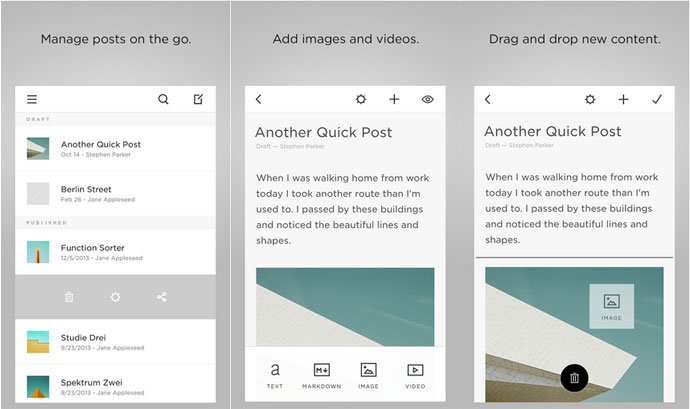 Squarespace caters to the professional blogging client, with its sleek design and polished features. Originally designed for iPhone and iPad, Squarespace is now available for Android OS devices with all of the celebrated core features carried over. This app allows for content management, easy authoring, multiple blogs, and appeals to non tech-savvy bloggers despite its professional appearance. Squarespace is not a download-and-go app however, as the service is not free and requires previous account creation and credit card authorization.

YouTube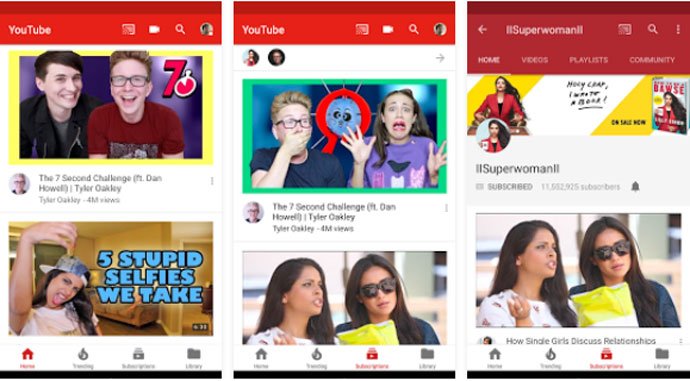 Do you prefer to trade in the keyboard and traditional blogging for time in the spotlight with blogging, or video blogging? If so, than be sure to choose the app heavily popularized by mobile tech as half of the views from YouTube's billion users come from handheld devices. Upload videos within seconds after recording, tag your content to encourage traffic and interact directly with your subscribers all through YouTube's Android app.

Weebly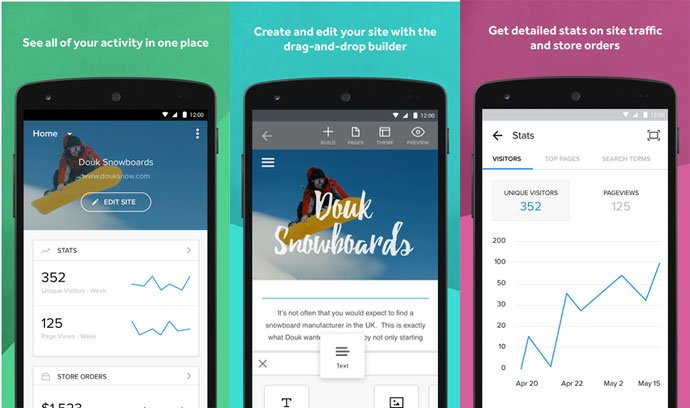 Weebly is an app designed for new bloggers, fresh to the mobile content creation scene. This app features an easy-to-use interface showcasing traffic and user engagement statistics for any blogger, not only the mathematically-inclined. Along with these figures, Weebly allows for site customization from your mobile keyboard, so you can post and edit content while also altering the entire look of your blog as well. You can also stay true to the fans who encourage your blogging fame, responding instantly to comments on your posts while on the go.

With so many versatile and easy-to-use blogging apps available for Android, sharing thoughts, images, and videos on the go with followers has never been easier. Long gone are the days of desktop text-only posts, as these top apps make it easier than ever to share what you see and think in real-time, to millions within seconds.