YouTube is one of the most popular and largest video sharing sites where you can easily watch different type's videos. You can watch millions of movies, music, tutorials, etc. on YouTube in the different language. With the user-friendly interface and a large database, YouTube gets popularity and its increase day-by-day. As thousands of people upload millions of videos per day, so you will get videos on any topic on the YouTube. However, sometimes we need to download videos from YouTube from our Smartphone to watch later. And the Official Android YouTube app does not allow to download videos. So here we are going to share some Best YouTube Video Downloader Apps for Android.
There are hundreds of video downloader apps available for Android, but almost all of those are not working with YouTube. So you can't download videos from YouTube using that video downloader. You may also search for a best YouTube Video Downloader App for your Android device, but fail to get one which works great.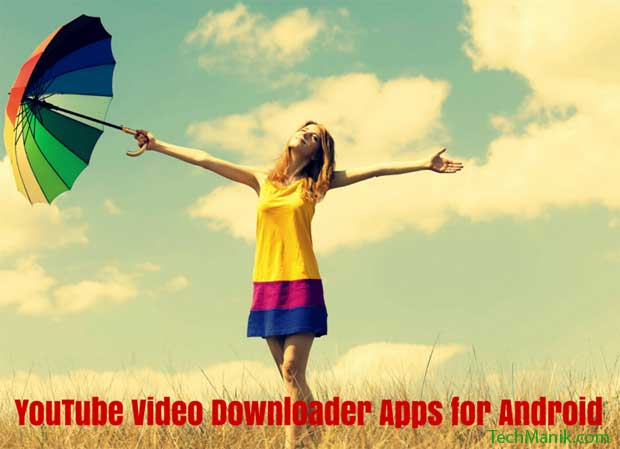 But we can assure that, using any of these YouTube Video Downloader Apps for Android you can download videos directly from YouTube. Just choose any one from this list, download it, install it on your Android Device and start downloading videos from YouTube now. So let's check the list and grab the best one.
Last Updated On: 27th January, 2018
Which is the Best Free YouTube Video Downloader Apps for Android?
InsTube
TubeMate
YouTube Downloader
Tubex
WonTube
VidMate
EasyTube
And See More Below with their features and functions.
InsTube [Recommended]
If you are looking for a 100% working YouTube Video Downloader App for Android, then the InsTube could be the best one. The app comes with both video and music downloading option for more than 25 different video streaming sites including YouTube, Facebook, Instagram, etc.  The optimized video downloading option can download videos in fastest speed with slow internet connection.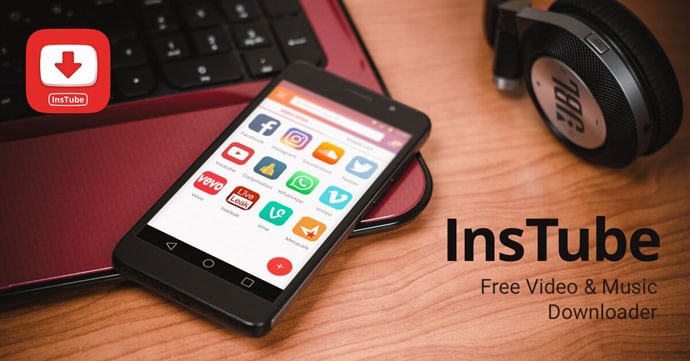 Key Features

Free YouTube Video Downloader App
Built-in video locker to lock confidential videos or music
Lightweight and easy to use interface
Can choose video or music format before downloading
Download multiple videos or music at a time
Support background download
Get notification in the notification bar/tab when download finished
TubeMate
The TubeMate is one of the most popular YouTube Video Downloader App for Android which you can use for free. With this video downloader app, you can easily download any video from YouTube with high downloading speed (if you want to check your download speed , I suggest you use speedcheck.org). This app is also able to download HD videos directly from YouTube.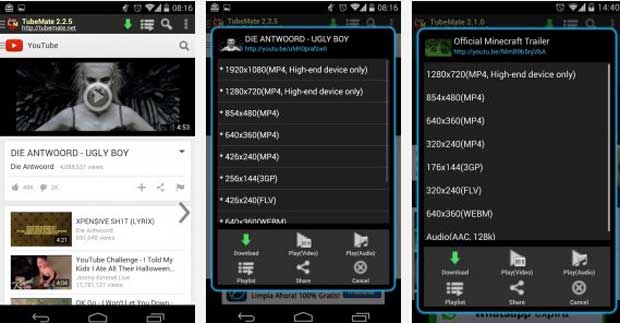 Key Features
Download videos with high speed using multiple internet connections at same time
Download videos with various video formats such as FLV, 3GP, MR4 etc.
Select where to save the downloaded video
Theme customization
Support background downloads
Download several files at a time
Pause and Resume download
Built-in video player
User-friendly interface
YouTube Downloader
The YouTube Downloader is another Popular Video Downloader App for Android which you also use for free to download videos from YouTube. The app also comes with user-friendly interface and downloads videos from YouTube easily and quickly. You can download videos using this app directly or use the official YouTube app on your Android Device.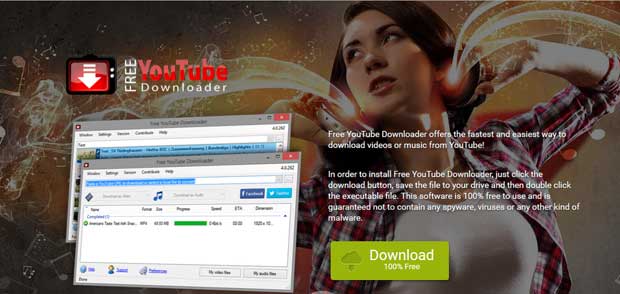 Key Features
Built-in video player
Convert videos in several formats
Download videos directly from YouTube with various video formats
Tubex
The Tubex is a Free Android YouTube Video Downloader App which you can use to watch and download YouTube videos easily. The app also comes with several features to watch and download videos. You can download any videos from YouTube with high speed although if your internet connection is slow.
Recommended: SanpChat Saver Apps for Android
Key Features
Download multiple files at the same time
Fast downloading app
Download videos with MP3, MP4, FLV, 720P etc. formats
Convert video files
Pause and resume option
Save your favorite videos on your YouTube Account
APK Download: Link1 – Here Link2 – Here
WonTube
The WonTube YouTube Video Downloader is also a popular Android Video Downloader App for YouTube. You can use this app for free to download YouTube Videos with high speed and user-friendly interface.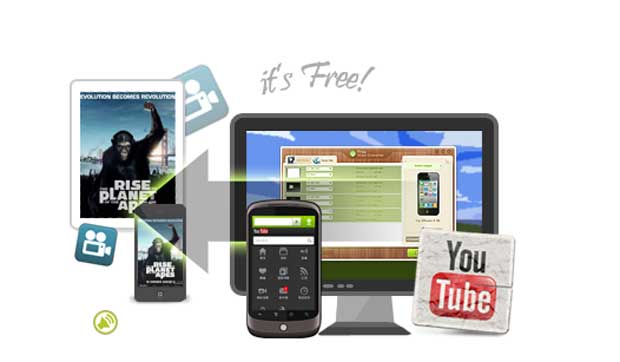 Key Features
100% free video downloader app for YouTube
Watch YouTube videos without buffering
Best app for 3G, 4G, and Edge internet connection
Built-in notification feature
Vidmate
The Vidmate is a popular video downloader app for Android which comes with tons of features to watch and download videos from several places easily. With this app, you can also watch movies; live TV, videos, music from hundreds of source.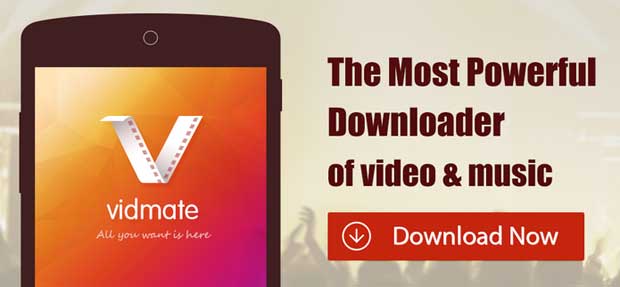 Key Features
Download videos from YouTube directly with the official YouTube App
Watch live TV
Detect videos automatically to download
Select any resource link to download videos
EasyTube
The EasyTube is one of the oldest and the best YouTube downloader app for Android that comes with faster video downloading features. There is a built-in advanced search box available in this app to search your essential movies, videos or music on YouTube. This is a free YouTube downloader, so you can use it to download unlimited music, videos or movies from YouTube.
The user-friendly interface comes with simple navigation feature. You can also download videos or music from YouTube with several different formats. So, you can choose the best video format for your device that can play easily.
Download Link: Here
Videoder
The Videoder is free YouTube downloader app comes with several unique features, user-friendly interface and ensure faster downloading. This is one of the best YouTube downloaders for Android according to the iskysoft. The built-in converter helps to download video songs as the audio song. So you don't need to utilize an extra video to audio music converter.
Although this is a free downloader app, the app comes with ads free features. You can download videos with different resolutions and formats. The multiple downloading features help to download several videos or movies at a time. As this is the fastest YouTube downloader for Android, so you can download videos quickly through Wi-Fi, 3G or 4G network. There is also a built-in web browser available to download videos from any website easily and quickly.
Download Link: Here
KeepVid Android
If you search for some Best YouTube Downloader for Android, you will find the KeepVid Android at the top of the list. This is a newly released free and fast video downloader app for Android users. The app directly supports YouTube video downloading option and can download videos in various formats and resolution. The built-in music downloader option helps to download YouTube videos as Music with MP3 format. There are several attractive features available in this downloader. Batch download, HQ quality video download, fast speed and built-in web browser are notable features of the app.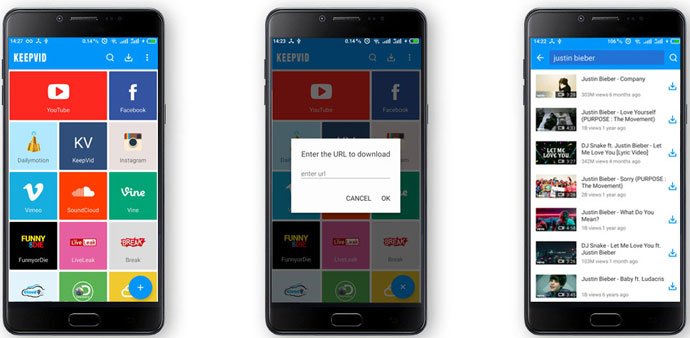 The batch download option allows downloading multiple files at a time. With the help of fast download feature, you can download videos with high speed and can control which videos to download fast. The HD video downloader option will allow you to download 2K, 4K, HD and UHD quality videos directly from YouTube. The KeepVid support almost all popular video sharing sites including Dailymotion, Vevo, Vimeo, ispot, etc. So you can also download videos from other video sharing sites using the app.
Get It Now Here from Their Here
SnapTube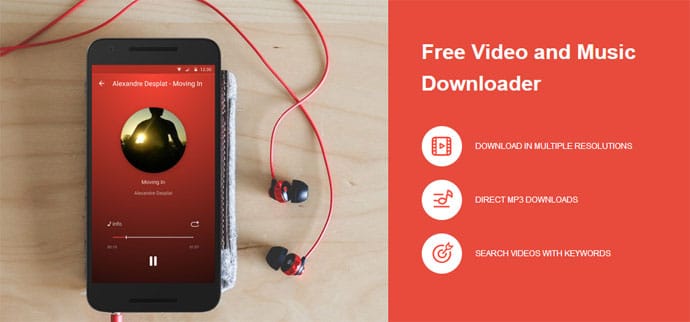 The SnapTube is a lightweight and user-friendly Android YouTube Downloader app. The app also considers as one of the Best YouTube Downloader App because you can download conveniently download videos using the app. The fast downloading option ensures quick download with best video quality. Like the previous one, the app also comes with the built-in MP3 Downloading option to download and save YouTube Videos as MP3 music. The app also recommends popular, top rated and trendy videos from several video streaming sites. The built-in search option also available to search and download videos instantly. This is also an ideal app to download videos from Facebook as well as Instagram. However, the app supports more than 25 popular videos sharing and social sites.
Get SnapTube Here
AnTube
The AnTube is a newly released video downloader app that comes with tons of features. The app already creates a buzz on the YouTube Downloader Apps market. This app considered as one of the Best App to Download YouTube Videos because of its fast-downloading feature. You can also download videos from multiple sources like Facebook, Instagram, Vimeo, DailyMotion, Vuclip and much more. The app also lets you select the video quality and device storage location where you want to save the downloaded video.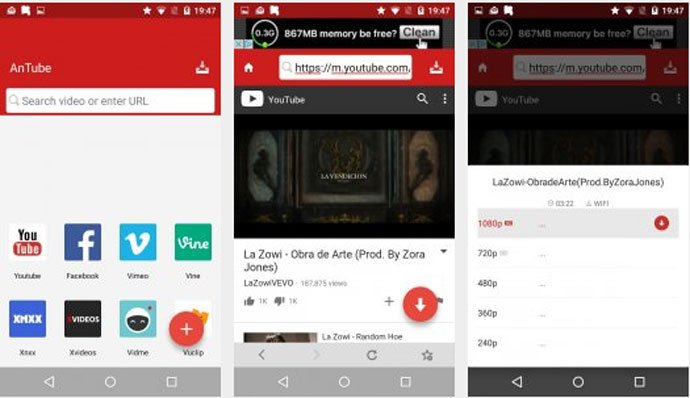 Besides these features, the AnTube also comes with a built-in browser and search bar. You can search using the keyword for movie, video, music or TV shows and it will show the related results from different sources (mainly from YouTube). Then you can open any video from the result and click the download button to start downloading that video. Overall, this could be the Best Android YouTube Downloader if you are looking for a straightforward and lightweight one.
Final Thoughts
Although there is no official app available from YouTube to download videos using Android phone or tablet, there are a bunch of apps available to do this. The problem is, most of them comes with poor design, navigation, and huge ads. So you must download and install the best one that works great, can download multiple videos at a time with high resolution and speed. Hope our list of Best YouTube Video Downloader Apps for Android will help you to find the awesome one. If your favorite YouTube video downloader is not on our list, please let us know by commenting below. We will surely add it in our next update.
Save
Save
Save
Save
Save
Save
Save
Save
Save
Save
Save