Android is one of the most popular smartphones operating systems of today's modern era. With the help of an Android Smartphone or tablet, you can do several things to make your daily life easy and comfortable. Generally, we use the phone to call or sending text messages to our friends and family members, but nowadays, we use it for more.
However, security is one of the most important facts that you must consider for your smartphone. You must protect your privacy from others using some security app on your Android smartphone or tablet. As different types free app locker available for Android, so you can easily do it. Using a perfect app locker, you can easily keep your smartphone or tablet files and documents safe and secure.
Here, we're going to share some top and best app locker for Android. All app lockers in this list come with various features and functions. You can download anyone from Google Play for free to keep yourself secure from others. So, let's check the list and get your favorite Android app locker now.
Free and Best App Locker for Android
AppLock
The AppLock is one of the most popular and well-known app locker for Android, which comes with various unique features and functions. This app available in 24 languages and use more than 100 million peoples from 50 different countries. The user-friendly design and interface of this app make it perfect for both beginner and advanced level users. You can easily lock any apps, images, videos, locations, etc. using this app locker.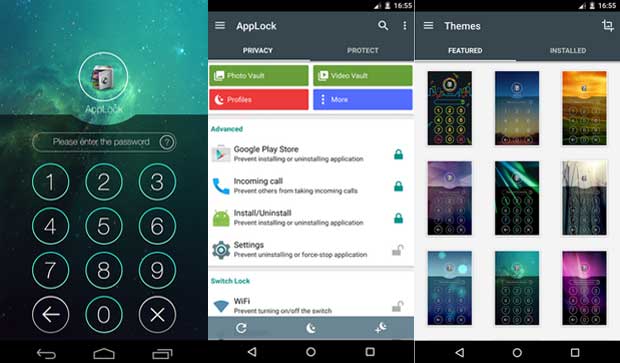 Notable Key Features
Easily lock SMS, call history, apps, settings, gallery or mail
Built-in photo video vault
Easily hide specific images and videos from the gallery
No-one can uninstall AppLock without knowing your password
Pattern lock and number lock feature
Restore password using security question or email

Perfect AppLock (App Protector)
The Perfect AppLock is another free Android App locker, which is one of the top rated apps on Google Play. There is a premium version of this app available, and the free version comes with same features & functions as the premium version except ads. The App is available with the PIN lock, pattern lock, and Gesture lock system. You can also easily lock any apps, gallery, image or video with this app like AppLock.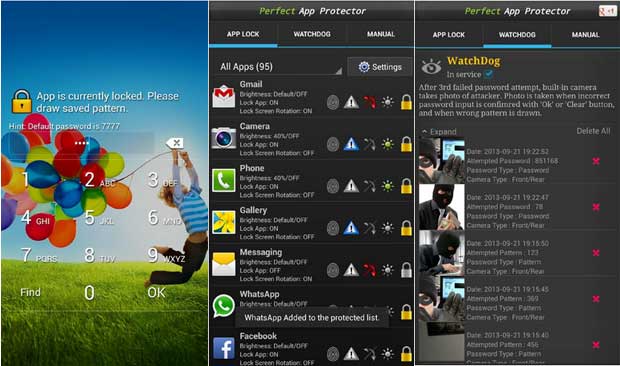 Notable Key Features
Advance screen filter option to manage screen brightness and apps
Watchdog technology helps to take pictures after 3rd failed password attempt automatically
Lock home screen, SMS, incoming or outgoing calls, emails, etc.
Lock Wi-Fi, Bluetooth or USB connection
Compatible with Android 5.1.1 Lollipop operating system

Smart AppLock
The Smart AppLock is another most popular and best app locker for Android that comes with advanced security features. With over 20 million downloads and supporting 30 different languages make this app locker reliable to use it. Like Perfect AppLock, the Smart AppLock also comes with an advanced feature to take photos automatically of those people who tried to unlock your device using the wrong pattern or PIN code.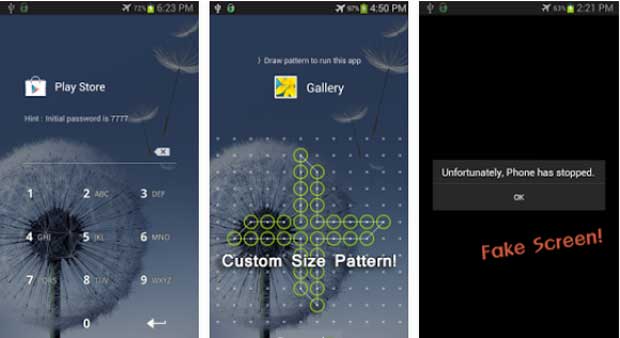 Notable Key Features
Lock any apps using multiple patterns or PIN code
Lock specific images or videos
Lock call, SMS, mail, settings, Wi-Fi, etc.
Take control of the install or uninstall app
Takes pictures of the Intruder and get it to your registered mail automatically

Apps Lock & Gallery Hider
Like other app lockers, you can easily lock any apps using Apps Lock & Gallery Hider app. This is also another most popular locker app on Google Play with over 1 million downloads. You can easily hide specific image and videos from Gallery to protect your privacy. This app also lets you lock Facebook, Gmail, Twitter, WhatsApp, Line, Viber and any other apps of your Smartphone.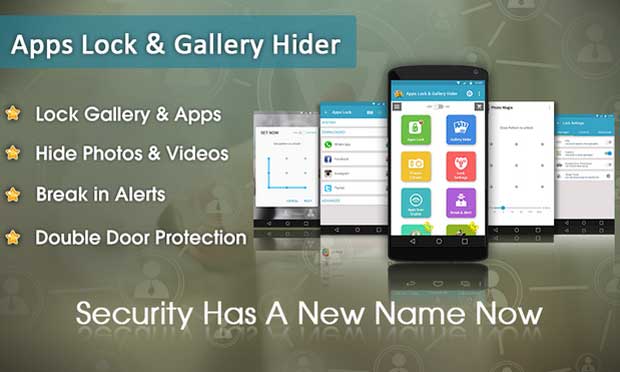 Notable Key Features
Lightweight and high performing locker app
Lock system or downloaded app
Easily transfer locked images, videos or any file
Home screen widget to lock or unlock quickly
Multiple lock system for advanced protection

LEO Privacy Guard – AppLock
The LEO Privacy Guard is another trusted and best app locker for Android phone and tablet. The app comes with advanced privacy protection technology to protect your privacy from annoying snoopers and prying eyes. You can easily lock your SMS or Call log using this app and also can lock Facebook, Gmail or Twitter. The simple and user-friendly interface helps to understand all of its functionality easily.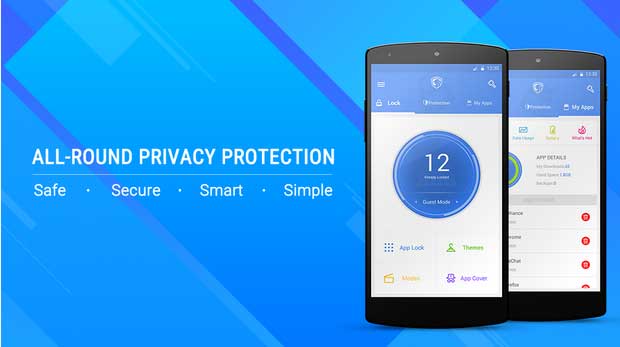 Notable Key Features
Lock all apps or individual apps
Lock gallery, specific video or images
Multiple app lock feature
Use PIN code or pattern to lock apps
Less battery power consuming app locker

Save