Most of the people buy an Android phone or tablet to play games, watching movies, reading books or stay connected with their friends and families. But, nowadays, people also use their smartphone or tablet for business purpose. A lot of business related Android apps available in the market, so you can easily utilize these apps to boost your business.
You may search the web for some efficient and Best Android Apps for Business but failed to find business apps that have been actually working. So after a little research, we collect some Android Business apps for small to medium business owners and corporate persons. Hope, this list will help you to stay connected with your business through your Android phone or tablet. Let's check the list of Android Apps for Business and download your essential Android business apps now.
Best Android Apps for Business
OfficeSuite + PDF Editor
If you are the owner of an Android tablet, then you don't need a PC or Laptop to create, edit or view office documents. You can easily do these with the OfficeSuite + PDF Editor app. This is one of the most popular and top downloaded office apps, which comes with several features. You can also view or edit PDF files with this app. There is a free and premium version available for this app. For basic tasks, like viewing or simple editing office documents like Microsoft Word, Excel, PowerPoint; the free version is enough.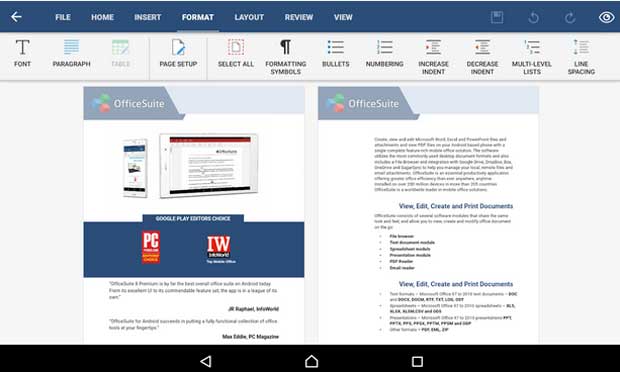 Notable Key Features
Integrated file management system through advanced networking system
Edit header, footer or page number in Word Documents
Compatible with all Microsoft office formats
Share documents through email or cloud service like Google Drive or Dropbox
Support more than 56 languages
Make your files password protected

Gmail
Business and corporate persons always need to check their email to stay connected with their business or job. The Gmail app can help you to stay connected with your business mails. This is one of the most popular email apps for Android, which is the official email app of Google. With this app, you can organize emails, get quick email notifications and filter spam messages.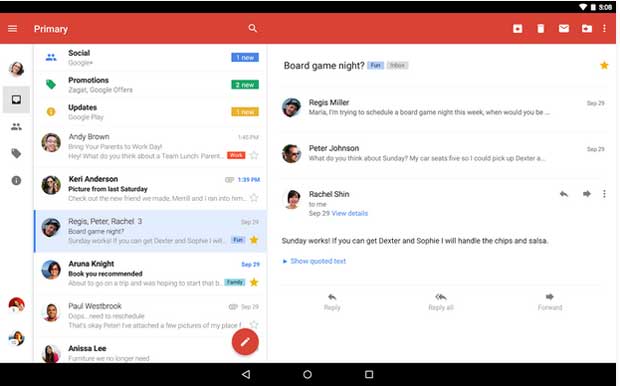 Notable Features
Add more than one email accounts, including Outlook, Yahoo or IMP/POP mails
Organize emails by the senders
Spam email gets blocked automatically
15GB free storage
Read and respond emails offline or online

Google Drive
The Google Drive is a popular free cloud storage service, which comes with several features and functions. If you want to store all of your business files and documents and access them from anywhere, anytime, then Google Drive is the best solution. You can easily take backup any files including photos or videos using Google Drive. There is also some other cloud storage service available for the Android like Dropbox, One Drive or Box, but Google Drive is the 1st choice of the most of the business and corporate persons.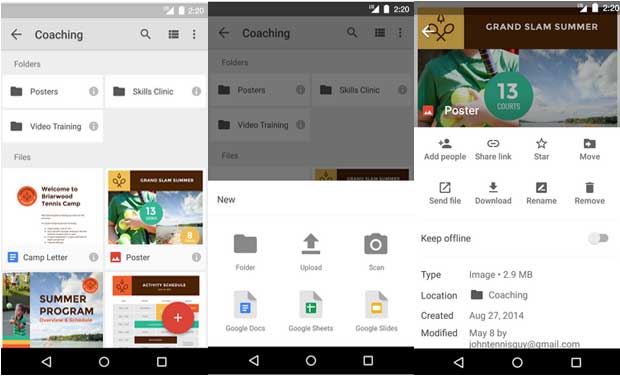 Notable Features
15GB free cloud storage
Create, view or edit files from anywhere
Share files or documents with other people to edit, view or download
Built-in search option to search folder, files or documents
View files in offline

Evernote
Corporate and business persons always need to organize their tasks, take notes, create to-do-list and much more. The Evernote will help you to organize your tasks and make it simple. This is one of the most powerful notes taking app, which is used by over 100 millions of people. Evernote also available for Windows, Mac, and Linux, so you can easily sync data and stay focused on your tasks.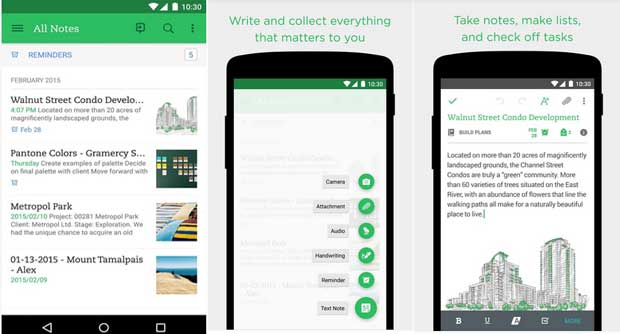 Notable Features
Create, edit and organize notes
Save web articles, images, videos and organize them
Make to-do-list
Group working and chatting feature
Access documents in offline
Free and Premium subscription available

Microsoft Remote Desktop
Take control of your work PC or home PC through Android Smartphone or Tablet from anywhere, anytime. The Microsoft Remote Desktop is the best remote client app for Android, which comes to make your tasks easy and comfortable. You can take full control of your PC to create, view or edit any Microsoft documents on your PC.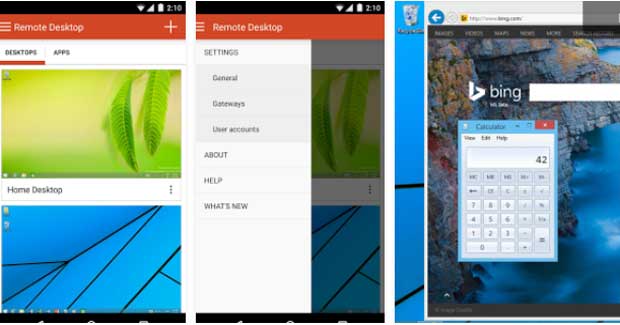 Notable Features
Secure connection through NLA technology
High-quality audio and video streaming
Support Windows professional and server edition
Advance multi-touch feature

Skype – free IM & video calls
Business persons need to join the meeting with employees or clients. At the past, people join at a conference or meeting physically. But nowadays, they use the video calling app to save time. The Skype is a popular video calling app which is available for Android, Windows, Mac and other cross platforms. So you can use this app to connect with your clients or employers.
Notable Features
Stay connected with your friends and family member also
High-quality audio and video
Send text or video messages
Share files, photos or documents
Group voice and video calling feature
Call mobile or landline with low cost

Office Lens
A great app by Microsoft, which is really essential for business or corporate persons. You may need to scan official documents, images, etc. and the Office Lens is the ideal app for this app. You can easily scan any document with several modes using this app and your device camera.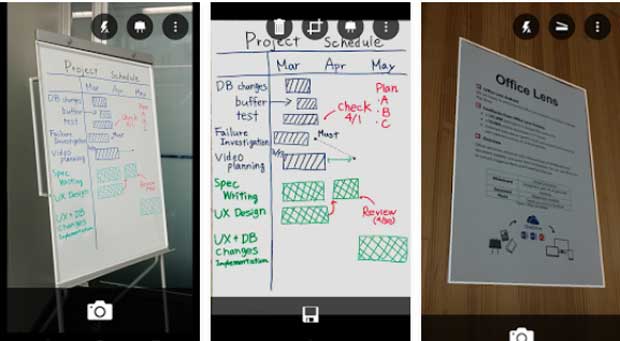 Notable Features
Scan any document clearly and converts them into PDF, Word or PowerPoint document
Save scan documents directly to OnerDrive or OneNote
Edit scanned documents
Whiteboard mode to clean up glare and shadows of the document

CalenGoo
The CalenGoo is a free calendar app for Android phone and tablet that comes with the highest rating. You can easily sync Google Calendar with CalenGoo. This is a lightweight, and a faster calendar app comes with five different user-friendly views. This is another essential Android app for business with various features to organize your schedule and meeting.
Notable Features
Create, edit, view or delete event with simple drag and drop option
Built-in home screen widgets
Share events with other people
Various reminder options with Google Calendar
Several features available in PRO version

Expense Manager
Need to create your daily or monthly budget? Want to take control of your business expense? Then the Expense Manager is the perfect app for you, which will help you to create your daily/monthly budget and take control of your expense. The app comes with easy to use interface to track your small to the medium business expense and show results with graphs.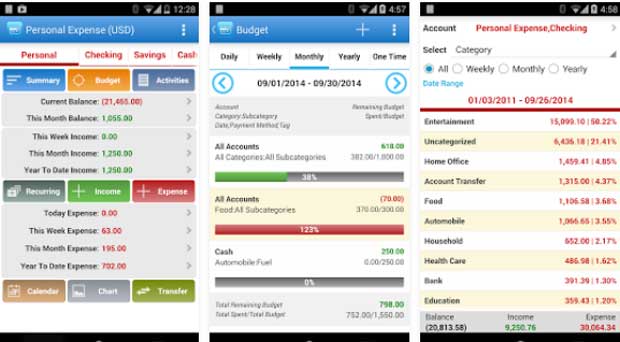 Notable Features
Track expense by category, day, week, month or year
Create multiple budgets and expense report
Attach payment receipt or invoice
Payment alerts and search option
Export budget or expense as CSV file
Built-in calculator and debt management system

Save