Nowadays, video calling is one of the most modern communication ways for both business and personal purpose. With the help of powerful network technology, 3G/4G, and WiFi, people can easily communicate with each other through video calling. At first, people only use their PC for video calling purpose, but nowadays, they also use their smartphone. As most of the smartphone comes with a front camera, so people can easily use their phone for video calling.
There are several video calling apps available in the Android apps market, and most of them are free to use. So, you can easily make a video call with the help of these video calling apps. As several video calling apps comes with several functions and features, so you need to find the perfect one for you which is easy to use and works fine with slow internet connection. In this post, I'm going to share some best and free video calling apps for Android smartphone and tablets.
Best and Free Video Calling Apps for Android
Tango – Free Video Call & Chat
Tango is one of the most popular and free video calling app for Android, which comes with a user-friendly interface. You can use this app for free video calling, voice calling and chat with your friends and family. More than 300 million people use Tango for their best service. You can also get social networking feature with this app like send messages, images, cards, events and play games with your friends.
High-quality voice and video calls
Simple registration process through your phone number and email address
Windows apps also help to connect through a PC
Group chat and conversation
Connect with new people easily
Not recommended for business calls
Some user finds difficulties to sync contacts with the new version
Also Check: Best Android YouTube Downloader

Skype – free IM & video calls
Skype is another most popular video calling apps for most of the popular OS like Android, iOS, Windows, etc. Skype now owned by Microsoft and popular video calling app for Windows PC as well as Android Smartphones. You can easily use this app for voice calling, video calling and send messages for business and personal purpose. However, you can also use the Skype premium service to call the mobile phone or landline number.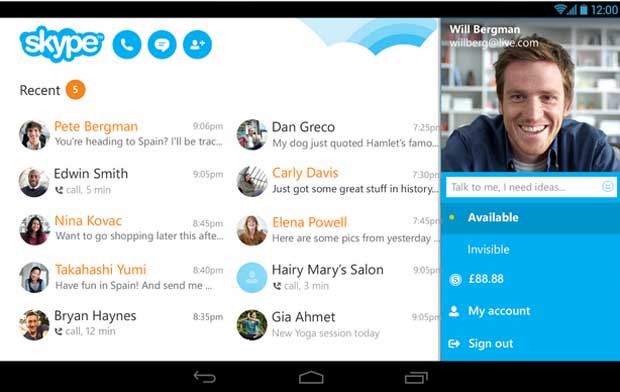 Receive and send messages instantly
High-quality audio and video
Send video messages
Screen sharing option
Group video calling feature
May Not working well with slow internet connection
Group video calls need premium subscription

ooVoo Video Call, Text & Voice
ooVoo comes with user-friendly interface and easy to use the feature. You can use this video calling app as an alternative to Skype. You can make a group video call and join up to 12 people for free and also can make a 1-1 call. ooVoo also let send text messages, images, files, etc. As this app available for Windows, Mac, Blackberry, iOS, and Android, so you can easily connect with your friends and family through the app.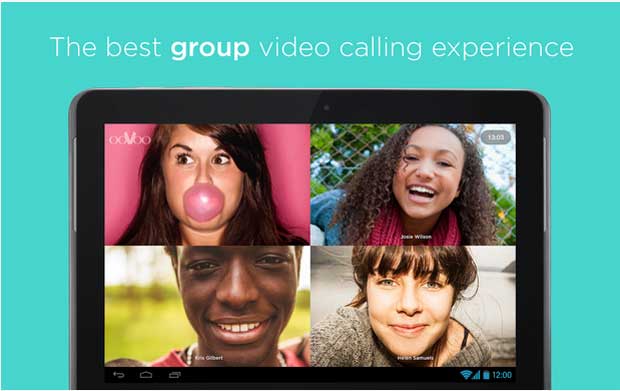 Free video and voice calls with high quality and clear sound
Send text messages, images or videos during video call
Advanced video technology ensures fewer call drops
Group chat feature
Award winning social networking app by Tabby in 2013
Not working fine with 2G network
Show only four faces at a time during group video call

imo free video calls and chat
Imo has recently gotten enormous popularity for their simple and secure video and voice calling feature. The app comes with several features for Android phone and tablet users. You can make unlimited voice and video calls for free with this app. The app also supports text messaging feature with various attractive stickers.
Good audio and video quality
Group chat with friends and family
Send photos and videos
Highly optimized for Android tablets
Encrypted chats and calls
Not working fine with slow internet connection or 2G connection
Not good enough for business users

LINE: Free Calls & Messages
The Line is also a popular and free Android video calling app, which helps to communicate with your friends and family through text and voice calls easily. You can enjoy unlimited voice and video calls with better sound quality and HD video quality with Line for free. Use various stickers in chatting to express yourself better.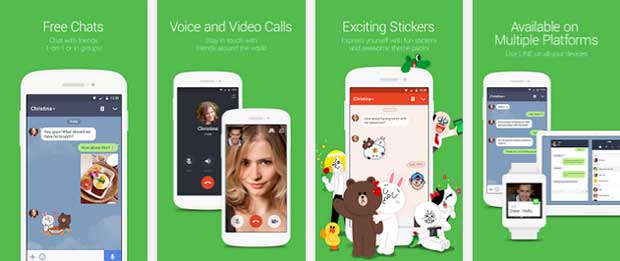 Store your messages, images, and videos for easy sharing
Free voice and video calling from your Android phone or PC
Social networking features
Group chat option
Free and premium exciting stickers
Some user finds difficulties with the reset password option
Video quality not good enough in slow internet connection

Save
Save
Save