At the present time, everyone tried to stay connected with their beloved one. For this reason, the communication system is getting easier day-by-day. Sometimes making a call is tough because of the situation. No matter, how important is this. Doing an important meeting or in a hurry. It might be impossible to make a call. When you are such these situation, you need to send a quick Text Message. For this reason, you need a quick, smart and useful Texting App. There are hundreds of Texting app on the Google Play Store and our 10 Best Texting App for Android is as follows. Choose wisely, and don't get irritated later.
Top 10 Free Best Texting App for Android
Go SMS Pro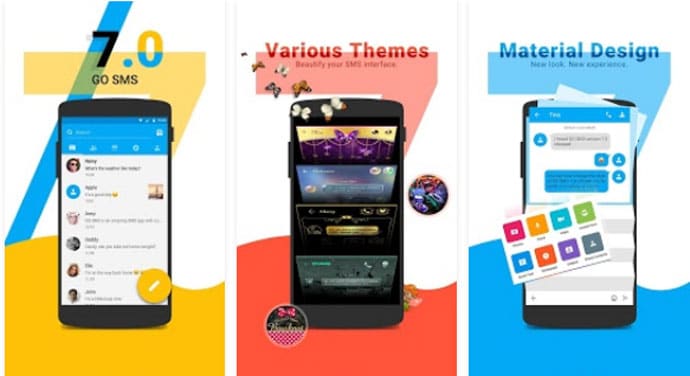 In the first place, Go SMS Pro is a Free Texting App what can give you an amazing experience of texting. Intuitive, simple and easy user interface. Fully customizable and beautifully designed with more than 100 themes. It has a private box to protect your privacy and encrypt your messages. Sticky conversation, especially for your important contact. So that, you can keep them on the top. It also provides some useful features like Pop-up, Dual SIM Support, SMS blocker, Delay to send and much more.

Textra SMS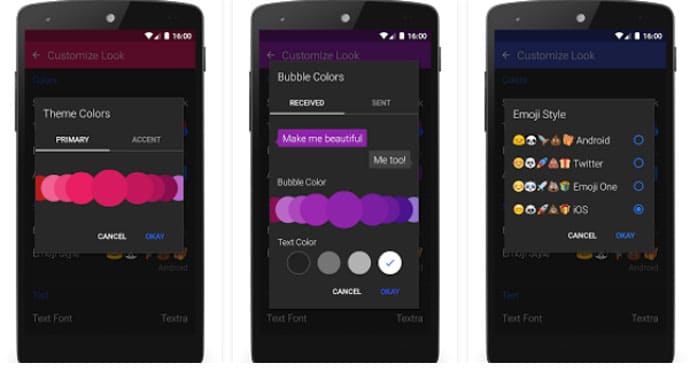 Textra SMS is one of the must-have and one of the Best Texting App for Android. Textra is a beautiful and super-fast Android messaging app and as well as customizable too. Send text messages from Textra anytime and anywhere. Textra has hundreds of features including 180+ material design theme, bubble & app icon colors. Bundle of themes like dark, light & auto night modes. The user can get everything that they want in a perfect texting app.

Android Messages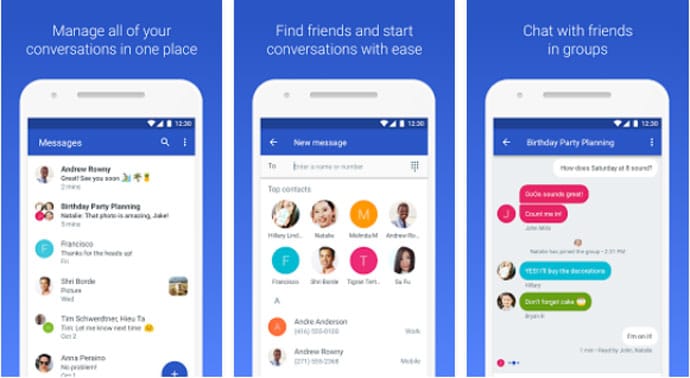 Android Messages is Text Messaging App from the top developer. This one will make your communication easy through the SMS or MMS. You can have all the basic and advanced features including Group chat. Most of the feature is easy and fast. Stay in touch with your friends and family member using Android Messages. Faster sharing will allow you to send multimedia very fastly. On the other hand, easy search for your valuable conversation. Especially, for those, you do chat frequently.

Chomp SMS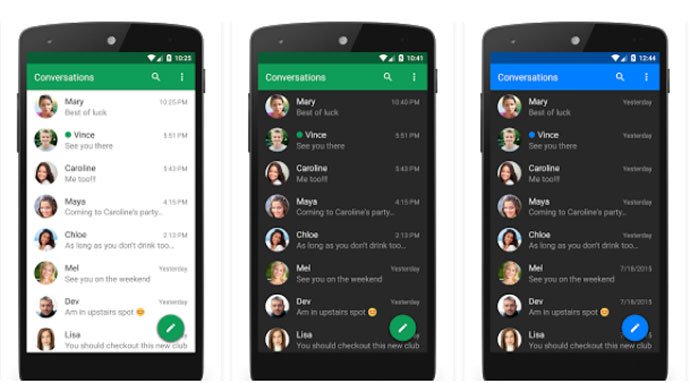 Create your own unique style and look. More than 100 of free themes. Chomp SMS offers you lots of features for your happy texting. Scheduled SMS sender for a reminder or birthday wishes. Passcode app lock for safe and secure messaging. It also provides SMS blocker to block unknown or annoying SMS, Backup, and Blacklist, Quick reply popup and much more. Now you can also send group SMS from Chomp. As well as, it has unlimited customization option. So that, you can customize the app as you want.

MySMS
Text from your Mobile or PC, stay connected with others using MySMS. MySMS comes from the top developer of Google Play Store. Tons of features and customization option. You can do group chat with this messaging app. While using MySMS from your PC it will support all browser including Chrome, Internet Explorer, Safari, Firefox, and Opera. User-friendly interface for easy use. Sync your contact and messages from your phone to MySMS and text from any device.

Handcent Next SMS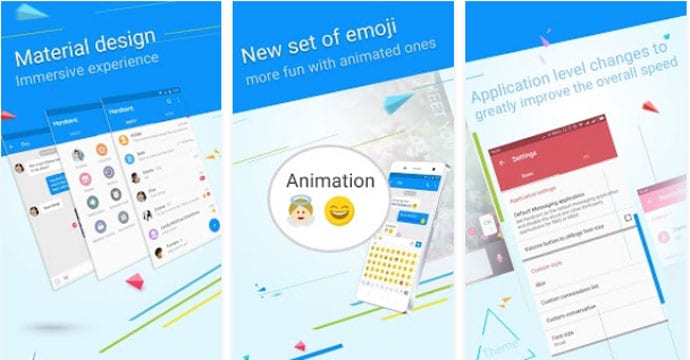 Replace your stock text messenger with one of the most powerful and customizable apps. To give you an immersive experience it has a beautiful material design. Use pop-up window to quick reply even while your mobile screen is lock. Handcent also has some useful features including Private box, MMS Plus and much more. Block SMS from unknown resources. Enjoy your texting with Emoji and Stickers. Sticky on top to keep important contact on the top.

EvolveSMS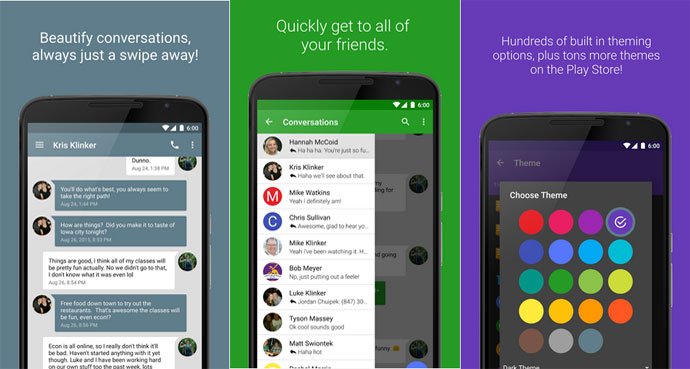 Another Best Texting App for Android from the top developer of Google Play Store. Easy, powerful and quick texting app for your happy texting. You are fully free to customize the app. Easy, smooth and beautiful single page interface to make your texting quicker than before. EvolveSMS also provides you the pop up for the quick reply, powerful media support, Android wear support, and much more. To have a great experience of texting you can use this one.

QKSMS – Open Source SMS & MMS
The Beautiful material design will give a beautiful look. More than 200 themes and unlimited customization option. Automatic night mode with relaxing night theme. Quick reply option to reply quickly without having to leave what you are doing. Send a group SMS to all your friends. Delayed Sending will give you think twice before sending the text. Search for your messages with the easy search system.

YAATA SMS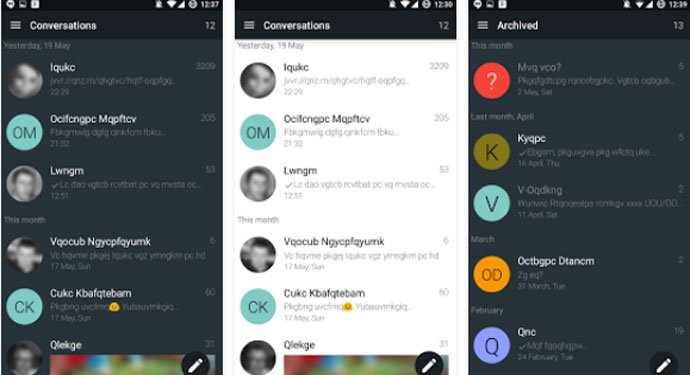 Yaata SMS for your happy texting. Simply beautiful and easy to use. This powerful, reliable app and its speed will take you another level of texting. Yaata is a  very light app which has tons of features. Authentic delivery report for SMS and MMS with the delivery time. Another key point, you can do group chat from Yaata. Other cool features like Delay sending, Archiving, and much more. It also provides copy and paste select text, Backup and Restore. You can even convert the SMS to MMS.

Pulse SMS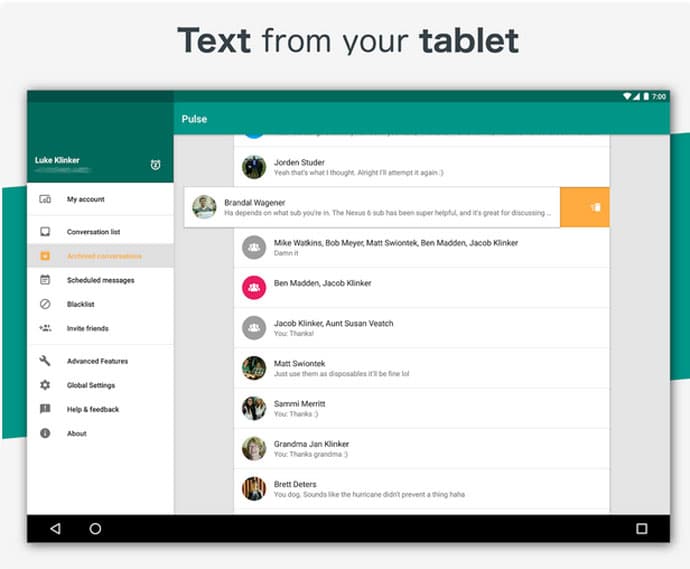 Finally, we are at number ten with Pulse SMS. Although, this one is a little bit newer in this race but not the weakest. Create a beautiful look with unlimited themes collection. Enjoy all the basic and advanced features like a pro. The key features are Delayed Sending, Snooze Notification, Conversation Archive, etc. Block the unwanted messages. Backup and restore option for your messages. Dula SIM support and search option to find out your conversation.

Wrap Up
If you are not happy with your default messaging app, then you can try any one of these 10 Best Texting App for Android. For a fast and easy texting, you can choose one app from the list. The first thing to remember, that every single app is not same. As a result, you can choose as your test. No doubt, you can have a great experience of texting with one of this app.