Receive calls and SMS from strangers or from the number you don't trust? Don't want to receive calls and SMS from those people and want to block them? You can easily block them using your smartphone or tablet with the help of Free and Best Call Blocking Apps for Android. These apps come with various functions and features to block calls and SMS.
Here, I'm going to discuss about some Best Call Blocking Apps for Android users. You can choose anyone from this list, download the app from Google Play Store, install it and configure entirely to stop receiving unwanted calls and SMS.
Updated On: 27th January, 2018
The Best Call Blocking Apps for Android
Calls Blacklist – Call Blocker
The Calls Blacklist is a free Call Blocking App for Android, which comes with call and SMS filtering features. You can easily manage the white and black list and stop receiving calls and SMS from unwanted sources. This is a lightweight app which is saving your battery life and run faster. Just create a whitelist by importing contacts from your phone contact list and allow receiving calls and messages. You can also create a blacklist and just deny them to call or message you.
Recommended: Best SnapChat Saver Apps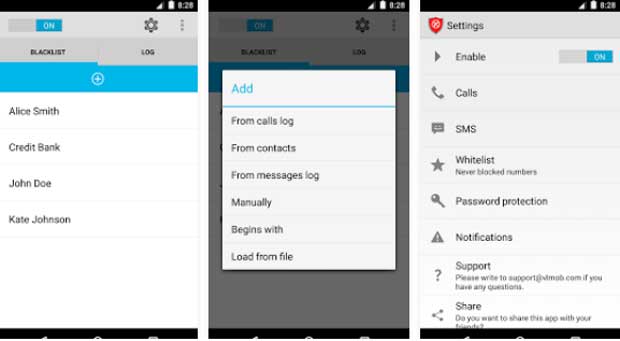 Key Features
Create blacklist to deny calls and messages
Use whitelist to allow limited sources to receive calls or SMS
Get notification about blocking calls or SMS
User-friendly interface and easy to use
Import contacts from file
Caller ID, Block Calls & texts
The Caller ID, Block Calls & texts is one of the Best Call Blocking App for Android which runs on latest Android KitKat, Lollipop, Marshmallow and Nougat versions. This app automatically hangs calls and automatically send voice or text SMS. This app also comes with blacklist and whitelist feature. Just create and manage blacklist to get rid of unwanted calls and SMS from an unwanted source.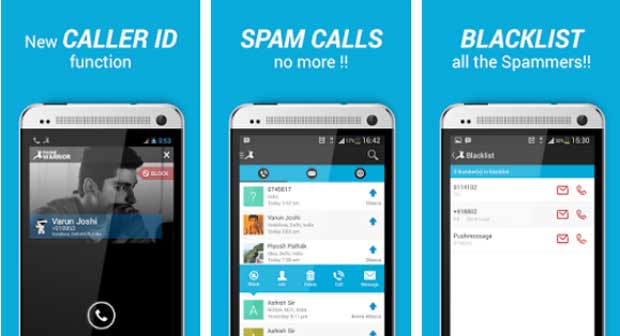 Key Features
Caller details and caller ID
Block Message and Calls
Block SMS or Call from private numbers automatically
Password protected blacklist or whitelist
Call Blocker Free – Blacklist
The Call Blocker Free – Blacklist is another Free Call Blocking App for Android which also helps to prevent spam calls and SMS. This is one of the most effective calls blocker apps which you can use for free. This is a lightweight app and comes with user-friendly interface which is perfect for a newbie to advance users.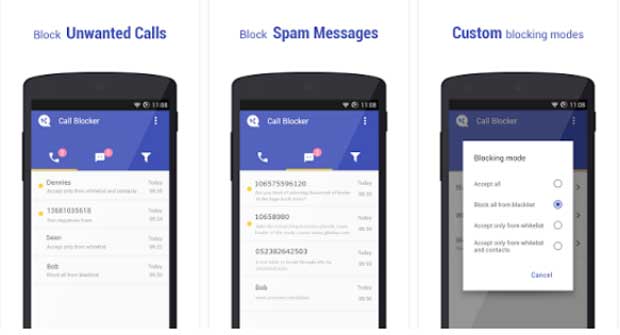 Key Features
Block unwanted calls and SMS using blacklist
Receive calls or SMS from whitelist only
Notify about blocked calls or SMS
Multilanguage supported
Truecaller – Caller ID & Block
Want to stop receiving calls and messages from strangers, unwanted sources or telemarketers? Then the Truecaller is the perfect one for you that you can use for free. Over 100 million of users, this is a popular and top downloaded call blocker app. There is a premium version of this app available with more functions and features.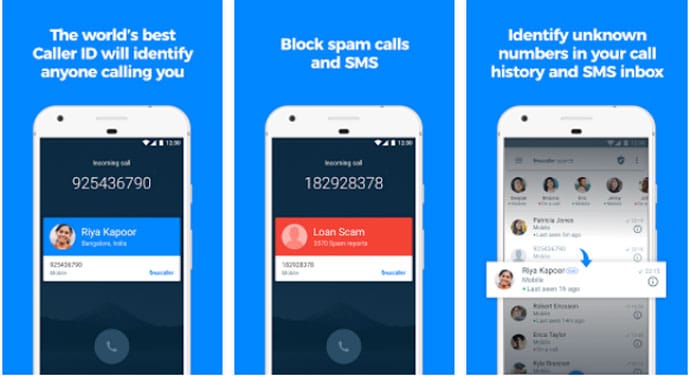 Key Features
Caller ID and details information
Block unwanted source, telemarketers or numbers
Search feature integrated
Blacklist Plus – Call Blocker
The Blacklist Plus comes with user-friendly interface and easy to use Call Blocking App for Android. This is a simple and effective call blocker app where you can set blacklist with a specific number or number range. With the help of this app, you can easily hang up any unwanted call or SMS instantly.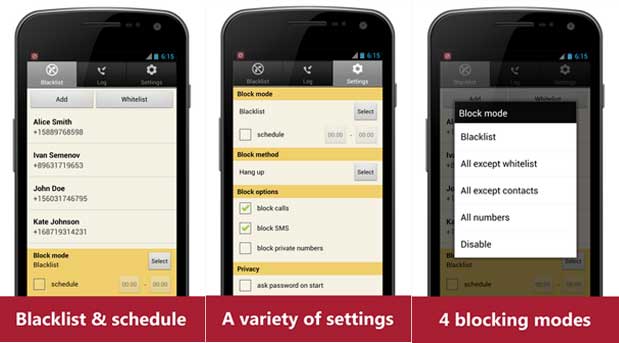 Key Features
Create whitelist and blacklist
Hang up or mute blacklisted calls
User-friendly interface with battery saving feature
Block hidden or private numbers
Mr. Number-Block calls & spam
The Mr. Number is another best call blocker app for Android that also comes with text blocking feature. The app has a Rating on Google Play 4.3 out of 5 with over 1,72,000 user reviews. The simple and user-friendly call blocking app is perfect for advanced to newbie users to block unwanted calls and SMS easily. With the help of this app, you can also block telemarketer calls and messages from a specific area. You can also set custom text or voice message for unwanted or private numbers.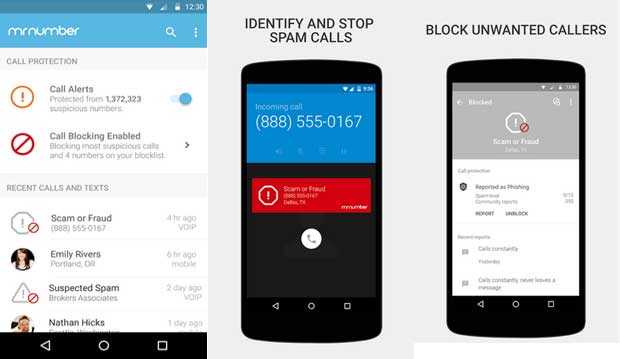 Key Features
Ban calls and SMS from private numbers
Make complain against spam or telemarketer numbers to help other users
Automatically lookup in your call logs to identify unknown numbers
Automatically block calls and pre-recorded voice mail
Smart "Suspected Spam" filtering option
Call Control – Call Blocker
If you're searching for the best Android call blocker app, then the Call Control could be the best one. The app already blocked more than one billion spam calls and messages. A large number of users help to build a strong spam and telemarketer number database. The lightweight and free app might effective for you if you are from the west. The reverse phone lookup feature helps to control spam calls more effectively. So you don't need to memorize any spam number or number series.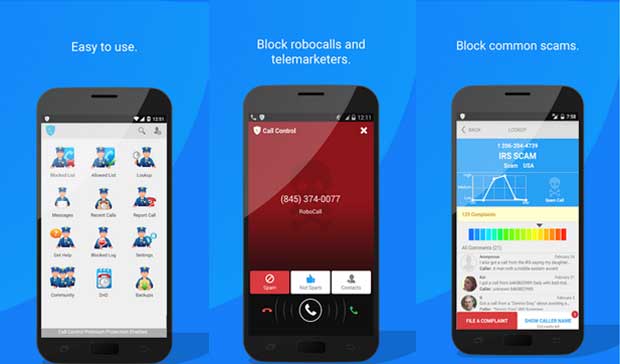 Key Features
Improved and rich caller ID database
Personal blacklist feature to block calls from a particular persona or area
Create "Do Not Disturb" schedule for specific hours
Built-in search option to find caller information
Control unwanted calls silently
Extreme Call Blocker
The Extreme Call Blocker is one of the best call blocker app for those people who are looking for a premium one at a reasonable price. The advance calls blocking mode where you can set the custom voice or message to reply unwanted or blocked numbers. The advanced spam filtering option block telemarketers and spam numbers and prevents them to send an automatic voice message. You can also block specific numbers for outgoing calls.
Key Features
Comes with FCC robot call and telemarket call report
Automatically sync with FCC report regularly
Six different call blocking options
You can create password protected private message folder
Lifetime money back guarantee and buy one get one offer available
Safest Call Blocker
You can consider the Safest Call Blocker as the best call blocker for Android if you can use it with ads. There is a premium version available with no ads and a little bit more features. This is the simple and easy to use Android call blocker app for all users. You don't need to know many settings to block spammy or unwanted calls. The most attractive feature of this app is, "Add the Last Call to Spam List". That means, if you just receive a call from spam number, just tap on the options menu and add it to the blacklist quickly.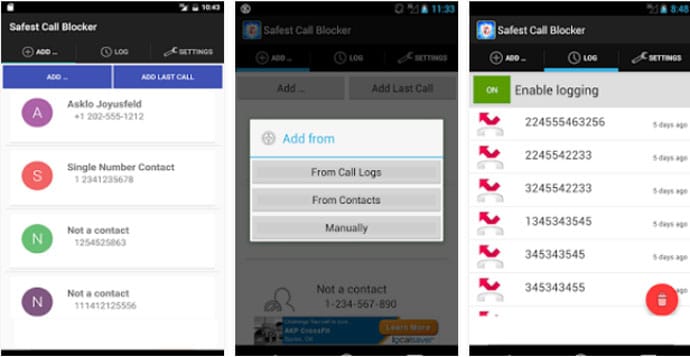 Key Features
Get notifications about blocked calls in the notification bar
Input spam or telemarketer numbers in the blacklist from call logs
You can also create blacklist manually
Use # to block numbers by range (Such as 016-## ###### will block all calls from 016)
Black all calls, Block not in the contact list, Block unknown numbers and Block Private Numbers mode.
Caller ID & Call Blocker Free
The Caller ID & Call Blocker Free app can automatically identify spam and telemarketer numbers and block them. The app comes with several options together such as call blocking, cell phone locator, and caller identification options. The app can display caller's current location based on GPS and Cell-Phone tower location. You can also use this app as Android dial pad to access call logs and make calls. Overall, this is also best Android call blocker app for free users.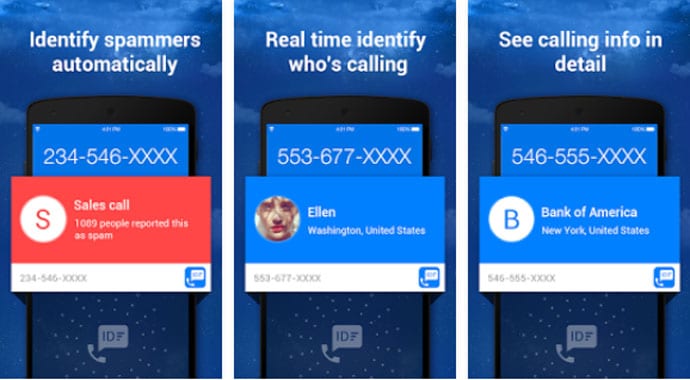 Key Features
Access caller identification from updated database
Block numbers using various modes
Personalize the app with a lot of free themes
Automatically call logs lookup to identify spam numbers
Built-in SMS blocking option
Closing Words
From the above best call blocking apps for Android, I'm using the Truecaller. The app really amazing with a lot of features, especially I like the caller identification feature of this app as well as latest Text SMS blocking option. So what's your favorite one? Let us know by commenting below.
Save