When you are planning to buy a new Android Phone or Tablet, you may consider several things before making any decision. Generally, you may consider the design, performance, screen size & resolution, internal storage and much more before buying an Android Tablet or Phone. But the most important thing is the battery life of an Android device which you may forget to consider. Buying a Smartphone or Tablet with Android OS and various features is not really hard because most of the Smartphone and Tablet manufacturer offers various attractive design and features at a low price. But is not easy to find an Android device with long battery life so that you can stay online for a long time. So, you must consider the battery life before purchasing any Android device.
Okey, you may already purchase an Android Phone or Tablet, but unfortunately, the battery life of your Android device is not good. So here is a solution for you. You can use a Battery Saver App for Your Android Device to run it for a long time by consuming battery power. You will find hundreds of free and premium battery saver apps for Android, but all apps are not good and not able to save the battery life. So you must choose the best one which can help to save your Android device battery life.
Here, in this post, I'm going to share some Best Battery Saver Apps for Android Phones and Tablets. You can choose anyone from this list and off-course, all of these apps are free to use. So, let's check the list and find the perfect one for you.
Best Battery Saver Apps for Android
DU Battery Saver | Power Doctor
The DU Battery Saver is one of the leading Battery Saver App for Android, which you can use of free. The simple, attractive and user-friendly interface of this app makes it my favorite battery saver app. You can easily increase your device battery life up to 50% using this app. This app will help to close unused and heavy power consuming app. The app also lets you know how much time you can use your device using the current power of your device battery.
Fast battery saver app and optimize for long battery life
Built-in battery saver management to save maximum battery life
One touch battery optimization and notification feature
Misconfiguration may harm your battery life
Sometimes may show wrong battery life meter

Battery Doctor (Battery Saver)
The Battery Doctor is one of the most popular Free Battery Saving App for Android, which also comes with the simple and user-friendly interface. The app helps to save battery life by killing unnecessary and background running app. The Battery Doctor shows the accurate result of your device battery life and lets you know how much time you will use your device. You can also see detailed battery information and make the battery health with 3 step charging system.
Easily find out which app/apps cut your battery life
Let you know how much time your battery power left
Built-in task killer widget helps to kill tasks from home screen by one click
Some user finds this app as power consuming!
Takes update frequently

JuiceDefender
The JuiceDefender helps to manage your device power so that you can save power and increase battery life. This battery saving app also helps to save power automatically by managing power draining system of your device such as brightness, Wi-Fi or mobile data connectivity and much more. There is also a premium version of this app available with more function and features.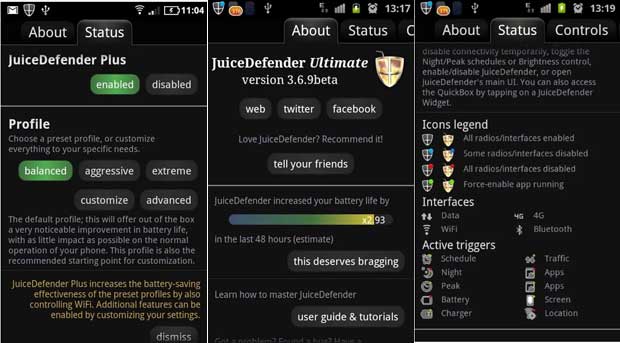 Five different power saving profile
You can also create custom power saving profile
Home screen battery saving widget
­Some users find battery not charging bug
May Not perfect for free users

Battery Widget Reborn
The Battery Widget Reborn is another one which I liked most of its ton of features and user-friendly interface. The app comes with notification bar and lots of useful widgets to increase your Android device battery life. With the help of this app, you can automatically save battery life when you are sleeping. As the app highly optimized, so it doesn't drain your battery life.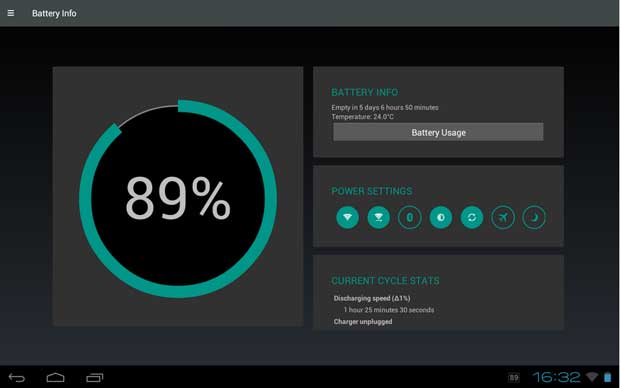 Show battery information
Different icon style
Kills unnecessary tasks and apps to save power
May increase only 15-20% battery life
Misconfiguration may affect power saving

GO Battery Saver &Power Widget
The GO Battery Saver &Power Widget is my last recommended battery saver app for Android phones and tablets which also comes with several features to save battery life. With more than 15 million downloads, this is one of the leading apps to help people to save increase their device battery life. Some features of this app are power saving mode, smart saving, toggle control, power testing and much more.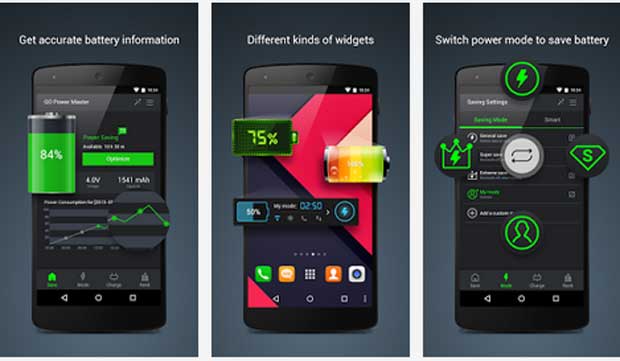 Show accurate battery life time
Optimize battery by one click
Home screen widget
May not handle mobile data or Wi-Fi connection properly
There is no deactivate option

Save