It is not easy to become a famous disk jockey (DJ); you need a solid practice for a long time. And also you need to be a special one to mix music. But you don't need to worry; if you try hard, you will be one of the famous DJ. With the help of some best and Free DJ Apps for Android, you can practice more and more without spending a big amount of penny. You can choose some Best and Free DJ Apps from this list and install on your Android phone or tablet. These apps will help you to practice easily, anywhere and anytime.
Top Free DJ Apps for Android
DJ Studio 5 – Free music mixer
The DJ Studio 5 is one of the top downloaded Free DJ App for Android which you can use on your Android phone or tablet. The Studio 5 is a party-proof DJ app which helps to mix, remix, scratch or loop music easily and quickly. The app comes with the straightforward and user-friendly interface for newbies as well as advanced users.
Key Features
No limitation, registration fee or watermark
Customize decks
Access music from folder based on artist, album or name
Eight different sound effects
Live music recorder
Built-in equalizer
And much more features for DJ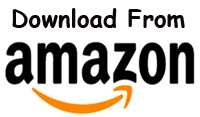 edjing – DJ Music Mixer Studio
The edjing is one of the Best DJ App for Android which you can use on your Android device for free. The app designed and developed by Ed Jing, a Japanese music mogul. The user-friendly and easy to use interface makes this app perfect for a newbie. The edjing considered as a multi-performing track mixing app which will give you a lot of fun.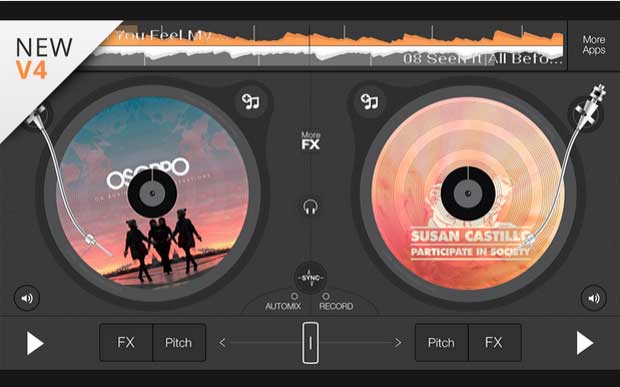 Key Features
Access music library and mix music
Access music from SoundCloud directly
Music search tool to search music on the web
Remix mp3 music with more than 1 hour
High-quality sound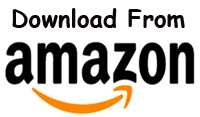 DJ Mix Pads
Love to play with music using your Android Phone or Tablet? Then the DJ Mix Pads is an ideal and Best DJ App which you can use for free. The DJ mix is easy to use music composer app for Android which is perfect for the beginner as well as advanced users. The app comes with built-in music recorder and editing feature to record and create tracks quickly.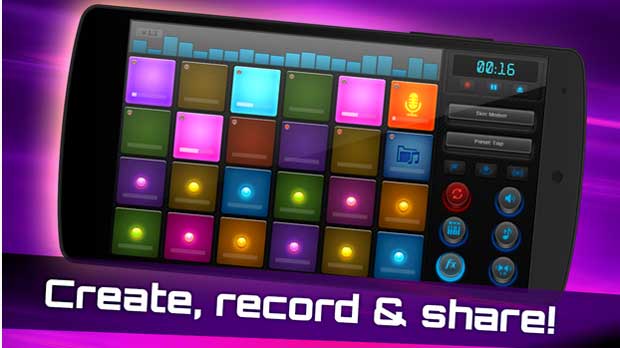 Key Features
Upload your self-recorded music from SD card
User-friendly interface
High-quality sound mixer
FX sounds are available

djay FREE – DJ App for Android
The djay is another Free DJ App for Android which comes with various functions and features. You can easily convert your Android device into a featured DJ System. Access all of your music directly and mix them to create amazing songs. Ideal App for professionals as well as newbies to apply stunning FX, remix song and plays directly from the playlist.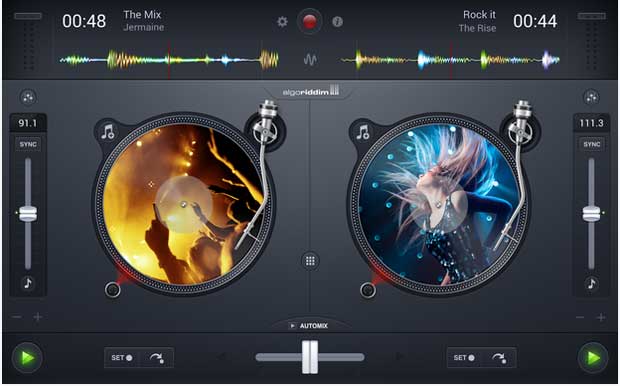 Key Features
Integrated music library
Mix thousands of songs instantly
Supports all major Audio formats
Music mixer
Support Bluetooth device

Cross DJ Free – Mix your music
The Cross DJ Free is another Best and Free DJ App for Android which comes with user-friendly interface and lot of features. Create a new flavor of music by mixing tracks and sounds with the help of this app. The app is highly customizable and comes with standard pitch range. You can use the Cross DJ app without any previous experience for enjoying home or pool DJ party.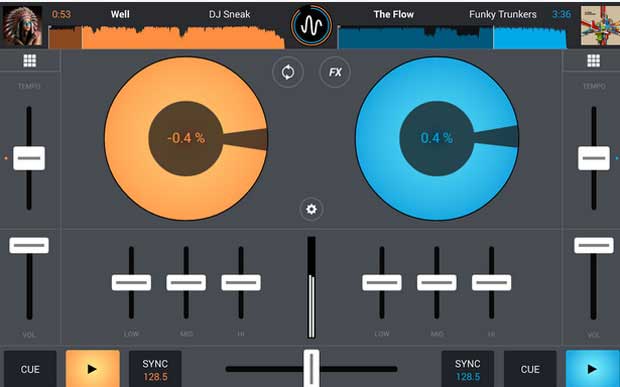 Key Features
Accurate BPM detection
Access music from library
Low battery power consumption
Produce high-quality sound

Party Mixer – DJ player app
If you search the web for some cool Android DJ Apps for beginners, you will find the Party Mixer at the top of the list. Use this simple DJ mixer app for mixing two tracks and produce amazing DJ effects. You can change the pitch & tempo to mix tracks and create cool sounds. The app also lets you create, save and play from your playlist. As the app comes with simple interface and basic DJ mixing, so don't need any kind previous experience to use the app.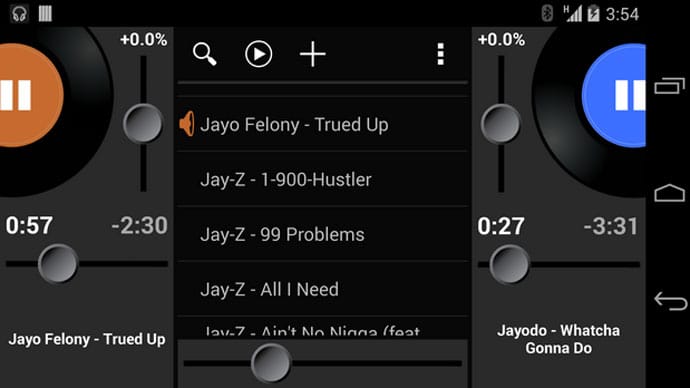 Key Features
Crossfade between two tracks
Built-in search option to find any track instantly
Change BPM, Tempo or Pitch from the deck
Built-in Music Player
Access music from your device or SD card storage
Compatible with all major Music File Formats

DJ Basic – DJ Player
The DJ Basic – DJ Player is one of the digital DJ apps that can fully convert your smartphone into a DJ system. There are two versions (free and premium) of this app available with various features for both advanced and beginner users. The app comes with accurate waveform, visualization, and frequency tones to produce cool DJ effects.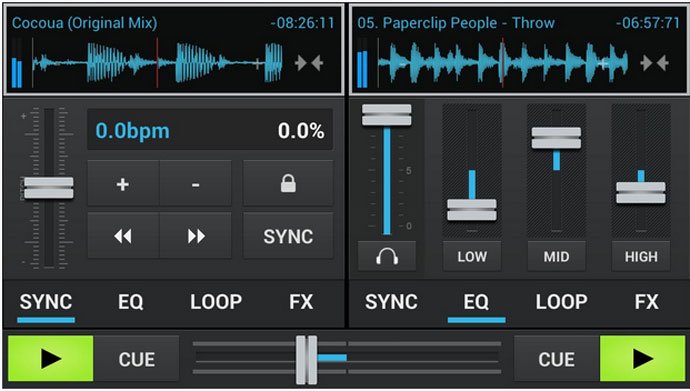 Key Features
Support Bluetooth headset control
Automatic beat and pitch sync feature
Built-in equalizer
Automatic sound adjust feature
Support almost all music file formats
Required only 512MB RAM

djay 2
The djay 2 is one of the best DJ apps for Android for those who are looking for a cheap price premium DJ app. The app can transform your Android device into a full DJ system and integrated with the Spotify. You can perform with live music as well as recorded one with the help of automated music mixing feature.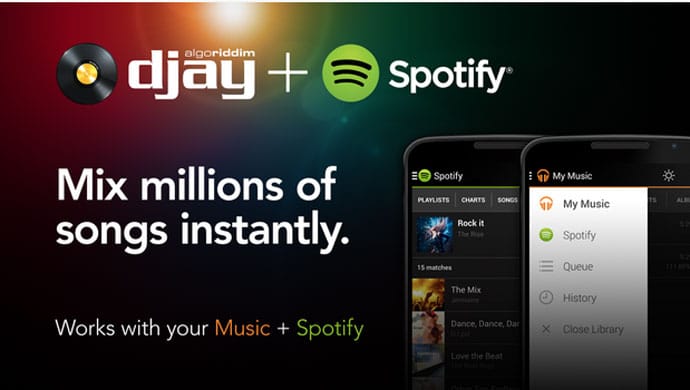 Key Features
Integrated with music library
Live recording supported
Auto beat and tempo detection
Bluetooth device supported
Intelligent song recommendation

Closing Words
Smartphones and tablets with Android OS are excellent sources for entertainment. You can enjoy with various ways and become a DJ is a unique idea. And hope above free DJ apps for Android will help you to choose the right one and become a professional DJ.