In our daily life, we used to listen to music frequently. Morning or night, leisure time or traveling time we play music. If you are a music lover, then you are more addicted to the music, and you want it anywhere anytime. For this reason, your Android device can help you a lot. You can have thousands of music in your hand. There are so many third-party apps, which will help you to download and play music through their apps. Take a look at our expert recommended some Best Free Music Apps for Android Devices.
Top Free Music Apps for Android
Shazam – Discover Music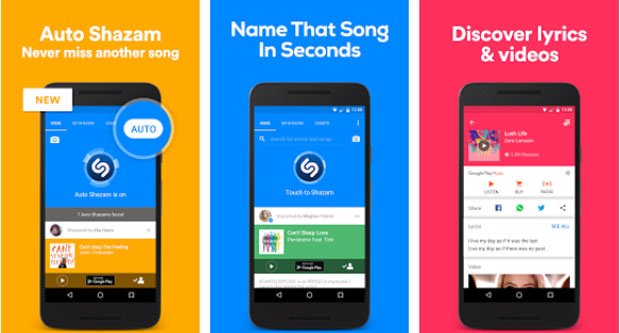 Shazam is one of the best Free Music Apps for Android. The app is also probably most popular music apps across the world for its various functions. It has lots of features and millions of music collection. You can also use the app to discover thousands of songs instantly, and that's why the app also well-known as music identifier app. The interesting feature is, you can sing along to the song with music lyrics. Have lots of features including, Recommended track list to find out a new song, Shazam real-time chat, Sync to stay connected with all devices, and much more. Also, Shazam has offline feature to identify music when you are not connected.
SoundCloud – Music & Audio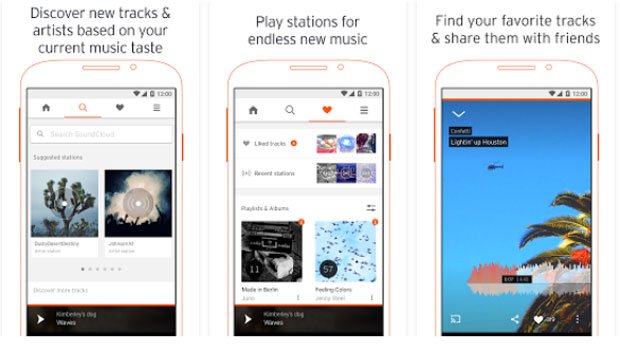 SoundCloud is another Best Free Music Apps for Android. In fact, SoundCloud is one of the largest music and audio streaming apps with more than 150 million tracks. SoundCloud is an Editor's Choice app which can fulfill your all the music needs. The app is not only a music app but also a platform for the music lover. SoundCloud will automatically suggest you tracks based on your listening habits and likes. Discover songs from each genre as your taste.
Hungama Music – Songs & Videos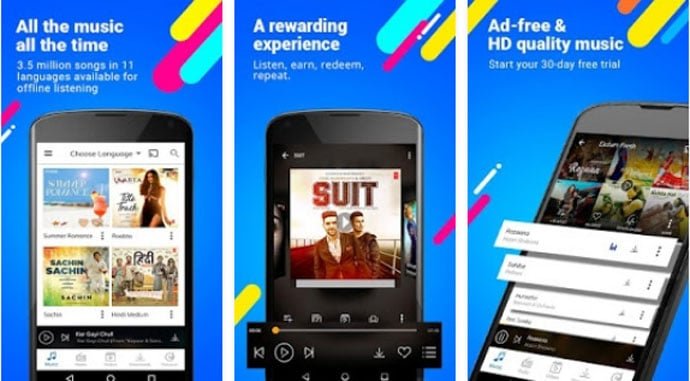 Hungama Music is an unlimited source of songs and videos, and it's a Free Music Apps for Android users. Play music online or download songs & music videos from all over the world including, Hindi, English, Tamil, Telegu, and much more. Listen to any genre as you want from Ghazal to Rock whatever. It has a collection about 3.5 million songs from local and international. Find your favorite songs or discover songs as your mood. It also has celebrity curated radio channels. Also, you can watch video songs with lyrics. So that, you can also sing the song.
Deezer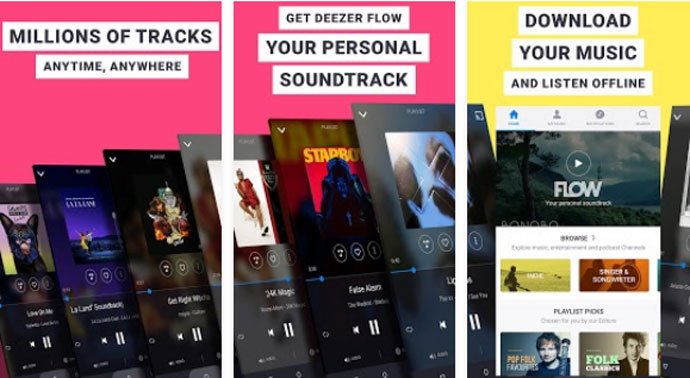 Deezer is an awesome personal streaming service and music player app. The app lets you play the song wherever you want. Discover any music you love with top songs, artist, and album. As well as, discover Flow, your personal soundtrack. Easy built-in search option to find millions of songs. Create an unlimited playlist and add your favorite music to the list. On the other hand, you can download songs to play offline. Other features, see on-screen song lyrics, radio stations, etc. Besides, you can import your favorite mp3s to the list.
Jango Radio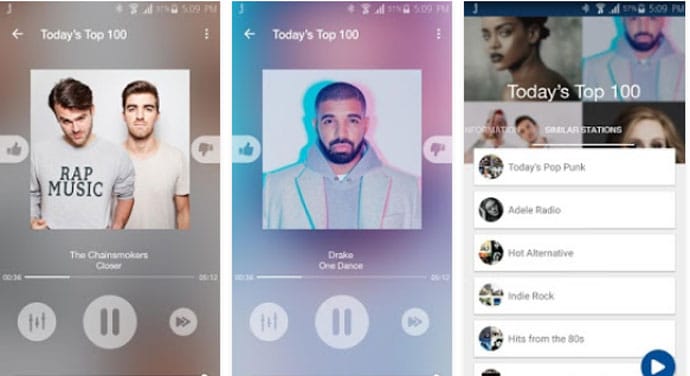 Jango Radio is an unlimited source of music. It's a fully free and personalized radio app, where you can play music as your taste. You can play custom station as your choice, just start with the name of one of your favorite artist, Jango will create a custom station for you. At the same time, you can play music by genre. All the genre can have in one touch including, Top 100, Hit top, Hip-hop, India Dance hits, and much more. You can also share your favorite station with your friends through the social networking sites.
Pandora Music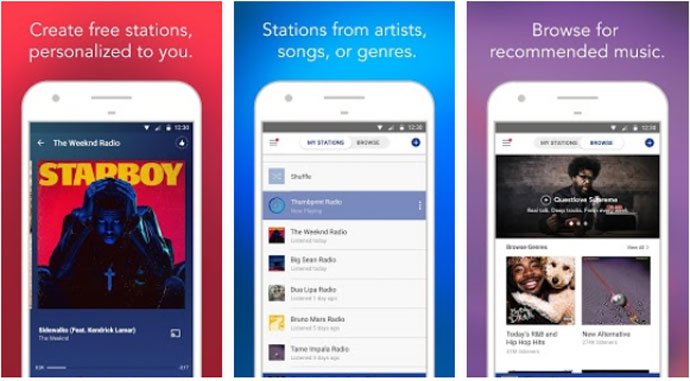 Play millions of music using Pandora Music app for free. You can have a personalized music experience as your taste. It will allow you to create free personalized stations from songs, artists, or genre. Useful search option to search and play your desired songs and albums. On the other hand, you can also create a playlist for your favorite music. It will also provide you high-quality audio and unlimited skips and plays. In fact, the app offers you to download songs to play offline mode.
Google Play Music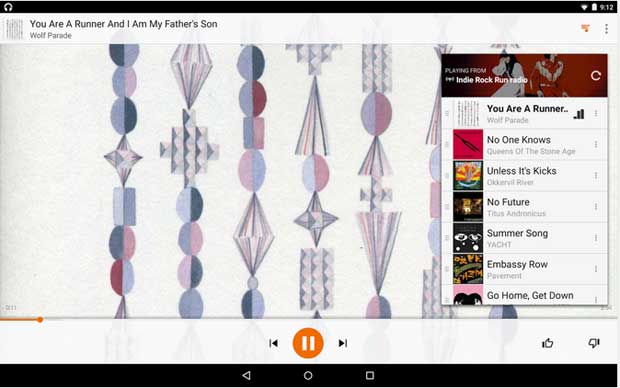 Google Play Music is a free music app from Google. Listen what you want and wherever you want. Google Play Music allow you to play radio stations based on songs, artists, or albums. As well as, you can instantly start radio stations by genre, mood, activity, decade, and more. At the same time, you can upload your own song to the app, then listen to them on Android for free. Built-in smart recommendation will recommend you new songs as your taste.
YouTube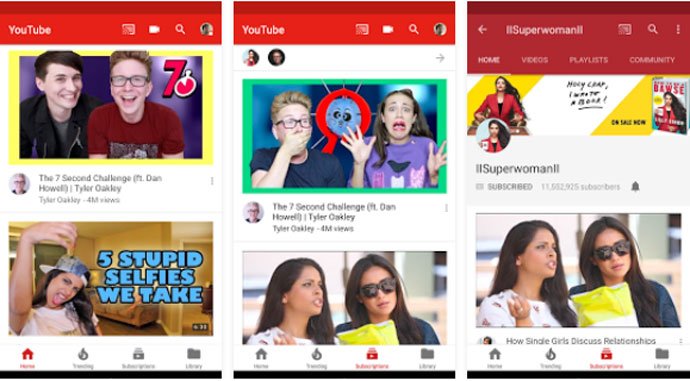 Undoubtedly YouTube is one of the most popular music apps across the world. YouTube is more than a music app. You can have a unbillable collection of music. This is an online streaming music app, which will allow you to watch everything that is world watching right now. You can subscribe unlimited channel to get their music at your hand. Every artist, genre, albums are available on YouTube. Check the subscription tab to get the latest music from those channels. Share with your friends on the social networking site. Besides, you can save music to play when you are out of network.
SuperCloud Song MP3 Downloader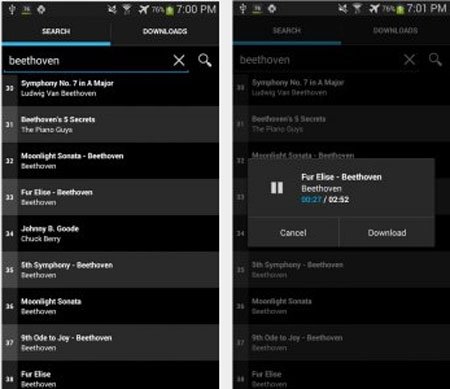 SuperCloud is a handy MP3 downloader with lots of function and features. SuperCloud considered as one of the best MP3 downloaders for the Android user. You can easily download your desired songs from the app. To download any song, just search the song name, or artist, or genre. At the same time, the app has online streaming advantages. So that, you can preview the song before download. As well as, you can play song online without download. Although the app is not available on the Google Play store, you can find it from other sources.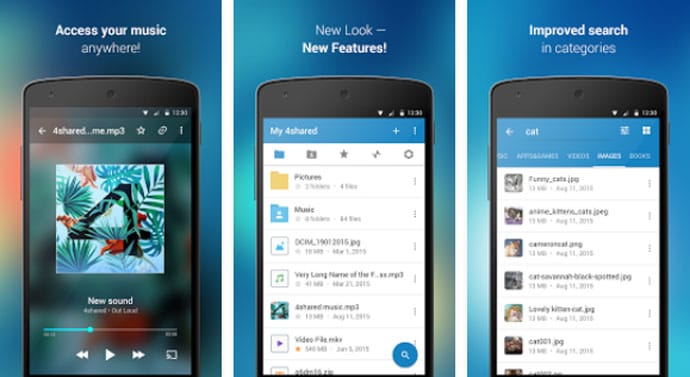 Another MP3 downloader in the list is 4Shared. If you want to Download Free Music App that actually works and comes with a simple interface, then you must try this app. Very simple but efficient and robust apps to download MP3 songs. Reliable and useful search system will help you to find your favorite song to download anytime. Search for music with song name, or categories, or artists, or album. On the other hand, the app has a built-in music player, so you can also play music with the app.
Wynk Music
Collect your favorite old & new song with the help of this great music and MP3 downloader app. The app has a huge collection of music about more than 2.6 million songs, and it's growing every day. You can have various type of songs including, Pop, Rock, Bollywood, Devotional, Emotional, Romantic, Party, and old romantic retro songs. As well as, you can enjoy the Bollywood regional songs too. So, you can have all kind of music as your taste.
Gaana: Bollywood Music & Radio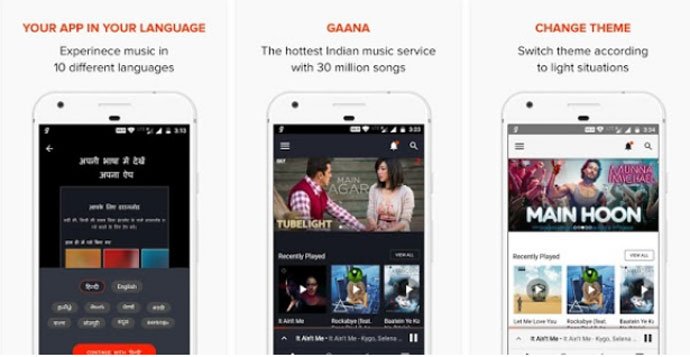 Gaana is one of the great sources for your music needs. The app offers you more than 10 million Bollywood and English MP3 song with Radio. Play your favorite song on your Android device, no matter where you are. Gaana has various type of music to give you the perfect taste of music. Listen to the old classic song to new updated song, as well as the regional songs too. You can use thousands of playlist which created by experts and other users. Moreover, you can save your favorite songs to play while you are an offline mode.
TuneIn Radio
Another Radio app to fulfill your music needs with its rich features. The app is trendy across the world, and it's an editor choice app. More than 250 million users globally use TuneIn Radio for their music needs, and they have given it a good number of rating. TuneIn Radio is a fascinating music app with world class content. Tune more than 100,000 stations including, Sports, News, Music, and Talk Radios. The app also has a PRO version with more features.
Savan Music & Radio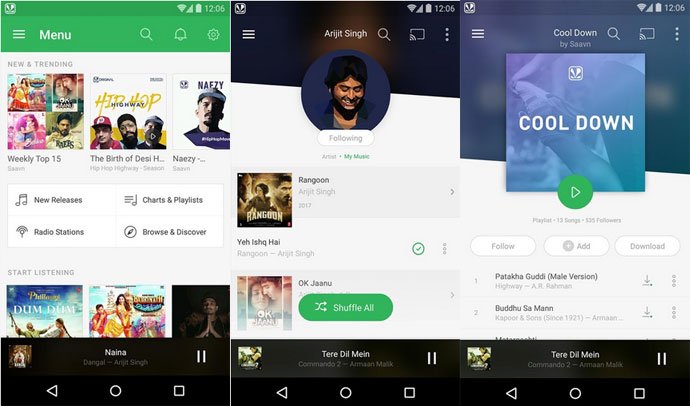 Get free access to unlimited music with Savan Music & Radio. You can find your desired music including, English, Hindi, Regional Indian song and much more. Wherever you go, enjoy your favorite Hindi and International songs using Savan. As well as, you can enjoy radio stations too. You can also create your own playlist to save your favorite songs, and share with your friends. Search for a song and play anytime based on your demand. On the other hand, you can check the top charts for trending songs.
Audiomack – Download New Music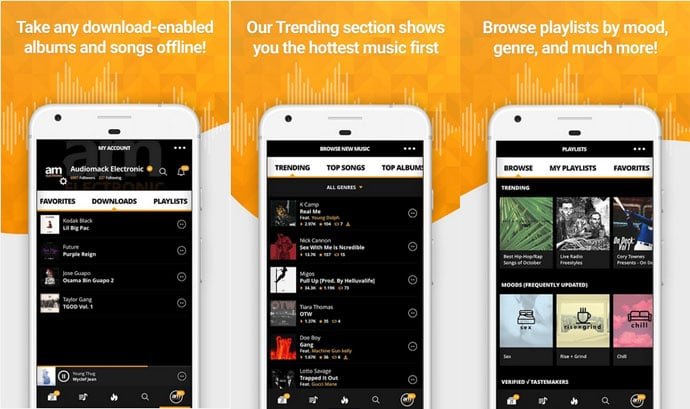 Download new music with the help of this awesome Audiomack music downloader. Stream your favorite music using the app also easy from anywhere. At the same time, you are allowed to download music to play in the offline mode. Choose from the extensive collection of music as your taste. Audiomack offers you unlimited song including, Hip-Hop, Electronic, Reggae and Mixtape music. Browse expert created playlist for the song as well as you can also create your own playlist.
Final Thoughts
You might ask What's The Best Free Music App for Android, and we have tried to find out the answer. For this reason, we make a list of the top 15 Free Music Apps for Android and hope you will find some best apps in this list. Each single app has the potential to get your attention. Some of this app is good for playing music, and some of this app is good for downloading music. So that, you can make your choice as your demand. Pick the best one and enjoy your favorite music.
Save