A few years ago, people only used their smartphone to communicate with others through calls, messages, emails or social networks. But nowadays, they like to use their smartphone for various purposes. They use to take notes, capture images, control TV and much more with the help of some apps. They also take care their health with their smartphone and health related apps. If you want to keep yourself healthy and fit, you can use some weightlifting app to do this. Using theses apps, you can track and achieve your desired health and body weight using these apps. So in this post, I'm going to share some top rated and best weightlifting app for Android. Let's check my recommended best weightlifting app to make yourself healthier.
Best Weightlifting App for Android
Weightlifting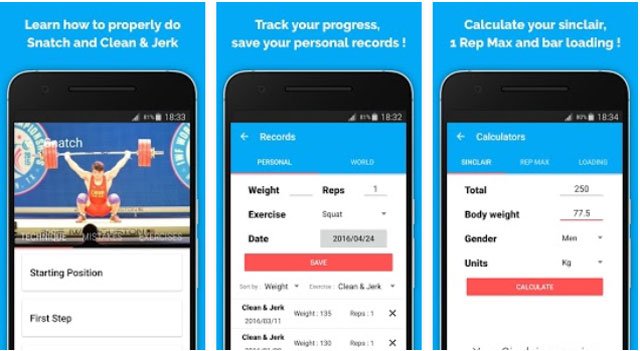 The Weightlifting is a newly released Android app that comes with various attractive features. Using this app, you can track your body weight and make it stronger. The app comes with step by step video tutorial on how to Snatch and Clean & Jerk. You can also eliminate your common mistakes while doing your regular exercise. You can also get more details about drills to increase your techniques. The weightlifting app has a built-in Sinclair calculator to calculate your Sinclair score by entering your body weight, height, and daily performance. There are also built-in bar load and one rep max calculator available in this app. You can create your profile, save your self-records and compare with a world's record.

Gym Workout Tracker & Trainer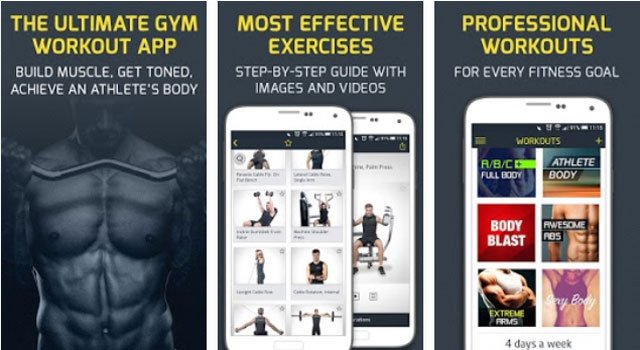 The Gym Workout Tracker & Trainer is one of the best weightlifting apps for Android that is ideal for both beginner and advanced users. The app will work as your personal bodybuilder trainer. The complete gym workout will help to make your body stronger and keep it in shape. There are built-in workout and weightlifting routine available in this app. You can also create your custom routine. There is more than 3 thousand exercise available with images and videos. So you can easily do these exercises to make your body stronger. The built-in powerful search option helps to find your desired activity easily and quickly. You can also save your favorite exercise to find it quickly.

StrongLifts 5×5 Workout
The StrongLifts 5×5 Workout is a top rated weightlifting app on Google Play Store. The app comes with a simple and user-friendly interface for both advanced and beginner level users. With the help of this app, you can build your muscle, gain/reduce weight and burn your extra fat. Thousands of people using the StrongLifts 5×5 Workout app to keep themselves healthy. Using this app, you can keep your body weight and height record. You can also keep your daily exercise record to measure your weekly or monthly success. Like the previous weightlifting app, the StrongLifts also comes with video tutorials. The most attractive feature of this app is, you can automatically backup and sync data to any device.

Weight Lifting Calculator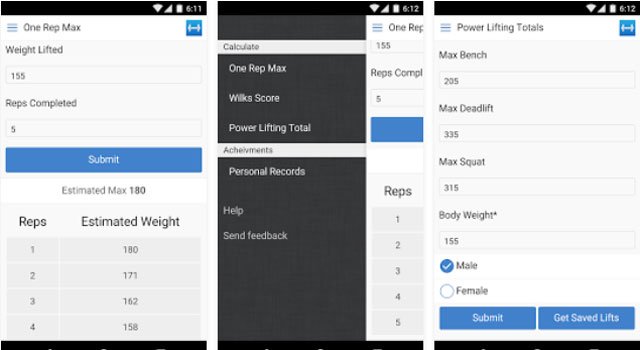 If you want to calculate and keep your daily weight lifting records on your smartphone, then the Weight Lifting Calculator is the ideal app for you. This is a powerful app to keep your daily weight lifting records. You can create your own weightlifting goals and meet it to gain the achievement. You can create, edit or delete weight lifting database in this app. There is a built-in calculator available to calculate your one rep max. As this is an under development app, so you can suggest anything related to weight lifting. The app will help to make this weight lifting calculator more useful.

JEFIT Workout Tracker Gym Log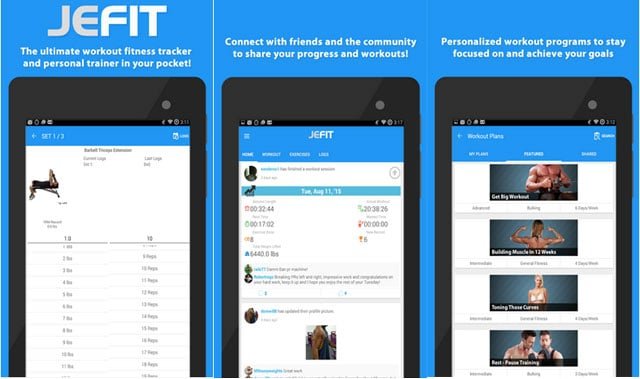 The JEFIT is another best weightlifting app with more than 46 thousand user reviews on Google Play Store. The rating is of this app is 4.5 out of 5. The app is mainly popular for its various attractive features and simple interface. You can record your daily workout and exercise to track your activities. This app will work as your personal trainer with 1300+ exercise. You can set your personal profile, set weight loss or gain goal using this app. Perform your daily workout activities with simple instruction and measure your success. The JEFIT also let you sync data with any device so that you can track your record from any device or place. With the largest JEFIT community, you will stay focused and can reach your goals easily and quickly.

Fitness & Bodybuilding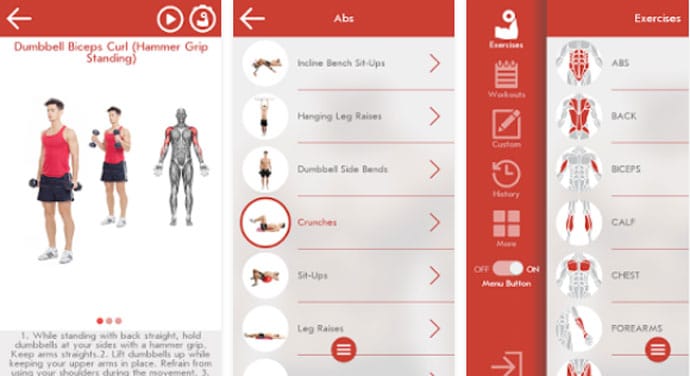 The Fitness & Bodybuilding is mainly an exercise app for Android, but it comes with some great features for weightlifting. The app will allow to create your self-body building plan and execute properly. The app also has their database for a particular exercise. Thousands of free videos and text tutorials available that will help to gain your desired result easily and quickly. You can save your daily workout data as well as weightlifting data. The app also assists in measuring your success ratio according to exercise plan and result. However, there is also built-in timer and calendar available in this app.

FitNotes – Gym Workout Log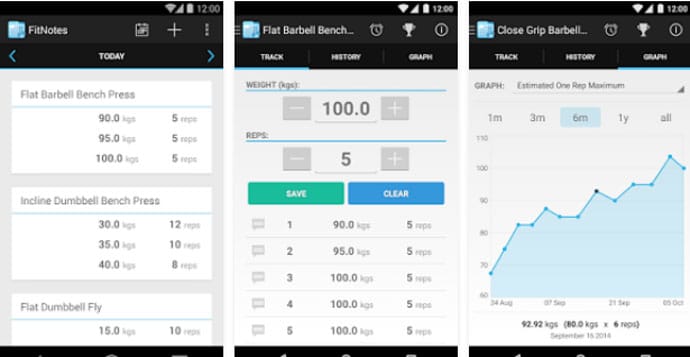 The FitNotes is an ad-free free workout and weightlifting app that comes with several decent features. The straightforward and user-friendly interface with easy input method, you can take your daily workout record easily using this app. You can add records for various exercises such as weight lifting, steps, distance, time, etc. with the built-in calendar, and you can also navigate to any date to view the log. There is also a wide range of exercise database include in this app with step by step text and video exercise tutorials.

Lifting Log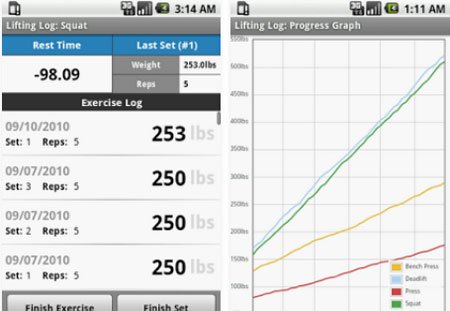 The Lifting Log could be the best alternative of FitNotes or JEFIT for those people who were looking for an ordinary and user-friendly weightlifting log app. If you want to track your weightlifting record with a simple app, then you must try this. The difference between other app and the Lifting Log is, the app can take your lifting record using less input time. Even, you don't need to input your body details such as weight, height, body structure, etc.

Final Thoughts
A good weight lifting app can help you to make your body fit and active. It can also contribute to getting your desired body shape and weight. And these are my recommended and best weightlifting app that you can use on your Android smartphone. These apps will work as your personal gym trainer, and you can keep yourself healthier for free.
Save
Save