Android-based smartphone and tablets become an important part of our life. We do so many things with our devices. An Android device is like a Computer, sometimes it's become slower than the past. It is because of the background apps, app caches, junk files, garbage files. For this reason, we need to clean up our Android devices. You will find hundreds of cleaner app on the Google Play Store, but you need to find the best one for your favorite device. In this post, we have reviewed the 10 Best Cleaner App for Android Tablets and Mobiles. Feel free to use these apps and get a better performance by your devices.
Top 10 Free Best Cleaner App for Android
Clean Master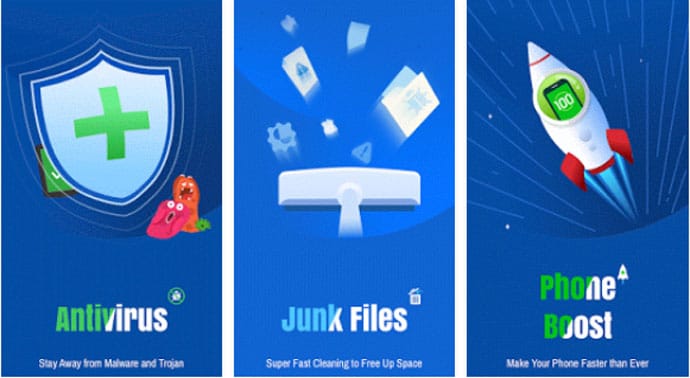 Clean Master is one of the Best Cleaner App for Android. Clean Master becomes very popular over the world. It has tons of features. For cleaning junk file, residual and caches file you can use this app. It also provides you the free antivirus for virus scan, virus clean and keeps your device safe and secure. It has a one tap boost function to boost up your device. Battery saving is another important feature of this app. It kills the background overloaded app and files to save your battery life. Applock will help you to lock your private apps. Chargemaster for faster charge and secure charge, and prevent overcharge.

CCleaner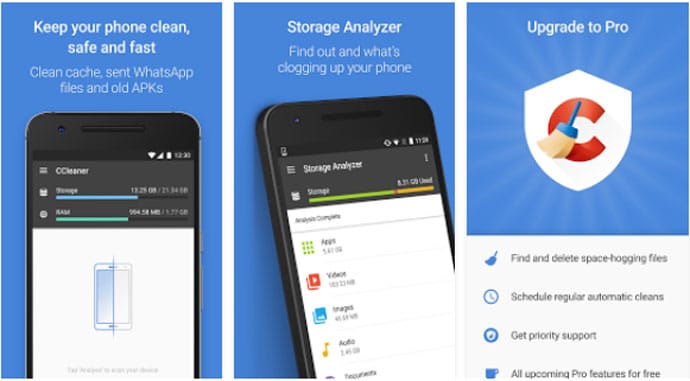 CCleaner is another Best Android Cleaner App. To keep your Android device clean and fast, CCleaner will be a great help. With lots of features, it's ready to be a safeguard for your Android devices. Safely remove junk file to speed up your device. Clean all the application cache, browser history and much more. CCleaner uninstalls unwanted apps to free up valuable storage. It's very easy to use, and clean up your mobile with one tap. Ads and clutter free. You can also check your battery level and temperature, CPU usages.

DU Speed Booster & Cleaner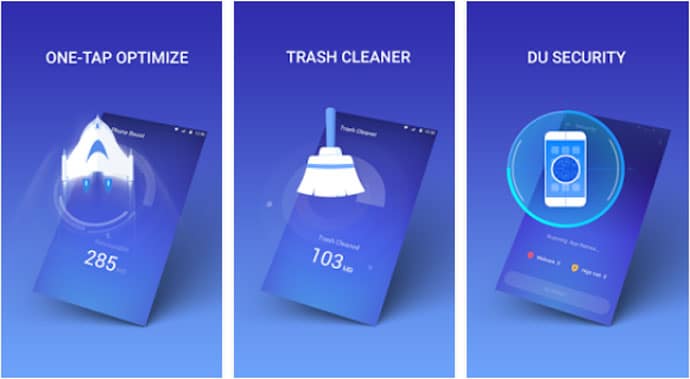 DU Speed Booster is an awesome app with all important features. You can use this app for multiple purposes. It's clean up memory and optimizes your device speed by removing unnecessary background task and stopping background apps. Junk cleaner will help you to save some space on your device. It has a built-in antivirus for scan installed apps, files, and new apps. You can boost your network by one tap boosting option. When your device gets hotter, you can use CPU cooler to cool your device. App lock, App manager, Smart charge are also available with this app.

App Cache Cleaner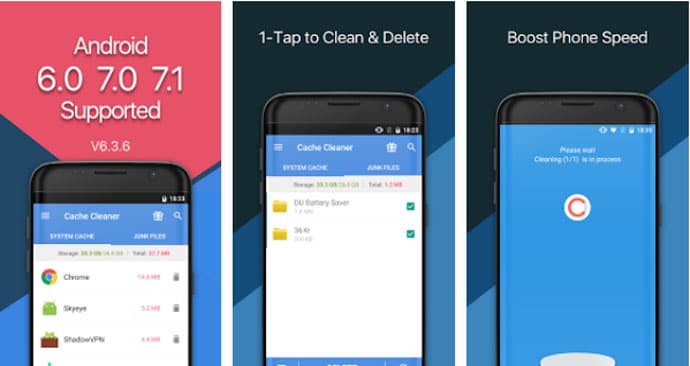 App Cache Cleaner is easy, simple and quick cache cleaner app for your Android devices. This one is specially made for cleaning all the application cache from your device. Its let you clean all app cache with one tap. With one tap it scans all the application and remove the cache and boost your device speed and also free some valuable memory space. RAM cleaner will help you to save your battery power. App Cache Cleaner also provide you one tap booster widget, Junk file cleaner, App manager.

Avast Cleanup & Boost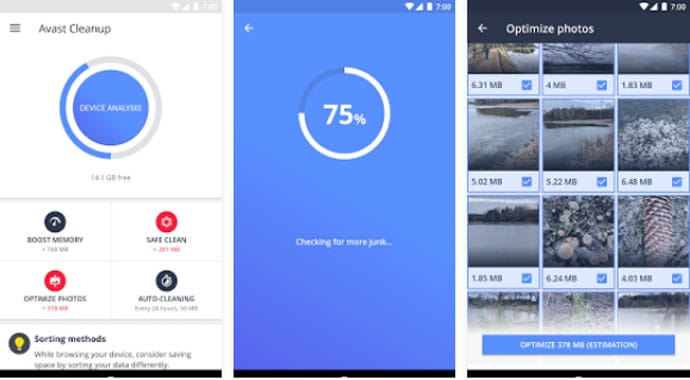 Avast Cleanup & Boost is a popular app from the Top Developer. This one is very highly effective cleaner app. It's clean all the app caches and junk file. You can remove leftover files and lazy apps with few steps to speed up your device. Automatic cleanup option cleans your device after a scheduled time. Unused applications kill your memory space, Avast uninstalls the lazy and unused apps to free up valuable memory space.

SD Maid – System Cleaning Tool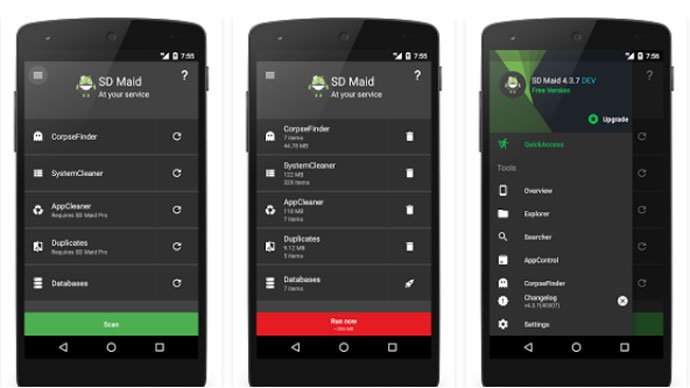 SD Maid is ready to keep your device clean and faster. SD Maid will manage your all installed app and system app. It will take care of your device memory and storage. It has a widget to commencing all the tools and these tools are also have an autorun system by your schedule. It's actually clean your app by removing expandable files.

The Cleaner – Speed up & Clean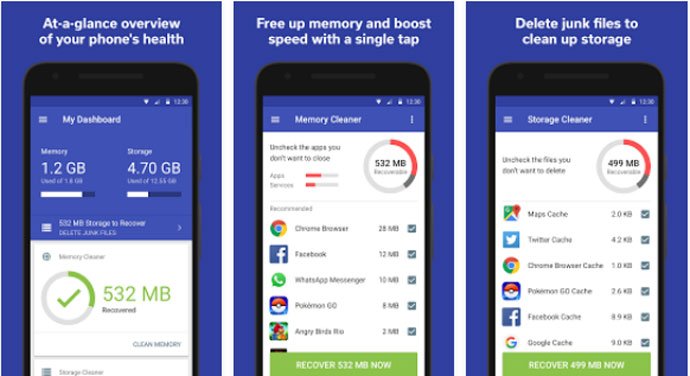 Introducing you to one more Mobile Cleaner app. With tons of features, Mobile Clear are trusted by million of the user. Memory optimizer will help you to boost your device and speed up by free up memory. Mobile Cleaner remove all the junk files from your device to keep your device storage safe. App locker will give you the privacy and App manager will give you the full access to control your device. It has a game booster, after playing games the app run in the background. The game booster will help you to stop this kind of apps.

History Eraser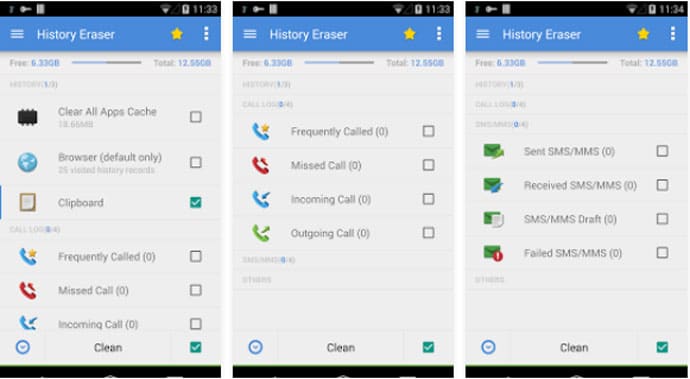 History Eraser is a different kind of phone cleaner app for your Android lovers. This one can clean all the history of the app with a single tap. Background history will make your device slow and reduce your mobile memory. The basic task of this app is clean your all history like Browser history, Call log history, Search history, Maps history, YouTube history. History Eraser also cleans your app caches to clean up your device.

360 Security – Antivirus Boost
360 Security is an all-in-one app for junk cleaner, speed booster, and antivirus. Delete unnecessary system file, large file, app caches to boost your device. Boost for a better performance, and free space to speed up. Power saver will save more battery than before. Security and Antivirus to scan new app, memory, installed app, and antivirus for protection. It has also, Real-time protection, Anti-theft, and App lock.

1 Tap Cleaner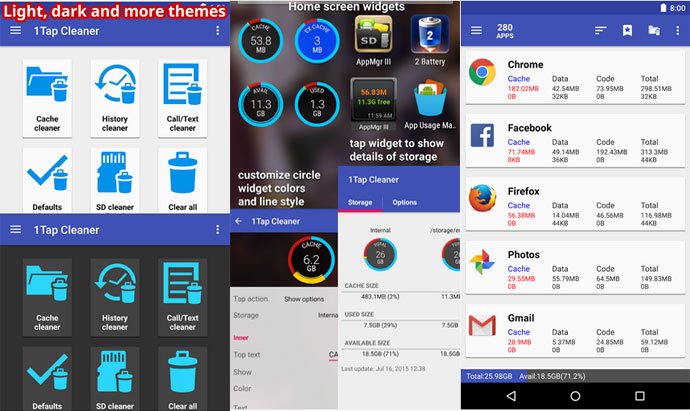 Finally, we are at number ten. 1 Tap Cleaner is a simple quick cleaner app, that can clean your android device with one tap. Every single task will be done with one tap. You can clean App caches, Browser History, Navigation history, all call log, with one tap. When device storage get lower and your device became slow, 1 Tap Cleaner auto clean caches to free internal storage. Home screen widget will show you application caches and available size.

Final Thoughts
At the end of the day, our devices is a machine. For this reason, we need to look after of it. Clean up is one of the best ways to keep clean and fast your device. You can find a lot of cleaner app, but all the app are not equal. You need to select the best one for your device, and there is 10 Best Cleaner App for Android Tablets and Mobiles.
Save