Need a help for Guitar Tuner? Your Android Devices are always there for you. As we know, since the revolution of Android Devices, we can do so many things with our Android devices. Android device is like a multi-tasker. As a result, you can use a guitar tuner through your Android device. When you need apps for various purposes. You might go on the Google Play Store and search for your desired apps. But there are hundreds of Guitar Tuner apps on the Google play store. You can't simply find the best one for you. For this reason, we have listed the 10 best Guitar Tuner Apps for Android. Hope you will find this article helpful.
10 Free Best Guitar Tuner Apps for Android
Guitar Tuner Free – GuitarTuna
Guitar Tuner Free is one of the most accurate Guitar Tuner App for Android that available for free. As well as, this one has the highest number of rating on the Google Play Store. Guitar Tuner is very simple and easy to use. This one could be the perfect guitar tuner apps for the beginners. Perfectly compatible with both acoustic and electric guitar. On the other hand, it has advanced features for all musicians. Some advanced features including, Metronome to set any tempo and beat speed, Chord Library, 6 Ultimate Chord learning games for learning, practice & master chords,  and much more.

Chromatic Guitar Tuner Free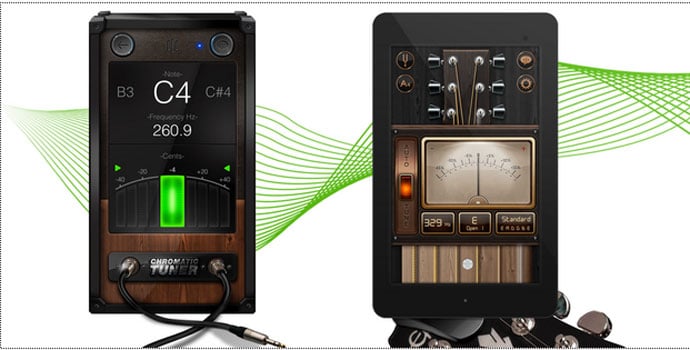 Chromatic Guitar Tuner is a Free Guitar Tuner App. Easy, intuitive, accurate, and user-friendly interface. Play fast with Chromatic Guitar Tuner. The app is very helpful to beginners and also for advanced level musicians. Chromatic supports almost every guitars including, Acoustic guitar, Electric Guitar, 6, 7, 8, 12 strings guitar. As well as, it also supports Banjo and Ukulele. The app will provide you, Bases for Acoustic bass guitar, Electric bass guitar, and upright bass. Strings for Violin, Viola, Cello and fiddle. It also gives you several modes to tune your instrument like Automatic mode, Chromatic tuner mode, Alternet guitar, Alternet tunings for ukulele and much more.

Tuner – gStrings Free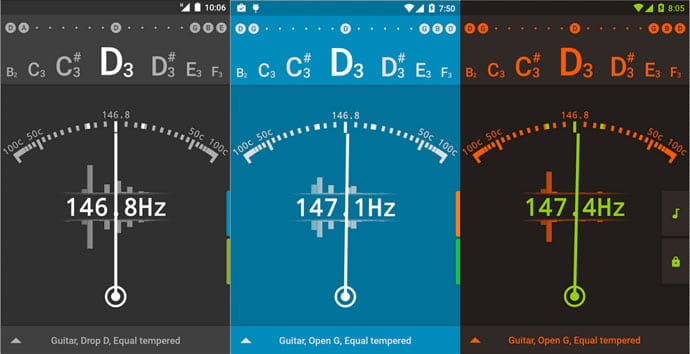 Let you tune any musical instrument with gStrings. Intuitive design, user-friendly interface and most of all its very easy to use. gStrings is an accurate and chromatic tuner apps. It has a lot of features for your guitar tuning. Some of these features are very important for beginner and musicians. The key features including orchestra tuning and pitch pipe are important for tuning. It also provides the multiple built-in instruments and tuning, user-defined custom tuning and much more.

Cifra Club Tuner
Cifra Club Tuner is like pro tools which can change your idea about a Guitar Tuner Apps for Android. This one especially comes from the top developer of Google Play Store. Very popular tuner app across the world with more than 25 million downloads and a good number of rating. To tune your instrument just play a note and tune it with Cifra Club Tuner from anywhere using your Android device. Just follow the on-screen pointer and look at the note and frequency to tune your string instrument including, Acoustic guitar, Bass Guitar, Cavaquinho, and much more.

PitchLab Guitar Tuner (Lite)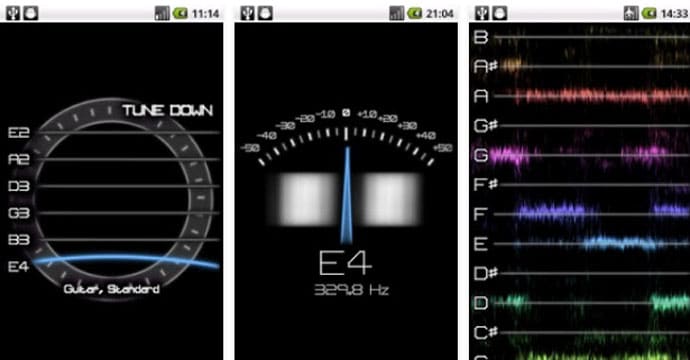 One of the must-have and hands-free tuning apps for guitar & others acoustic instrument. This one is especially, made for beginners and musicians and it's 100% free. For easy instrument tuning, it has a combination of radial strobe and string indicators. It also has the combination dial tuner and innovative linear for rapid and accurate hands-free instrument tuning. PitchLab also provides you Spectrogram, Chord, and BigStrobe. In one word, PitchLab is a complete pack of a Guitar Tuner.

Tuner – DaTuner (Lite)
Guitar Tuner app must be very easy to use. Because of the beginners who want to learn from Tuner. So, it's very important to realize the need. DaTuner is very easy to use. Play the tune, if your tuning is good then the screen changes to green. Because of its auto-sensitivity, no configuration required. It's accurate, precise and response quickly. Bright display to read it easily. Screen lock features to lock the note. Other interesting features including, Filter lock, Reference frequency adjustment, and much more.

Pro Guitar Tuner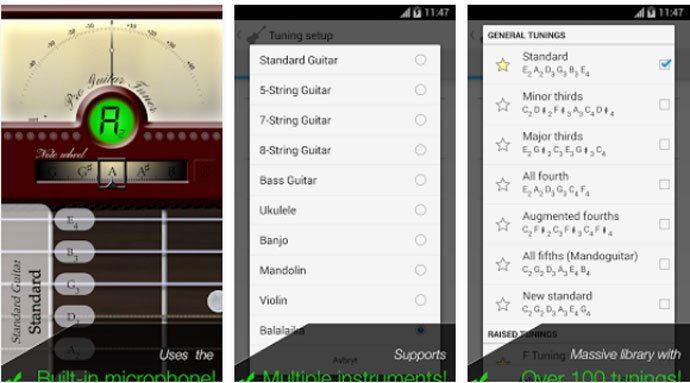 Pro Guitar Tuner is another top leading Guitar Tuner Apps for Android. Very accurate guitar tuner and easy to use. The app listens and analyzes the sound in real-time from the built in mic. Pro Guitar Tuner is not only for beginners but also for the Professional guitar makers and Musicians across the world. It also included the high-quality samples of real instruments. As well as, you can find a massive library of different tunings.

Pano Tuner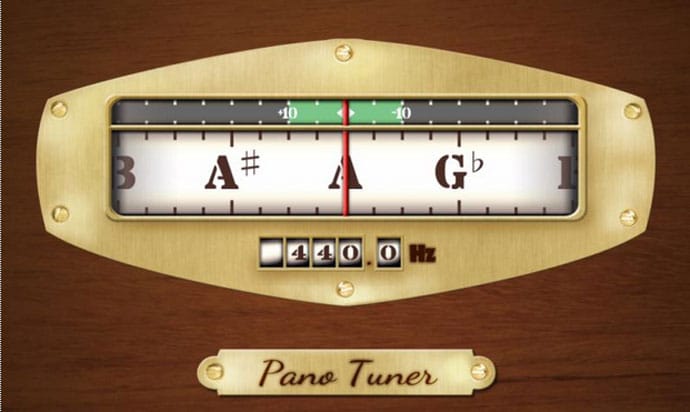 Tuned your guitar just in a few seconds with Pano Tuner. Once you download the Pano Tuner, you do not need to struggle with your tuner being out of battery. Make the sounds and let the app listens to show you the pitch. Just look at the offset from the pitch to tune your instrument accurately. As a chromatic tuner, it follows any pitch your instrument can make. The app is very sensitive and response quickly. At the same time, you can customize the app to adjust the concert-A frequency, change the sensitivity, and you can use the non-standard tunings.

Free Guitar Tuner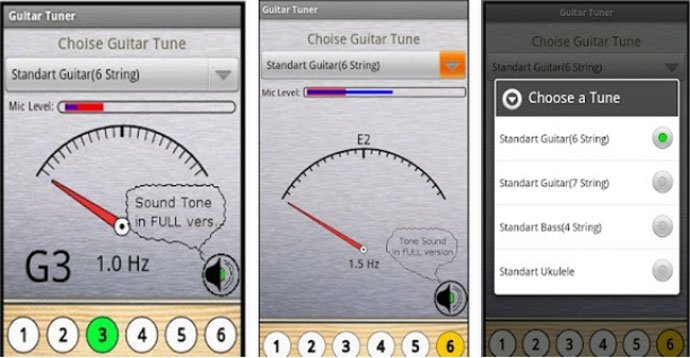 Free Guitar Tuner For those, who are looking for an easy to use and accurate guitar tuner. Although this one is a simple chromatic guitar tuner, but you can also use it as a tuner for other instruments. While you are playing something, use the chromatic mode, and it will show you the note and the frequency. For quick tuning, use the Quick Standard Tuning mode. On the other hand, the app has 40 alternative tunings for all your special tuning need.

Simple Guitar Tuner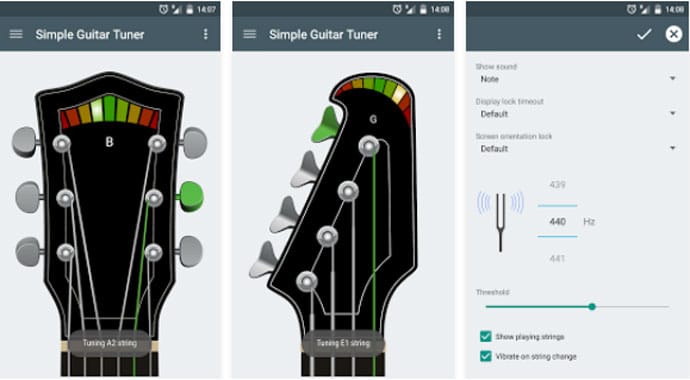 Simply play the note and tune with Simple Guitar Tuner. The apps will help you to tune your guitar fast and simply. Simple Guitar Tuner is useful for both beginners and professionals. The functionality of string choice is very helpful for beginners. Choose the tune and play the chosen open string and let the app recognize the tone and show you which direction to turn the peg – up or down. Advanced features will be helpful for professional including, microphone sensitivity, recognizable sound format display, etc.

Wrapping Up
Generally speaking, each and every single app are individual and different from others. These are the top 10 Guitar Tuner Apps for Android. If you just look at the features of these apps, you can clearly understand the fact. So you just need to choose the best one as your demand. No doubt, it's going to be helpful for you. Download and stay tuned.