The HTC U11 is the newly released flagship from HTC that comes with attractive design and some unique features. The metal-glass design makes the smartphone look attractive. And the unique "Squeeze" feature to access various options by just squeezing the side of the phone. However, if you already own the HTC U11 or have a plan to get it, then it's time to look for some accessories. Accessories will help to protect your new HTC U11 as well as make it functional. So here we are going to share some Best HTC U11 Accessories. These are also must have and essential if you want to make your U11 more functional. So let's have a look at our recommended HTC U11 Accessories to get your desired accessories now.
15 Essential HTC U11 Accessories
5 Best HTC U11 Cases and Covers
Spigen Rugged Armor HTC U11 Case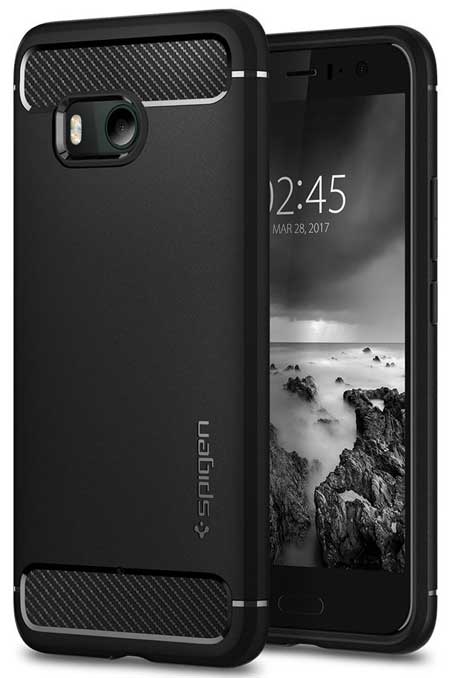 The Spigen Rugged Armor HTC U11 Case is a premium quality case that comes with a new look, glossy and carbon fiber texture design. The heavy duty case from Spigen Rugged Armor series made of flexible TPU materials. So your device will remain safe from internal scratch as well as any kind physical damage. The Air cushion technology also used in this case to make it shockproof and keep your U11 safe from accidental or hit damage. The raised edge helps to keep the screen safe from ground touch. And the raised lip on the back side will keep the device camera and flash safely.
Spigen Liquid Crystal HTC U11 Case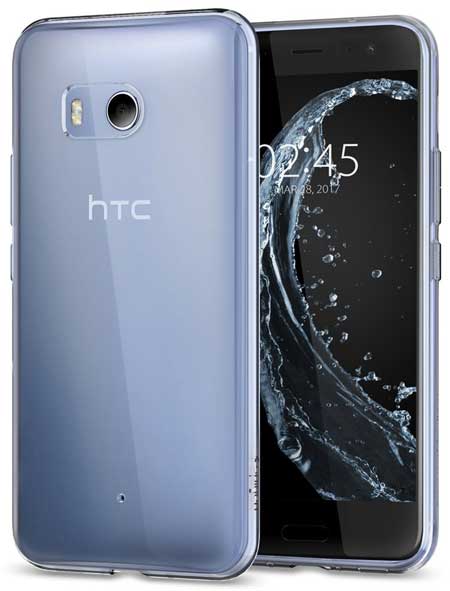 Another premium quality case from Spigen for the HTC U11. This is the ideal case for those people who don't like to cover their original smartphone look using a case or cover. The Liquid Crystal design won't hide your U11 meta-glass outlook as well as keep it protected from damage. The inner dot pattern helps to keep the device color safe by preventing air bubbles. The precious cutouts ensure easy access to all buttons, headphone, charger, mic, and camera.
HTC U11 Case by Mangix Love Mei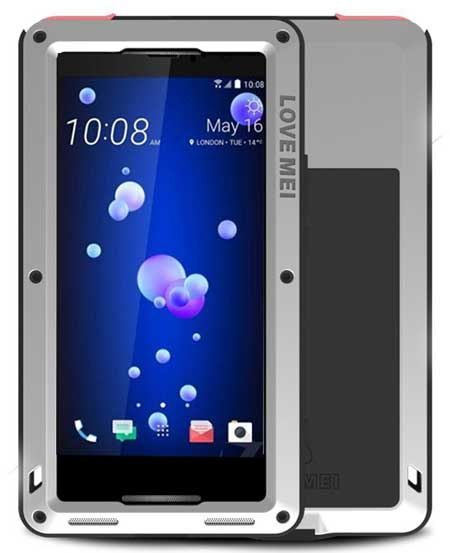 If you are looking for heavy duty and metal designed case to protect your U11, then you must try the HTC U11 Case by Mangix Love Mei. The full body metal case made of high-quality Aluminum metal (outer surface) and comes with the water-resistant feature. The case also comes with a tempered glass screen protector, so you don't need to buy an extra protector. The inner side made of soft Silicon materials to keep your smartphone free from scratch. The case is available in five different colors.
HTC U 11 Case from MicroP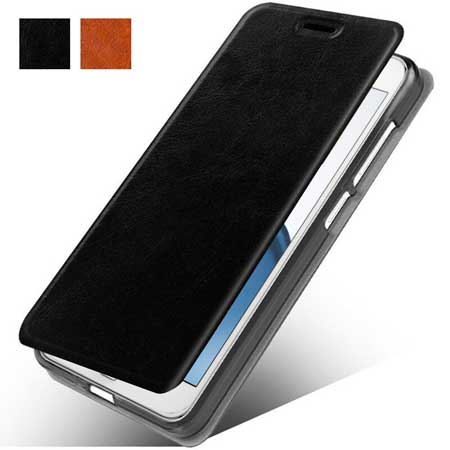 Flip cases are also good option to protect your smartphone from scratch or bumps. The MicroP brings a flip style case for the HTC U11 that available in Black and Brown colors. The case made of high-quality PU leather that keeps your phone from any kind scratch damage. There is a one card slot available inside the case for storing your credit/ID card or money.
Official HTC U11 Genuine Leather Flip Case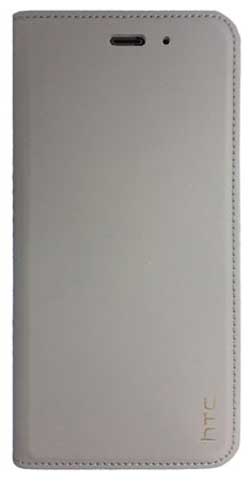 The HTC released an official U11 case to protect your expensive smartphone from scratch or any kind physical damage. The case made of genuine leather materials and specially designed for the U11. The lightweight and sleek designed case will protect your device without making it bulky. Currently the case only available in gray color.
2 Best HTC U11 Screen Protector
Supershieldz [2-Pack] HTC U11 / U 11 Tempered Glass Screen Protector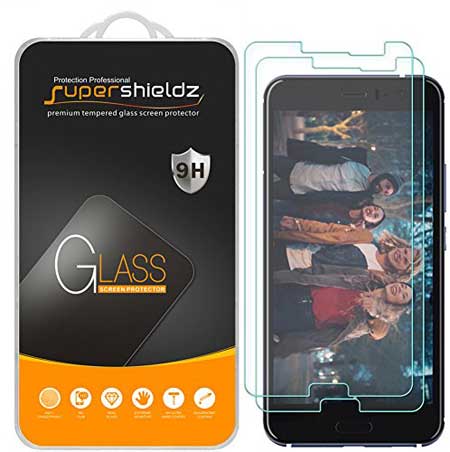 A screen protector is must have accessory for a smartphone or tablet to keep its screen safe from scratch, fingerprint or any kind damage. The Supershieldz brings a premium quality screen protector for the HTC U11. The protector made of high-quality tempered glass. With the bubble-free adhesive and precious cutouts, you can easily install it on your device screen. The 99.99% transparency won't affect the display color or touch sensitivity.
TechFilm HTC U11 / U 11 Tempered Glass Screen Protector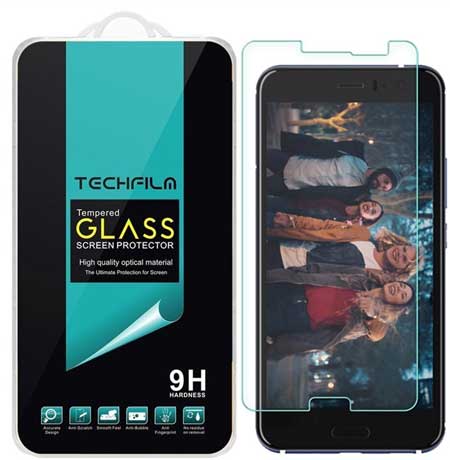 The TechFilm HTC U11 Tempered Glass Screen Protector is also a premium quality protector for U11 that will cost less than $3. The protector made of 9H super tough tempered glass and it will protect your U11 screen from fingerprint, scratch, dust or hit damage. The bubble free adhesive used for hassle free installation. Like the previous one, this protector also won't affect the display brightness, color or touch sensitivity.
4 Best HTC U11 Chargers (Home, Travel and Car Chargers)
Genuine HTC 10 Rapid Charger + USB Type-C Cable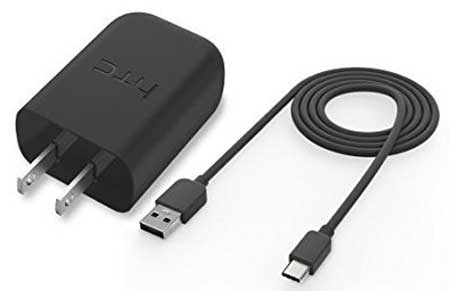 The charger is another important and essential accessory for smartphone users. Almost all smartphone comes with a charger, but you might need an extra one to recharge your device in the office or while traveling. So getting an extra charger is the best idea and the Genuine HTC 10 Rapid Charger is an official charger from HTC. The Qualcomm Quick Charge 3.0 technology used in this charger to recharge your U11 faster. A USB Type-C cable also included with this charger.
AUKEY USB Wall Charger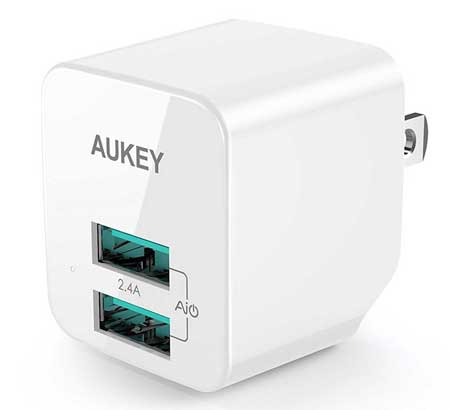 A compact size wall charger is the perfect option to carry it anywhere and recharge your smartphone when need. The AUKEY USB Wall Charger is a compact size charger that comes with dual USB ports to recharge two devices at a time. The built-in safeguard will protect your device from short circuit, overheat or overcharging.
Quick Charge 3.0 AUKEY Car Charger with Dual USB Ports for HTC U11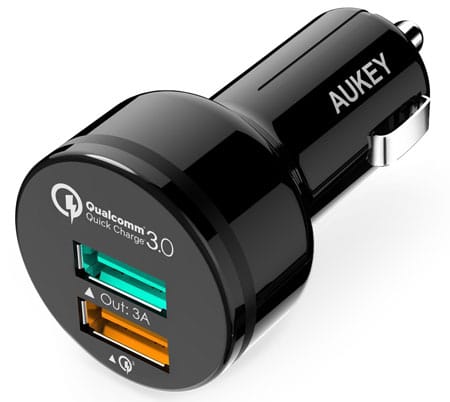 A car charger is essential for those who need to recharge their smartphone while driving. The AUKEY car charger is a premium quality charger that comes with Quick Charger 3.0 technology and dual USB ports. The dual USB ports allow recharge two devices at a time, and quick charge technology will recharge your U11 faster.
Hedocell HTC U11 USB Type-C Car Charger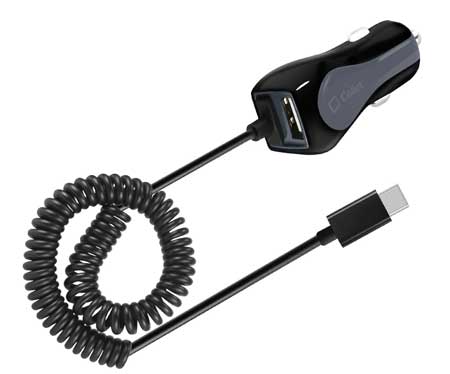 The Hedocell brings a car charger that specially designed for the HTC U11. The charger comes with a USB Type-C charging cable and quick charge 3.0 technology. The built-in intelligent chip circuit helps to prevent overcharging and overheating. There is also an additional USB port available to recharge any other device using an external cable.
Others Must Have HTC U11 Accessories
Samsung Micro SD EVO+ 128GB Memory Card with Adapter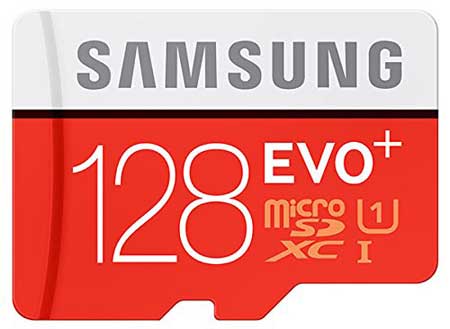 The HTC U11 available in two versions with 64GB and 128GB internal storage capacity. However, the 64GB or 128GB storage capacity may not be enough for some people. So if you want to increase your device memory, you can get the Samsung Micro SD EVO+ 128GB Memory Card. This is a waterproof and X-ray proof memory card that can read or transfer data at high speed. The memory card also comes with temperature and shockproof features.
Anker PowerCore 10000mAh Power Bank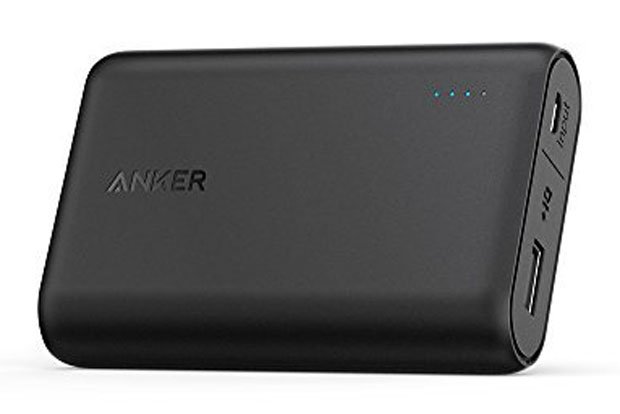 It is always not possible to carry an external charger or recharge battery using a charger. So a power bank is the best solution of that. But the problem is, most of the power bank comes with a heavy weight that is not good to carry. And here is the solution, the Anker PowerCore 10000mAh Power Bank. This is one of the lightweight and compact power bank. The high speed charging technology makes the power bank ideal to recharge your U11 faster. You can recharge the U11 3-4 times using this power bank.
Anker USB-C (male) to Micro USB Adapter (female)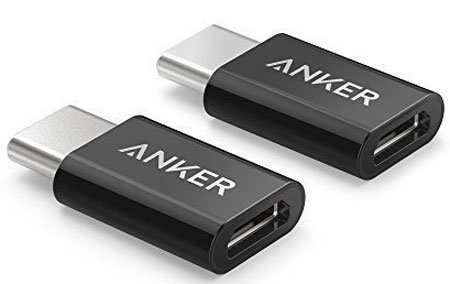 As we said before, it always not possible to carry a charger or data cable, or even a power bank. So what you will do if you need to recharge your device or want to transfer data? Well, the Anker USB-C adapter could be the best option for this situation. Using this converter, you can use a Micro USB cable to recharge or transfer data from your U11.
2-Pack USB C to 3.5mm Headphone Jack Cable Adapter from ADABUNNY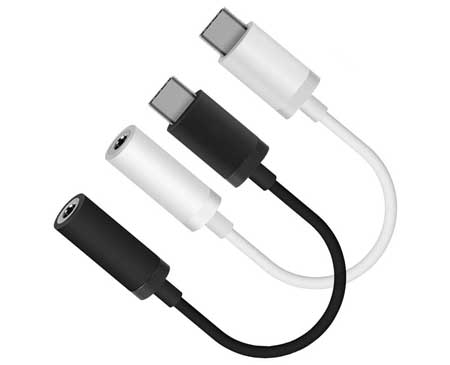 You know that there is no 3.5mm Headphone jack available in the HTC U11. So you need to buy a new headphone that compatible with the USB Type-C port. Well, if you have a traditional headphone, you can still use it with the help of a Converter. Yes, just get the USB C to 3.5mm Headphone Jack Cable Adapter from ADABUNNY and start using your old headphone for listening music or watching movies.
Final Thoughts
There is no doubt that HTC U11 is one of the coolest smartphone currently available in the market. If you are the lucky owner of this phone, then you must protect it. And make it more functional as well as easy to use. For all of this purpose, you can get some accessories. And hope our list of best HTC U11 Accessories will help you to find some excellent and essential accessories quickly.
Save
Save