Android devices come with a lot of features and functions. As we know, once people used their phones only for contact with others. But not now, now everyone using their Android devices for various purposes. Sharing your mobile network with your laptop and desktop is one of them. By the help of a tethering app, you can easily share your data without purchasing a Wi-Fi router. Android apps developer made some awesome to share data from your Android devices. As a result, you are now able to use your Android devices as a WiFi router.  At this point, you need to download a tethering app for your device, and there are the 7 top Tethering Apps for Android.
Free and Best Tethering Apps for Android
PadNet+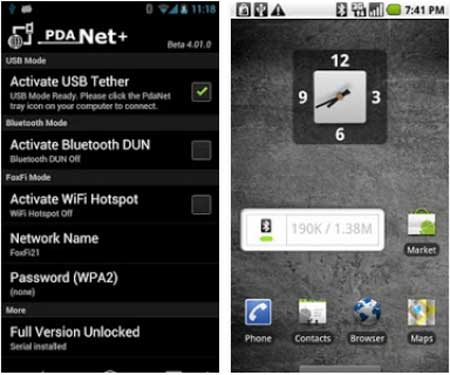 Padnet+ is one of the most popular Tethering Apps for Android. Well known and as well as very popular across the world. Some apps work with a rooted device, but PadNet+ works without rooting your device. Once you download PadNet+, then you can share your mobile data with your Laptop, Desktop, and Tablets. USB modes work with almost all Android Phones. Bluetooth supports some device like Windows PC, Android Tablets, and other Bluetooth supported device. Generally speaking, due to the Android updates and bugs, some of the devices will allow using Tether by Wifi.

ClockworkMod Tether
ClockworkMod Tether is also one of the Best Android Tethering App. This one especially comes from the top developer of Google Play Store. ClockworkMod also allows you to use this without rooting your device. Download and follow some easy installation step and enjoy. Find out the instruction bellow the app. For your PC, you need to tether software on your PC. This PC side installer will give you a virtual adapter so that you can share your mobile data with your Laptop or Desktop with the connection of a USB cable.

Barnacle Wifi Tether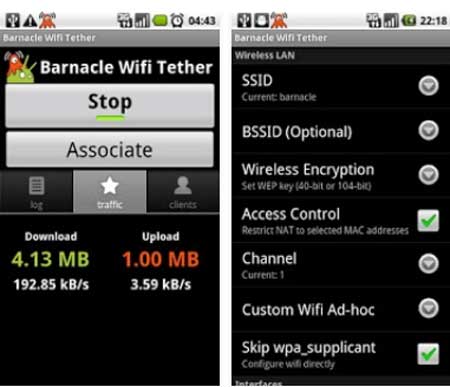 Barnacle Wi-Fi Tether is a complete solution for Android Tethering App. The first thing to remember, you need to root your device before using the app. Another key point, Barnacle Wi-Fi Tether works without a side software on your PC. As a result, you do not need to download and install an extra app to use the apps. Barnacle is a fully free and unlimited app, so you can use the without even spending a single penny.

FoxFi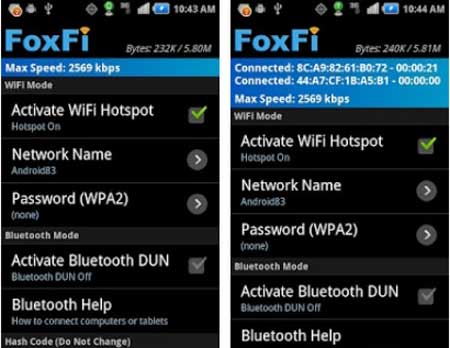 Another powerful and one of the top Tethering Apps for Android. Turn your mobile into a Wi-Fi router with FoxFi. Once you download the app, you can share your mobile data with your PC with a click. Firstly, USB mode supports almost every mobile. As a result, you can use both, Wi-Fi or USB. Bluetooth mode also has some condition, but most of the Android devices can perform with FoxFi. Windows PC, or Android Tablets, it works with those devices that support Bluetooth DUN. Wifi mode can be used from some specific Android device.

Easy Tether Lite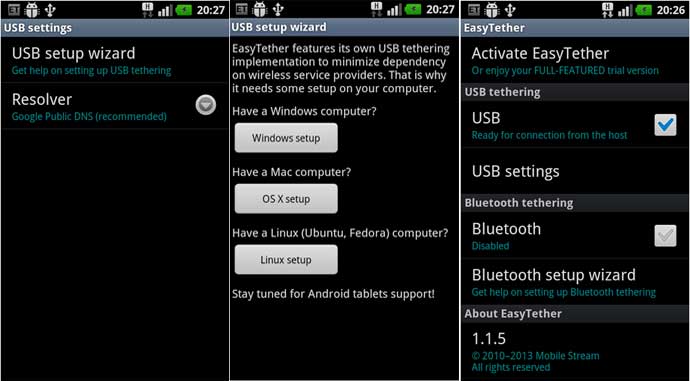 Let the app replace your Android devices into a powerful data sharing router. Easy Tether Lite is a Free Tethering App. Now you can share your internet connection from your mobile with Laptop, Desktop, or Tablet by using Easy Tether Lite. An easy way to share data from one device to other. USB mode supports almost every device including, Windows, Mac OS X, and Linux. On the other hand, its Bluetooth mode supports many devices including, Windows, Linux, BSD Computers and most of the Android version. As well as, Easy Tether Lite works without rooting your device.

Wifi Tethering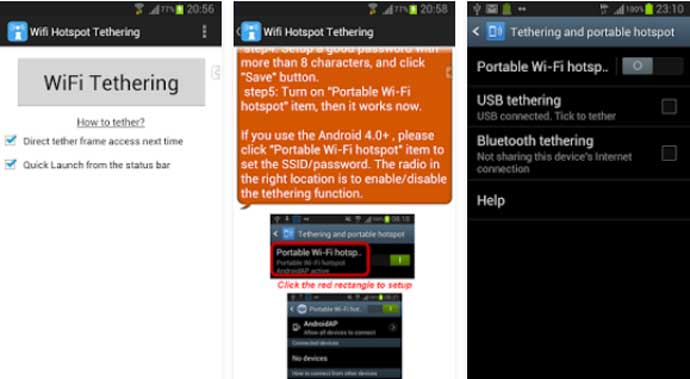 Enable the embedded Portable Wi-Fi Hotspot and Bluetooth very easily with Wifi Tethering. Quickly use the sharing system without facing any problem. Easy to use and user-friendly interface. You can setup the app with few easy click. Use Wifi and Bluetooth mode both to share your Smartphone data with others. For your quick use, it has quick launch system from the notification bar. So that, you can quickly launch the app. One thing to remember, before using Wifi Tethering you have must open your data connection.

Data Sharing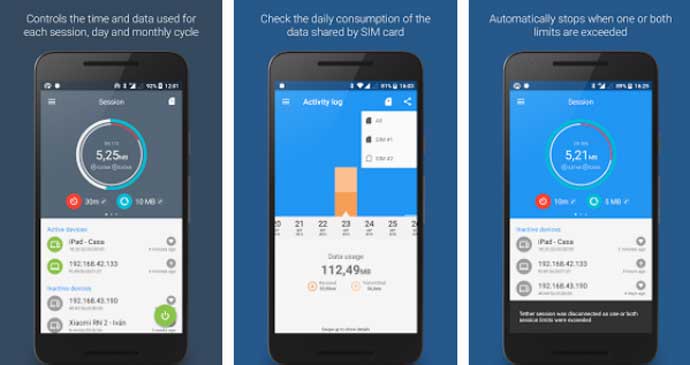 Control and share your data from your Android device to other devices with Data Sharing. The app will provide you some advanced feature like Time limitation system for your data sharing. For this reason, you can set the time for sharing your data. You can check detailed information about your every sharing tethering event. You can also check the device activity, and can have a widget to control all the tethering interfaces.

Final Thoughts
If you have an Android Device, then surely you are using it for various purposes. Tethering might be one of them. Everyone using the internet very frequently. As a result, most of the time we had to share our data plan. Now you can share your mobile data connection easily with one of this app listed in this article. Choose the best one from these top Tethering Apps for Android. If you have any problem with installing apps, then follow their instruction bellow the app or let us know by commenting below.