Android Smartphones and Tablets gives us the freedom to customize it as much as we want. As a result, you can change your device wallpaper or background images as your choices. Sometimes it changes the look of the whole device. When you turn on your device, it will give you a new fresh look. You can find wallpaper for Android device very easily, but all of them probably not to the mark. There are tons of Wallpaper apps on the Google Play Store and these are the 10 Best Wallpaper Apps for Android. Read the article and make your choice from them. Download your favorite one, and enjoy as much as you want.
Free and Best Wallpaper Apps for Android
Background HD (Wallpapers)
In the first place, Background HD is one of the Best Wallpaper Apps for Android. The app is very popular across the world with more than 100 million trusted user. Background HD is an Editor's Choice app with the very simple interface and material design. At the same time, the app is very simple, light and fast. So that, you do not need to worry about running out your battery or memory. Get new wallpapers every day. More than 30 categories to easy search and the pictures include all the information about the author and etc. In addition, editing tools to edit the picture as you want.

Also Check: Best Animation Apps for Android
Walli – Wallpapers HD
Walli is one of the top leading and Best Wallpaper App. The app is unique and it has tons of beautiful wallpapers. It will be great for you to having cool wallpapers every day. It has high-quality wallpapers including a selective collection of unique and cool wallpapers. You can easily browse among the wallpapers which are divided by 3 main section. Use popular wallpaper that rated by another user. The recent collection will be on the top. So that, you can easily find the new wallpapers. In addition, the app has some useful editing tools and some advanced features too.

Cool Wallpapers HD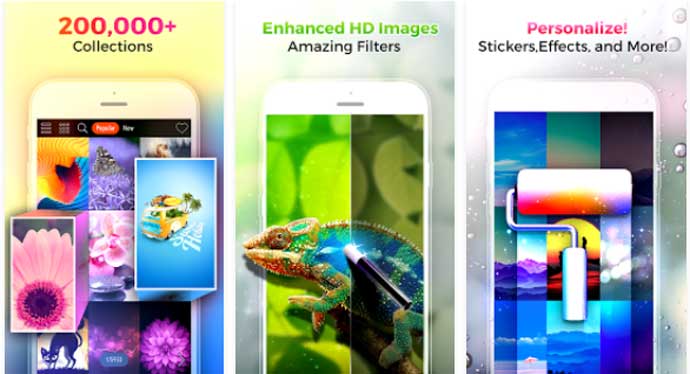 Make your device display more beautiful and stylish using this Best Wallpaper app for Android. The app is memory optimized, smooth, and very fast. Cool Wallpapers offers you more than 200,000 beautiful and cool wallpapers. All the wallpapers are divided into categories including, Cars, Anime, Games, Movies, and much more. Easy search system and can set the wallpaper with a single tap. A fast and easy navigation system to find out the desired wallpaper. In Addition, You can share cool wallpapers through the social networking sites.

Muzei Live Wallpaper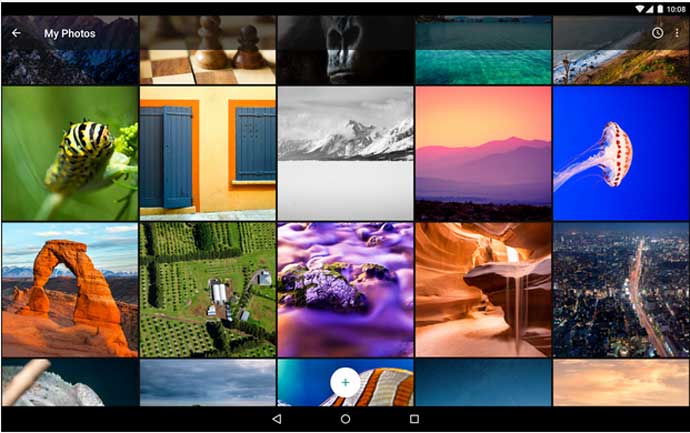 Muzei is a live wallpaper app which comes from the top developer of Google Play Store. Make your device home screen alive with the help of Muzei Live Wallpaper. The app is very popular across the world with a huge collection of live wallpaper. Once you download the app, then you can give a fresh look to your home screen each day with famous work of art. On the other hand, you can also use your own photos to your home screen. The app will keep rotating the photos every hour.

Wallpapers HD – PIXELS
Wallpapers HD from Pixels is a Free Wallpaper Apps for Android Phones. Decorate your Android smartphones as your test using the app. You can use their photos anywhere including business purposes. The user can easily browse through categories and between photos. Find wallpapers in HD and QHD qualities. On the other hand, the categories sorted by more than 20 items to find easily. Get a new wallpaper every day and can save wallpaper on SD card.

Wallpapers by Google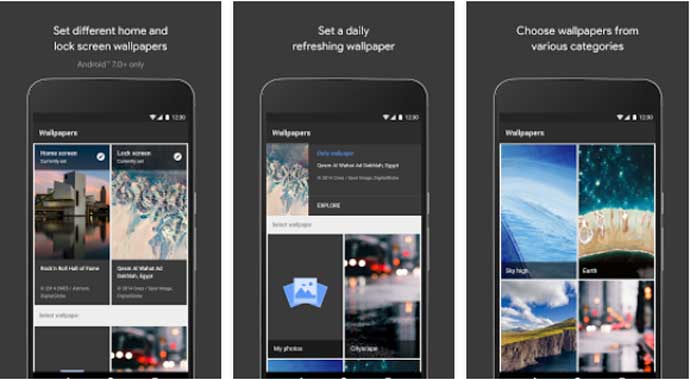 Make your display shine as you want. Wallpapers is a free app for your Android device from Google. The app has one of the most beautiful collections of wallpaper and features. The collection of this app is growing every day to give you something new. You can pick your favorite category and you will get a new wallpaper image each day. As well as, you can choose an image from Google Earth collection or you can choose scenic landscape from Google+.

Backdrops – Wallpapers
Backdrops is another editor choice apps in our list. The app is designed very beautifully, and it's very eye candy.  Backdrops have thousands of unique wallpapers designed by their team. The app showcases their newly created backdrops every day to give you a new treat. At the same time, you can make your favorite list to get access quickly. As well as, you can sync with all your device by signing in Google. Although, this one is a free version and you can get pro version to unlock more features.

Tapet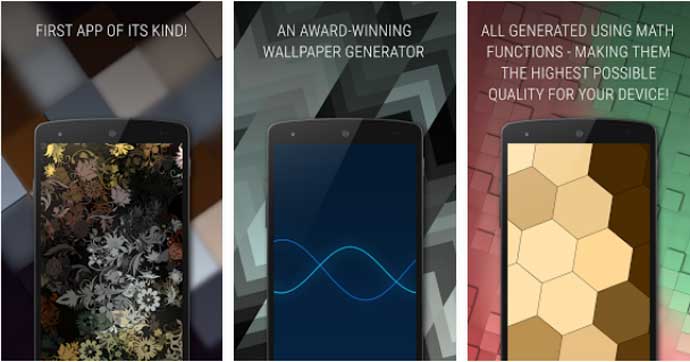 Tapet is one of the must-have wallpapers apps for your Android Smartphones or Tablets.  Beautifully designed and very easy to use. The app can automatically generate high-quality backgrounds. At the same time, you can also set random wallpapers. The quality of the wallpapers will be fit with your device easily. Tapet offers you a new wallpaper in every hour or day. For this reason, you will most likely never see the same wallpaper twice.

3D Wallpaper
Give your device a new 3D look with the help of this 3D Wallpaper app. Huge collection of wallpaper with a variety of qualities including, HQ, HD, and 1080p. The app has a quick and intuitive interface that allow you to change the wallpaper with few click. Create your own favorite wallpaper list. As well as, you can edit the wallpaper according to your needs. Share favorite wallpapers with your friends and family.

Wonderwall – Wallpapers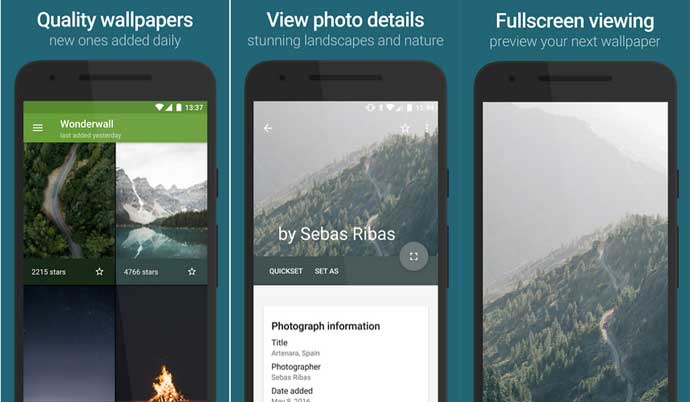 Never run out of new wallpapers with Wonderwall. Wonderwall is a simple but powerful and delightful wallpaper app. The app will provide you high-quality unique photos and landscape background. You can find all categories including, Natural, Anime, Movies, and much more. Other features like the favorite list, history, and preview are also very useful to you. Set wallpaper directly without facing so many steps. In addition, the app updates daily to give you something new.

Wrapping Up
Having an awesome wallpaper app is pretty good. Every day we open our Android smartphones and tablets more than hundred times. So it could be boring to see same wallpaper all the times. For this reason, we have listed the 10 Best Wallpaper Apps for Android. So that, you can have the best wallpaper app for your device. Download and enjoy a new look every day.