Messaging app is probably one of the most used apps in the world and WhatsApp is one of them. Facebook owned the WhatsApp that is very popular with tons of facilities. Although, WhatsApp once have the subscription system and now it's fully free, and you can make free calls or send texts using the app. But everyone not happy with one app as there is some limitation.  And as Facebook owned the app, so they share user data with Facebook that is also not a good sign. However, without WhatsApp, there are a lot of option to use as a Whatsapp alternative. And if you are looking for the best WhatsApp alternatives then you are in the right place. Here, we are going to share some Secure and Best Free WhatsApp Alternatives for Android users.
Have a look below to find different types of WhatsApp Messenger Apps for making free calls or sending free texts.
Best WhatsApp Alternative for Android
Viber
Viber is one of the Best Whatsapp Alternative you can have for your Android devices. Viber is a go-to free messenger, which will allow you to message or call anywhere. You can make unlimited voice & video call with your dear and near one. Viber offers a hassle-free long distance free call from anywhere to everywhere. Viber also provides, tons of sticker and emoji to express yourself, group chat with 250 people, instant live video chat, and much more. One more thing, with Viber, your communication is fully secured.
Line: Free Calls & Messages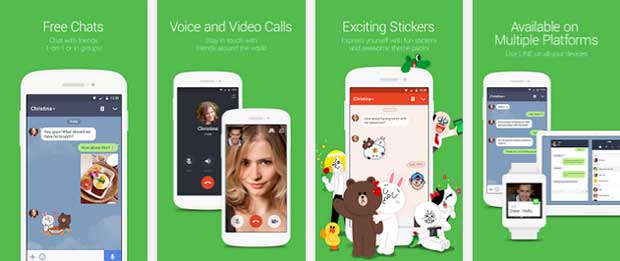 The Line is an another excellent app from the same category, and it's come from the Line Corporation. You can easily replace the app with Whatsapp. You will be able to do all those things which can do Whatsapp. Making calls, doing chats, real-time video chat, everything you can do with the app. The line is giving the chance to make long conversation even group conversation with up to 200 people, unlimited voice & video call advantages, a huge amount of emoji & sticker for funny conversations, auto sync, and much more.
Tango: Free Video Call & Chat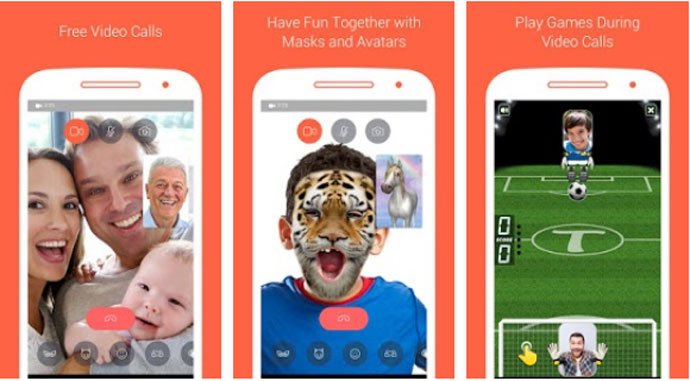 Introducing you one of the awesome Free Whatsapp Alternative you can find on the Google Play Store. Tango is serving for a long, and it becomes viral around the world. You can chat with your friends & family and can share photos, emoji & sticker, location, and much more. At the same time, Tango offers you a high-quality free video call, unlimited voice call around the world. So, you can have all the advantages such as group audio and video call, chat with the group, and much more to have a perfect Whatsapp Alternative.
WeChat
WeChat is an all-in-one communication app for messaging and calling. WeChat offers tons of features to give you a better service than Whatsapp. Stay connected all the time using WeChat Android messaging app. You can chat with others, can make unlimited video and voice calls from anywhere, share multimedia like photos & videos, and much more. You can even chat with the group and can make a video call with the group. Other useful feature you can have like real time location, better privacy, sticker gallery, etc.
Skype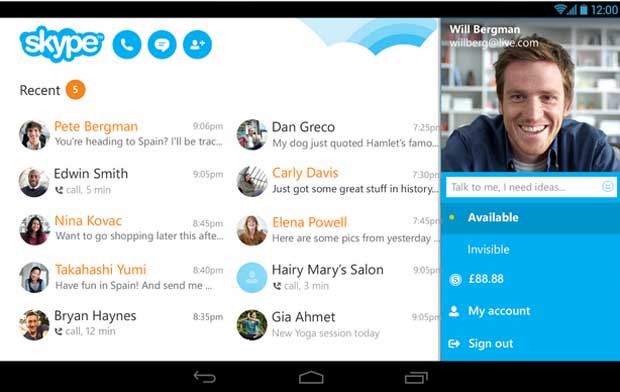 Skype is a hugely popular app from the Microsoft, and it's an editor's choice app. Skype is an older app and giving all those facilities that can give Whatsapp. So, you can use the app as a Whatsapp Alternative. Make all the important call with Skype, and it's for free. Audio call or Video call, you can have an uninterrupted, and unlimited call facility with Skype. In one word, Skype has all the features including, group chat & call, multimedia sharing, emoji & stickers, birthday reminder, and much more.
Hangouts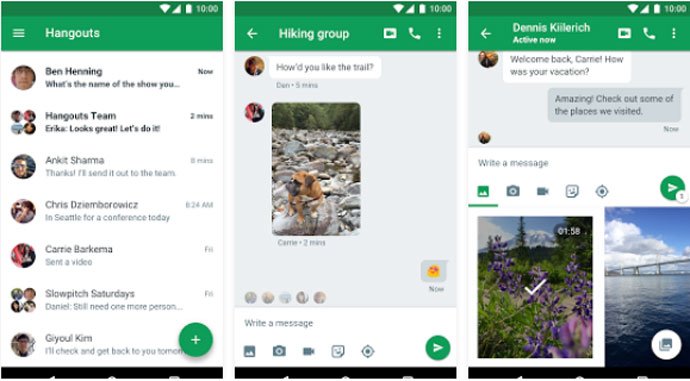 Hangouts by Google is another Whatsapp Alternative for you. Basically, Hangouts developed for a better video call and messaging. The app UI is user-friendly and, it's very easy-to-use. The app has all the basic and advanced features to give a tough competition with Whatsapp. Have a chat with friends with lots of stickers and emojis, and can share photos, videos, and audios. As well as, group chats with more than 150 people at a time.  Make a call to other hangouts whatever its an audio call or a video call.
Hike Messenger
This one is a complete package to forget about Whatsapp. The app is beautifully designed with 11 colorful themes, and have all the advantages to make it perfect messaging app. Chat with others and convert chat expression to interesting automatic stickers. Talk to your family and friends over the app with a high-quality video call. It also has some unique feature such as stories, magic selfie, live filters, chat themes, and others.
Google Dou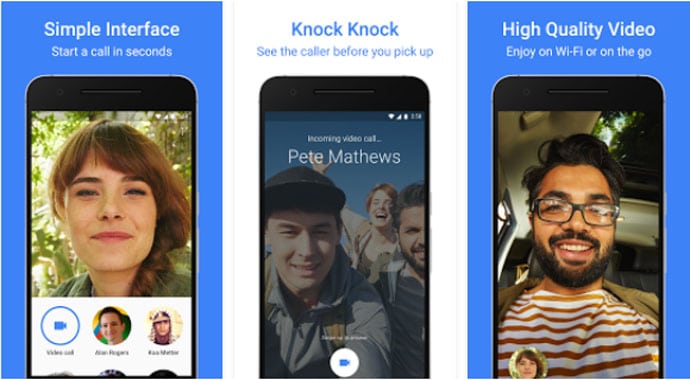 Google Dou is another messenger app from the Google team. Google Dou is a one-to-one video calling app. It has a simple user-interface to make easy-to-use for all. If you are looking for a Whatsapp Alternative than you can go with the Google Dou. The app offers a high-quality video call, and you can see the caller before receiving the call. For your comfortable chat, it also has thousands of sticker and emo. Make everything possible what can do Whatsapp.
Telegram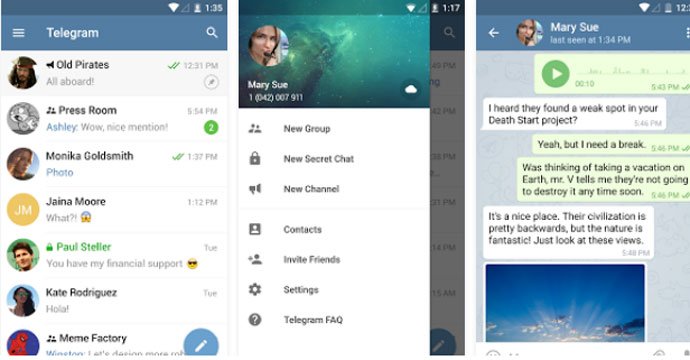 Telegram is a very fast and unique instant messaging app for Android device you can find on the market. Messaging with Telegram is simple, secure, and fast, and can sync with your all device. Send file with no size limit through the app, and can share all type of files. One more thing, their security is powerful, and they use a combination of 256-bit symmetric AES encryption. For all those reasons, you can use the app for Whatsapp alternative.
Kakao Talk: Free Calls & Text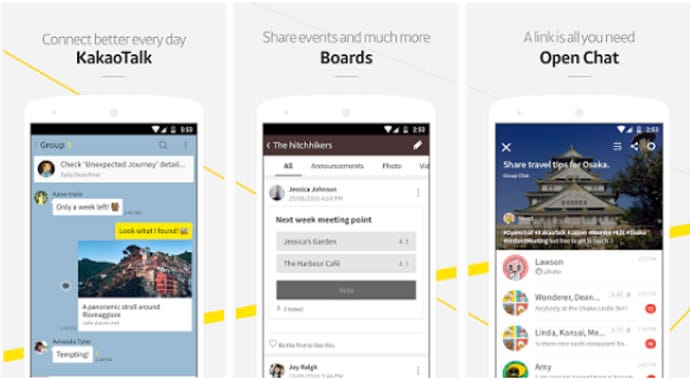 Kakao Talk is another best Whatsapp alternative for your Android you can find out there. This one is very reliable, speedy, and easy all-in-one messenger app for you. It will allow you to do free chats with multimedia sharing option, as well as, group chats too. You can also make an unlimited and uninterrupted voice call over the app. You can also have a huge collection of emoticons & sticker to express yourself and make your conversation more funny & enjoyable.
Closing Words
We can't deny that Whatsapp is one of the popular messenger apps, but you can find hundred of Whatsapp Alternative out there. Each & every app of the list has a rich amount of features to give you a perfect Whatsapp Alternative flavor. Instant messaging, sharing multimedia files, voice & video call, and others you can have in these apps.