The brain is one of the most important and central portions of the human body. We follow several tips and tricks and also most of the times going to the Gym to keep us healthy. But most of the people ignore their mental health as they care about their physical health. Every day, we are working a long time on office, school, college or home and these may create mental pressure on our brain as well as our health. So you should take care of your brain and mental health to keep us healthy and live a long healthy life.
Every day, you may spend lots of times with your Android smartphone or tablet to do your tasks, play games, watch movies, etc. You can easily use your smartphone to keep your brain healthy using some Brain Training Apps for Android. These apps come with several features and most of the free. So let's check the list of best brain training apps for Android and refresh your mind now.
Brain Training Apps for Android
Elevate – Brain Training
The Elevate is one of the most popular and top rated brain training app for Android, which is Google as editor's choice. With over 8 million downloads this is trustable and effective brain training app to keep your mind refreshing. The app designed and developed scientifically to improve your speaking speed, focusing speed, math skills as well as boost your memory. The app comes with 30 different brain training game and user-friendly interface. So anyone can easily utilize this app perfectly.
Key Features
Track your performance with built-in performance tracking feature
Customize your daily workouts
30 different games including math, memory, focusing, processing, precision, etc.
Built-in workout calendar
Helps to boost productivity and to earn power

Lumosity
The Lumosity is another popular and best brain training app which gains huge popularity in the brain fitness department. The app comes with several tools and games to train your brain and keep it sharp. Using per day a game series of this app will help to increase your memory power, gain more attention and much more. There is a premium version of this app available with more features.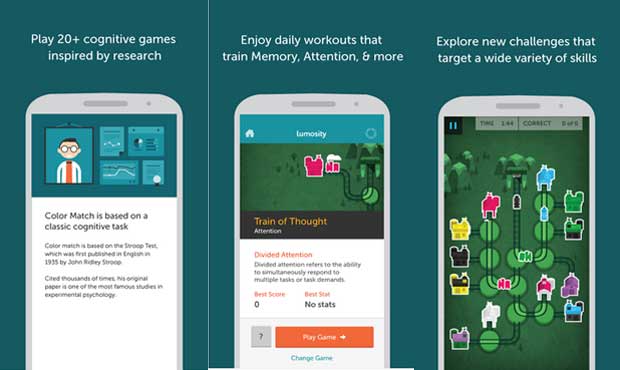 Key Features
More than 70 million people use this app
The app designed and developed based on common cognitive and neuropsychological tasks
Gain attention and boost productivity
Track your daily progress
Simple and user-friendly interface

Brain Age Test Free
You can use the Brain Age Test for free to test your brain age with fun. This is another brain training app, which comes with simple and user-friendly brain training games to refresh your mind and judge your brain memory. You can test your short-term memory and also increase your memorize the capability by playing this game once a day.
Key Features
Top brain training game with more than 15 million downloads
Test your brain by gaming performance
Compare your score with other by posting your score on the global board
Track your progress regularly
Perfect for any aged person including kids

Math Workout
The Math Workout is a perfect brain training app for the human that will help to keep human mental health good and sharp. The app comes with different math challenges, and you can choose anyone to test your brain performance. You can use this app daily to improve your math skills, brain power and increase your productivity.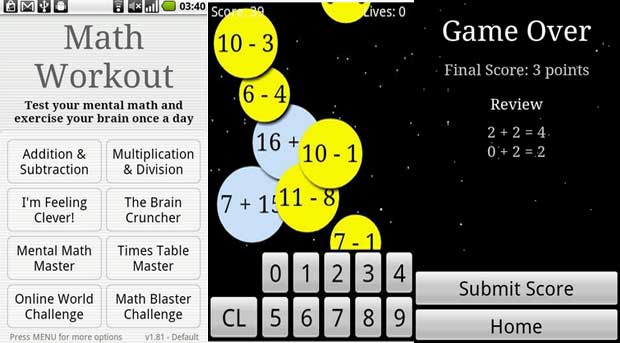 Key Features
Track your mental health regular basis
Designed and developed scientifically to improve mental arithmetic
Simple and user-friendly interface
More features available with the PRO version

Sudoku World
The Sudoku World is another free and best brain training app for Android phone and tablet which is a popular puzzle game to refresh your mind. This app will help to keep your mental health good and increase your brain power. Sudoku might be deliberated more 'universal' than the terminology and pop-culture knowledge required for crosswords.
Key Features

Save
Save