If you are a person who wants to enjoy technology to get its maximum benefits, then you are at the right place. The world keeps on evolving continuously which is why technology also keeps getting updated too. The Hoverwatch Mobile Tracker technology is truly a splendid example of technology that provides convenience and comfort along with its many features that make moving around easy and secure too. It has numerous features in it while the free mobile tracker from Hoverwatch is one of the best ways in which people can avail these options and stay secure at all times.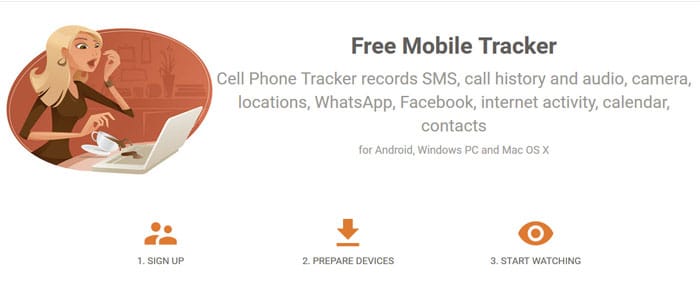 Let's have a look at its many features in detail
Key Features of Hoverwatch Mobile Tracker
Call Recording Options
All incoming and outgoing calls can be recorded and later be available for use in the user panel through this option. The actual audio, exact date and time, duration, type of call whether outgoing, incoming; the number, name are also saved side by side. You only need to turn the option on to avail it.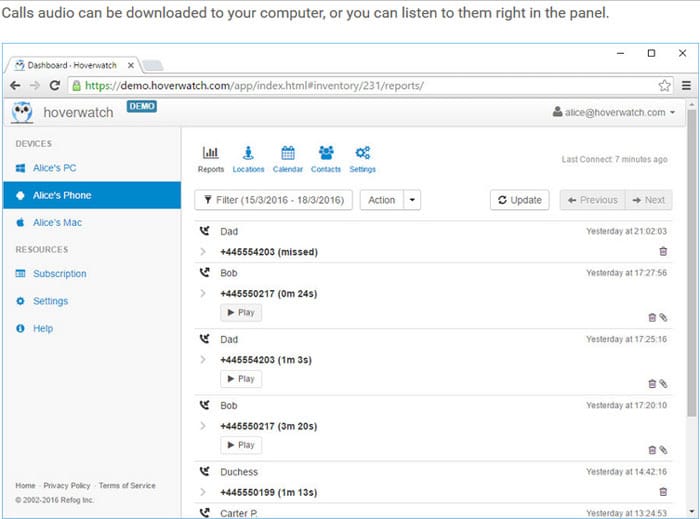 This useful feature is great to know what someone is up to and review all their activity with the help of voice recorded calls, SMS, and MMS too. You can also use this information for your own record too.
Additional SMS Tracking Options
All sent and received MMS and SMS conversations can be saved with the time and type of message (received, sent), name and number. All calls for WhatsApp, Facebook, and other social accounts are also included in this feature
It helps to log on and get access to your own photos and images sent through social media while the spy feature also lets you know of those that have been deleted too. Most conversations today are done through texts so one can know all useful data and even keep an eye on their child's life and behavior through his.
Featured Facebook Messages Tracking
Facebook is the most used social media platform through which more than 50% of work and conversations take places besides media sharing.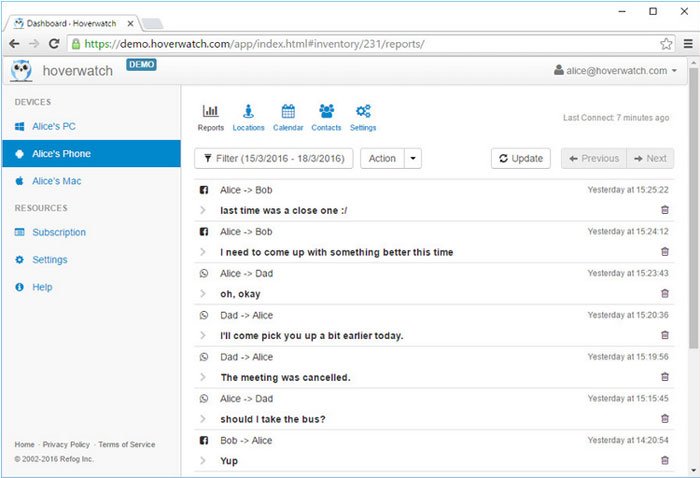 Thus, this feature is useful for message tracking while audio, video, pictures, and conversations can be all viewed later for later use and background knowledge
WhatsApp Spy Feature
This is also the most used platform which is why the software features saving all WhatsApp conversations, images, documents, links, conversations, audio, video, calls, and even video calls etc. The spy feature also gives information about deleted logs to provide useful accounts too.
Sim Card Features
Sim card changes are detected and the number of previous SIM is also saved. It is useful when knowing about SIM changing and usage activity.
Contacts Safety
This means all your contacts be it of Facebook, WhatsApp or others, they are all saved for your convenience. Each new contact also gets saved in the user panel by default and needs to changes settings at all.  The feature is truly quite useful when someone wants to know about their activity along with details on conversation partner besides their phone number. The feature also has email addresses and other valuable related information in it too.
To-Do List Options
The 'to do' list is a very important feature from the calendar area. You can include many plans, appointments, and meetings here. The tracking proves to be useful because you can know where your loved ones are going and view all of these reminders to stay on track with the help of added social media options too.
Stealth Mode Safety
There exists a hidden tracker in this mode whenever a user chooses to operate in this mode and become invisible to find the hidden phone tracker. This feature can be turned on and off whenever wanted and a secret phone number is provided as the spy installation process is taking place. The given number is types to launch the invisible software or change its settings.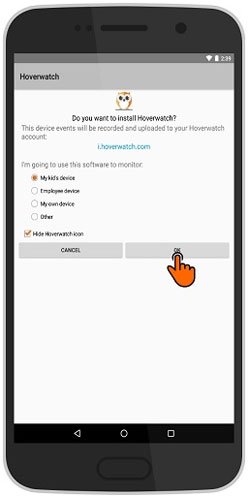 The feature can be great for privacy or getting the most needed features for saving relationships. No one is happy about being tracked so your employees and family can be happy about it too
Camera Feature
As soon as a person unlocks their smartphone or tablet, the Hover watch features make sure that they take a photo of that person at that time.  The picture is taken as soon as the software knows that the person has swiped to unlock the screen.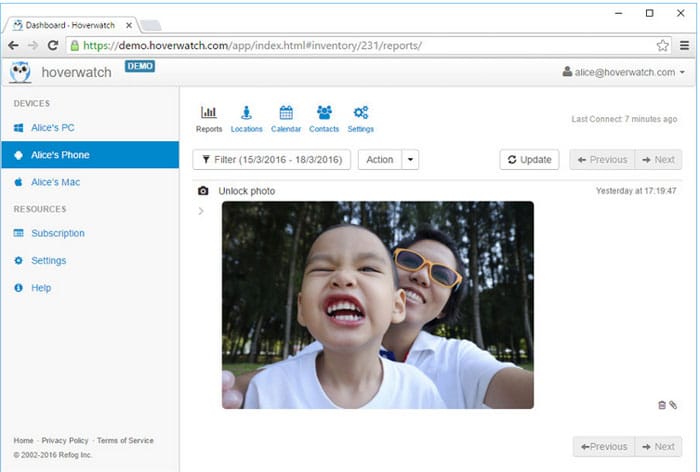 This feature has also been reviewed and loved a lot because in many cases the face of the user can be seen in the picture and it reveals who wanted to check your device particularly at a time when one wasn't around. The photos are taken from the selfie camera and stored in the user panel
Call Tracking Feature
As simple as it sounds, the Hoverwatch tracker is the best for all calls and saves a full log of incoming, outgoing, as well as missed calls of one's Android phone. The tracker also features an additional call tracker for recording audio at the same time too.
The exact time as well as the duration of the call is saved and the name from the contacts list is stored along with it.
Moreover, if the call location feature is turned on with the help of geolocation then the place where the call was made is also saved. The text spy is also a similar feature similar to it. This calling feature has a special algorithm which saves information even if a user has deleted all the information from the Call History log. The data is all stored in the user panel and can be accessed from any gadget having an internet connection n it. Even SMS and MMS conversation threads are saved in here.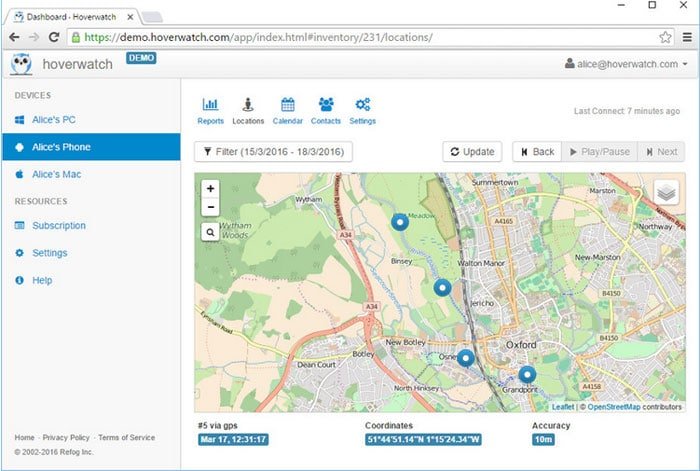 This feature is loved by many people because it helps them to have an account of how much time they have wasted instead of doing work or can also know of any suspicious calls through the location feature turned on. Lastly, the call record options also work wonders to know what important content you conversed. The account is seen in the personal user account made for this very reason.
History Options
Knowing your internet history can sometimes prove to be very valuable for back tracking and utilizing many resources. The same is the case for the Hoverwatch Mobile Tracker which contains such software that is designed to help you stay aware of all that you need to. It provides track history for your phone including tracker for calls, messages, and even internet browser history for any android smart phone.
The software saves all the information about the websites visited while its app also saves records for calls, social media platforms like WhatsApp, Facebook through GPS location besides saving record for regular messages too.
Multiple Device Features
There are lots of way in which a person can keep his device connected, safe, as well as secure but the Hoverwatch Mobile Tracker also offers services to keep up to 5 devices tracked simultaneously. This feature wins because it enables the users to freely use the service without interruptions.
Platform Convenience Feature
The feature that tops all other numerous features to make the Hoverwatch Mobile Tracker is this one. It is because even if all the above feature exists but this one does not then without any accessibility and compatibility for your platform, one won't be able to avail and enjoy all these features for the Hoverwatch Mobile Tracker. Looking at today's adaptability and the prevalence of multiple platforms through many devices and operating systems in different technology gadgets, it has become important that features offered are compatible to be used for these gadgets. This is why the Hoverwatch Mobile Tracker features extra options for both Mac and Windows to make sure that every person gets facilitated this way. The Android powered features are obviously the most used and asked ones till date which is why all other features mentioned are for Android devices specifically.
The keylogger for Mac is also available free with the download and saves everything that is typed by the user whether it is a text, internet search, contact, or email address search too. All registered presses keys are saved just in the order in which they are seen and can be accessed online from any device with an internet connection. The Mac also has many invisible, log websites, screenshot saving options too.
When it comes to Windows, even they have a free pro keylogger and many assisting similar options too.
Final Thoughts
This Hoverwatch Mobile Tracker feature has tremendous cell phone location tracking facilities with the help of GPS and Wi-Fi. People have loved enjoying all these experiences so easily which is also why they have given the best reviews and star ratings by each user who has used the Hover watch till date.
There exists a huge clientele of such satisfied customers who have been delighted with each use of the Hover Watch at any given time and it is all because of the useful features it has!
Save