The web browser is one of the most important and essential apps for Android devices. Everyone uses web browsers to browse the web to do business or personal tasks. We always search for the best web browser apps for Android that comes with fast loading features, user friendly interface and never hang. But most of the Android users only use the Web Browser which comes with their device. Every Android phone and tablets come with a built-in Web browser, but most of them aren't good in the term of user experience, easy to use or security.
There are hundreds of web browser apps for Android available in the apps market. You can choose the best one for a better user experience, browse the web faster and keep your things secure. So, in this post we are going to share some best web browser apps for Android. You can use these browser apps for free to browse the web fast and securely.
Web Browser Apps for Android
Opera
The Opera is one of the most popular and fast loading web browser apps for Android that is also a must have app for Android phone or tablet. The simple and user friendly interface with fast web loading feature makes this browser app popular. You can download music, files and documents with this browser and keep your things organized. There are different versions of this app available for Android phone and tablet.
Create an account in Opera to sync your browsing and bookmarking data
Set-up speed dial for faster browsing experience
Built-in search option to search and find anything instantly
Private tab for private browsing
Subscribe to the latest news, technology, sports from popular newspaper and magazine site
Lightweight web browser
Some user finds difficulties to download images with the latest version
Not best for download videos
Google Chrome
As an Android user, you may familiar with the Google Chrome Browser. Most of the Android phones and tablets come with a Google Chrome browser. This is another most popular browser for Android, which will help to sync your browser data in any device. You can use your bookmarking data, browsing and other data with Chrome in your PC, tablet and phone. One the other hand, Chrome also a user friendly and fast loading web browser that can serve data fast.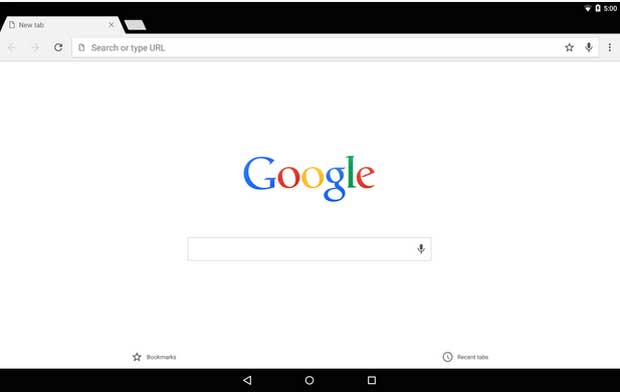 Voice search feature
Save minimum 50% mobile data while browse the web
Sync browsing history, passwords, bookmarks etc. and use from any device
Built-in webpage translator
Browse the web faster
No built-in ad block option
Less add-ons for developers
Firefox
Most of the people like to use the Mozilla Firefox as the primary browser on their PC because of its so many features. If you are one of them, then you can also use the Firefox on your Android phone or tablet too. This web browser comes with various features like Chrome and Opera. You can also sync your browsing history, bookmarks, password with your Mozilla account and can use on any device just login with the Mozilla account.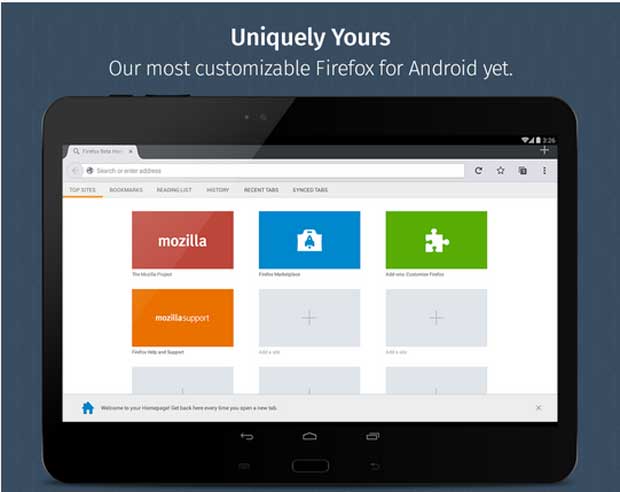 Customize your Firefox home panel as you want
Lots of Add-ons like ad blocking add-ons, password manager, video downloader etc.
Fast loading web browser with quick startup
Support more than 59 languages
Privacy setting option to keep your online presence secure
Support almost all major video formats and play videos smoothly
Private browsing tab
Some user finds difficulties using Firefox with the Nexus 6 device
Little bit slower than Chrome and Opera browser
Maxthon
The Maxthon Web Browser is another best Android web browser app which you can use for free to enhance your web browsing experience. This web browsing app comes with several built-in features to browse the web faster by using low CPU resource and memory. You can easily adjust the font size, block unwanted ads, browse any site privately with this app. Currently, more than 600 million users around the world use this browser.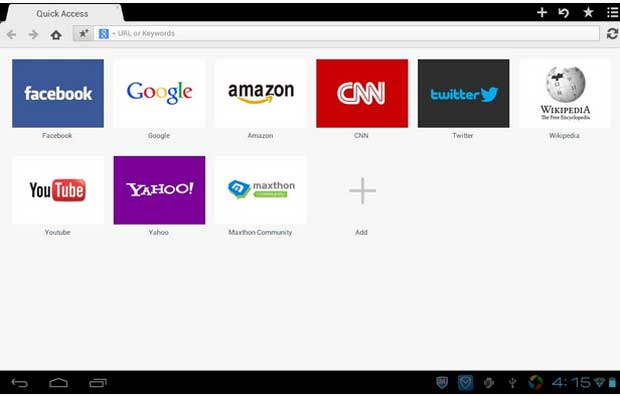 Customizable home panel comes with quick access and speed dial feature
My Cloud features to sync your browsing data and use from any device
Free cloud space to download and upload files securely
Share mobile contents through social media and SMS
Comes with useful add-ons like file manager, task killer, screenshot assistance etc.
Dedicated download manager
Some user finds difficulties to browse the web faster with the latest version
Download manager not good enough to download large size files
Dolphin
Like Opera and Firefox, the Dolphin is also one of the oldest and popular free web browsing app for Android. With more than 100 million downloads, this is a top growing Android browser app. Like other browser app, the Dolphin also comes with the sync feature to sync your browsing history, passwords, bookmarks etc. and use from any device.
Gesture features to browse the web privately
Built-in voice search option called SONAR
The better flash support for games and videos
Download any files including HTML5 and Flash videos
Various themes available with customize option
Play one feature disabled in the new update
Update version works slower than the old version