Our life became easier with Smartphones. Basically, Android device with lots of features made it easy. We can use Android devices to do many things. Waking up in the morning is a tough job. Sometimes it goes very costly. On the other hand, we are trying to wake up timely. For this, we use an alarm clock and our Android devices. Now it can be easier than before. With the help of an Alarm Clock App, you can wake up in the morning timely. You can pick any app, but it would be wrong. So we tried to guide you the 10 Best Alarm Clock App for Android Devices. Read it carefully and enjoy the best Alarm Clock App.
10 Free Best Alarm Clock App for Android
Alarmy (Sleep if You Can)
Alarmy is one of the Best Alarm Clock App for Android. For an Android user, Alarmy offers the world's most annoying alarm clock app. On the other hand, it has the highest rating on the Google Play Store. The features of this app ic crazy. The photo features, you have to get out of the bed and take a picture of the registered place to turn off the alarm. Isn't it crazy? Math problem mood, to turn off the alarm you have to solve the math problem. Shake mood is also available. So, after downloading this app you can't sleep more.

Timely Alarm Clock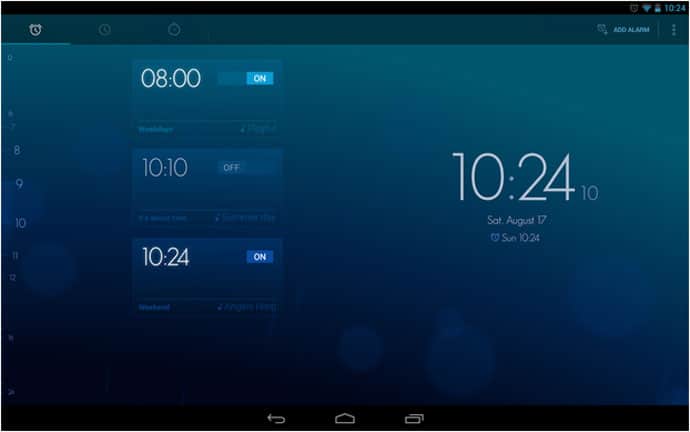 Timely is another best Android Alarm Clock. To wake up early and timely you can use this app. It has some great and useful features. Firstly, it's very easy to set up an alarm on this app. It has the high-quality sounds to break your deep sleep. You can use a different theme to look it new. On the other hand, you can also set your own customize look. The continuously snoozing system will definitely turn you wake up. Cloud sync will allow you to use the same alarm to other devices. The built-in stopwatch will help you to do many things. Widget for your home screen.

Alarm Clock Xtream Free + Timer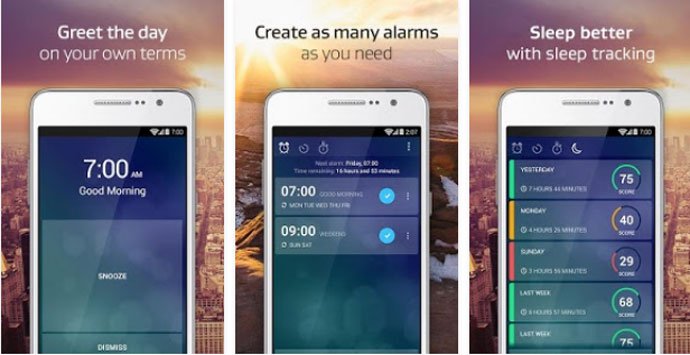 Alarm Clock Xtream is very popular Android alarm clock app all over all the world. It has tons of features. The combination of basic and advanced features will blow your mind. The gentle alarm mode will play the sound gently to wake you up slowly and smoothly. Random song alarm for multiple sounds, Music alarm to choose your favorite music. Extra-large snooze button to avoid accidental dismiss, Math problem to ensure you to wake up surely, Manual snooze time. Built-in stopwatch,

AlarmMon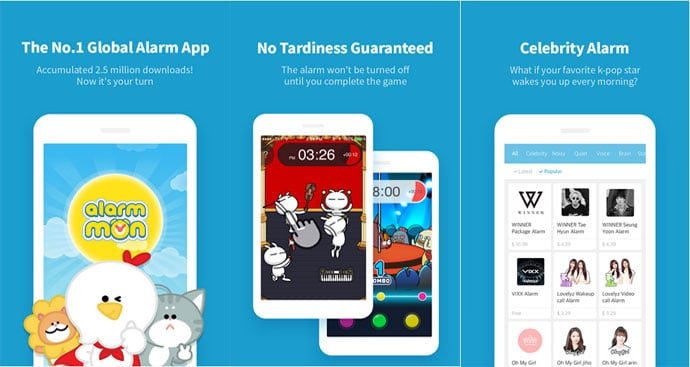 AlarmMon is an Editor's Choice alarm clock app from the top developers. AlarmMon said itself that it's a must have alarm clock app. It has a unique feature called by your own celebrity alarm. Various alarm types like Various character alarm, Favorite celebrity, and band alarm, and noisy alarm. Different purpose alarm for your daily routine alarm like news alarm, weather broadcast alarm, etc. You can also track your history by recording your alarm.

Sleep as Android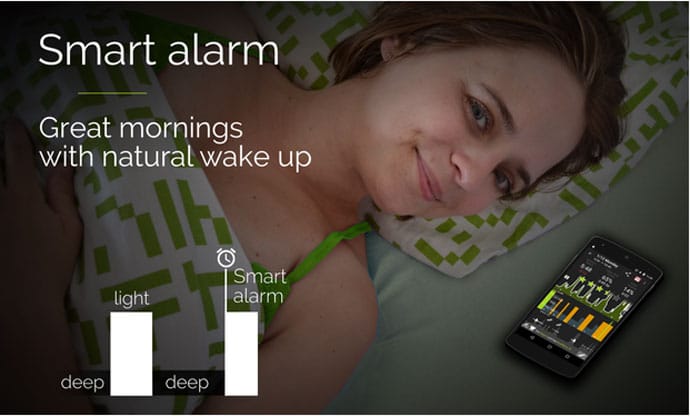 Sleep as Android is another Editor's Choice App from the Top Developers of Google Play Store. Sleep as Android is one of the best smart apps fro Android. The smart features of this app are awesome. Gentle volume with nature sound (built-in with the app) is nice to hear and useful. Various type of alarm like Math (solve a math problem to turn off the alarm), Sheep counting (count these sheep), Phone Shaking (shake your phone to turn off the alarm), and Bathroom QR code and NFC tag, etc. Sleep as Android offers you sleep talk recording and snoring detection and anti-snoring.

I can't Wake Up! Alarm Clock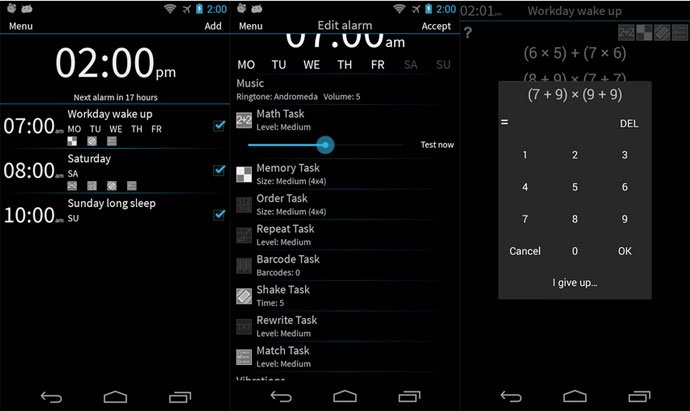 I can't wake up is a Simple Alarm Clock App for Android lovers. For your everyday uses, you can use this app. Morning to night, sleep alarm or reminder alarm, it will be your best alarm clock. Smooth wake up alarm, a customizable alarm system which can be customized. Snooze music is a unique system that will paly music during the snoozing time. Multiple sources for alarm sound. It also provides, Math test, Memory test, Tiles order, Barcode, Rewrite feature, Shake the mobile, etc.

Good Morning Alarm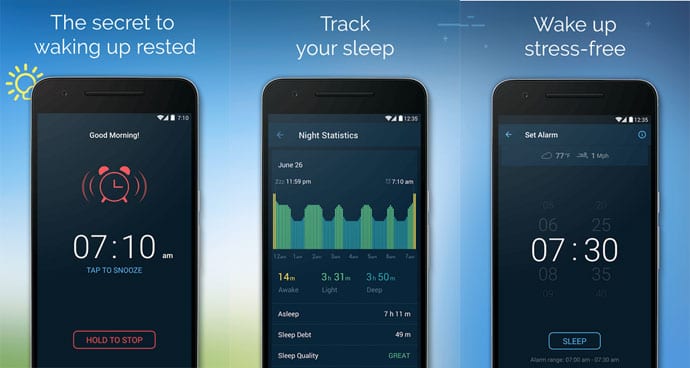 Good Morning Alarm is a very smart and one of the Best Alarm Clock App for Android from the Top Developers. The built-in intelligent alarm system will wake you up surely. You can analyze your sleep quality and behavior in details. It allows you to choose the alarm tune from the gallery, or built-in natural sound and smooth sounds. It will track your sleep time for a healthy sleep what you need for a healthy life. You can also find the weather condition based on your location.

Go Clock – Alarm Clock & Theme
Go Clock is a unique alarm clock app with some unique features. The app introduces you the health alarm by the recommendation of expert and scientific advice. You can set the alarm with one click. All the basic and useful features. Calendar alarm for scheduled days and special days. Widget for your home screen and 4 stylish clocks to set on your display.

Wave Alarm – Alarm Clock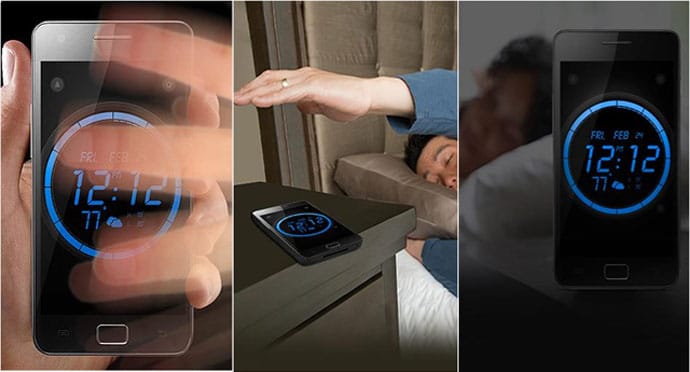 Analog and digital alarm clock combined in this app to test you the both. With the basic features, you can have some advanced features too. For your natural wake up you can turn your alarm into smooth alarm mode. Choose a beautiful alarm tone from their storage, or you can use your favorite music. Smart background alarm to make sure that you never miss a wake-up alarm. Finger touch brightness control, Real-time weather, etc.

Sleep Cycle Alarm Clock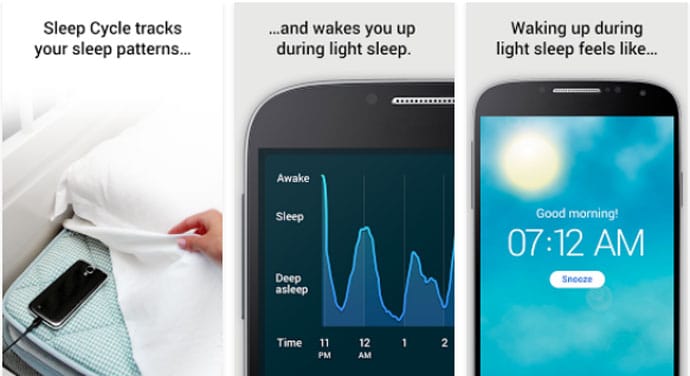 Finally, we are at number ten with Sleep Cycle. For an advanced and useful alarm clock app, you can use this one. Sleep Cycle tracks your sleep history with your device sensor. Smart alarm system with a shake and lightly tap snoozing. Background alarm, Built-in alarm sound or use your own favorite music as your alarm tone, Sleep notes, and Long term graphs to track your sleep behavior to advise you the sleep time.

Final Thoughts
To wake up timely, you can use one of these 10 Best Alarm Clock App for Android. Once you download an alarm clock app, you are not going to miss any important meeting or class. Each and every app has some unique features with basic and advanced features. So, download your favorite one. No doubt, your morning will start at the right time.
Save