Android smartphone and tablets come with a lot of features. Some of these features you can change to your taste. The ringtone is one of the important features. Incoming call, SMS, Notifications do some sounds when it comes to your phone. If you are not happy with your default ringtone then you can change it. There are few ways to change ringtone, and You can use some third party apps to change your ringtone. To get the best apps for ringtone, our expert recommends you The 10 Best Ringtone App for Android Smartphone and Tablet. Make your choice and download the best one.
Top 10 Free Best Ringtone App for Android
ZEDGE™ Ringtones & Wallpapers
ZEDGE is one of the Best Ringtone App for Android. This one is made by Top Developer on Google Play Store. About 500 million downloads with a good number of rating. To personalize your device sound, you can download million of ringtone, alarms and notification sounds. ZEDGE provides you all type of ringtone, like rock, classic, pop etc. The user can easily set up the ringtone with ZEDGE app. You can collect your favorite ringtones to ZEDGE and can access from any device. High-quality audio and can be shared anything with others. ZEDGE also offer you HD wallpapers and App icon and Widget.

Audiko Ringtones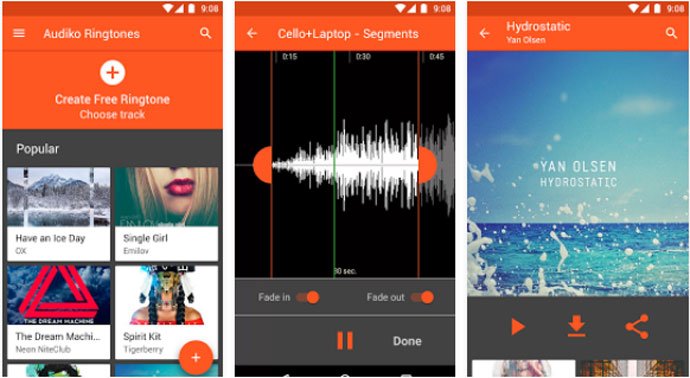 Audiko is another Best Ringtone App for Android lovers. A genuine ringtone app for your great experience of changing the sound. It has a huge collection of ringtone. You can download for free and use with your Android smartphone and tablets. It has also more than 10,000 HD wallpaper and background wallpaper. The personal MP3 cutter will help you to give the perfect shape to your ringtone. Audiko has intelligent search system to search for the genre. They update their list every day, for this reason, you can get new ringtone every day.

Cool Ringtones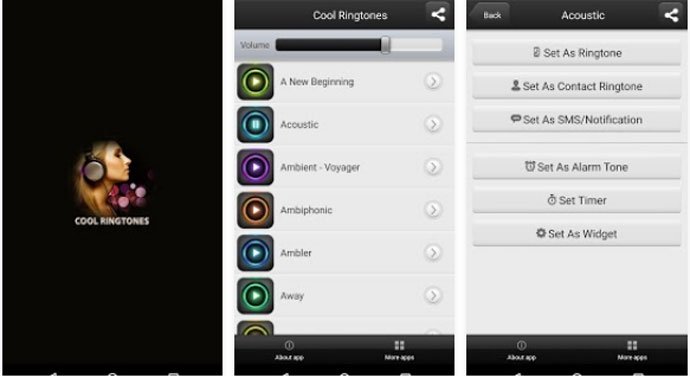 Cool Ringtones is a simple and easy ringtone app. You can find a lot of awesome ringtone in this app. Cool audio effect for ringtone. You just need to download the ringtone and they will do the rest. The multipurpose sound for a special occasion. You can use it for default ringtone, or someone special. Cool Ringtones has a widget for your home screen, and you can control the ringtone with the widget. This is a full free app, so you do not need to spend a single penny.

Ringtones & Wallpapers for Me
Ringtones & Wallpapers for Me is one of the popular Free Ringtone App for Android. It has a huge collection of ringtone that will make your device sounds good. The app gets updated frequently so that you can find something new. Ringtones are organized nicely to categories. For this reason, you can find your favorite ringtone easily. Sounds come with HD qualities. It has also a big amount of wallpaper for you. You can enjoy both of them.

Popular Ringtones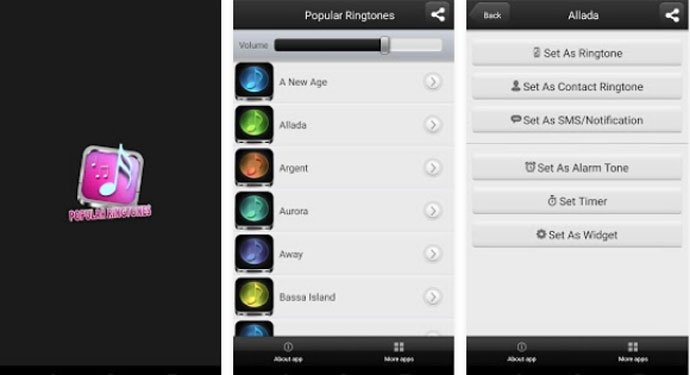 Popular Ringtones is a truly amazing app with high-quality sound. Make your Smartphone more excited with Popular Ringtone. You can find all the popular ringtone in one place. Lots of melody ringtone for you and there are also a lot of funny, crazy and funky ringtone. With the built-in widget, you can set the ringtone free and you can play whenever you want to have fun with your friends. Set timer to play when you want to play the sound, and use the widget on your home screen to have a quick response.

Free Ringtones for Android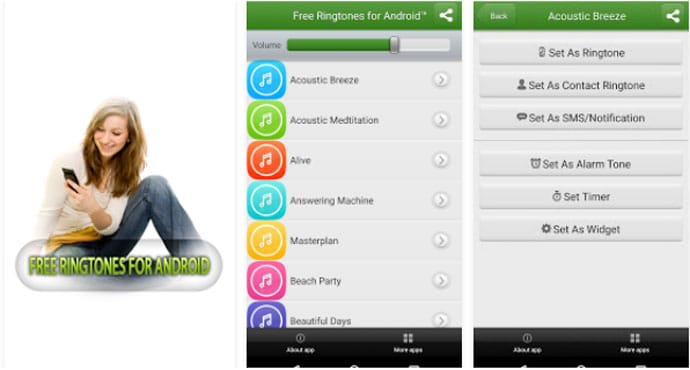 Android smartphone or tablets, you can use this app for thousands of free ringtone. Easy and quick app for ringtones with a huge collection. It's a very light app, so you can use it with any Android device. All kind of music you can enjoy like, Melody song, Rock, and Pop, even you can have some funny ringtones too. All ringtones will be HD quality. You are free to use these ringtones with anything.

Scary Ringtones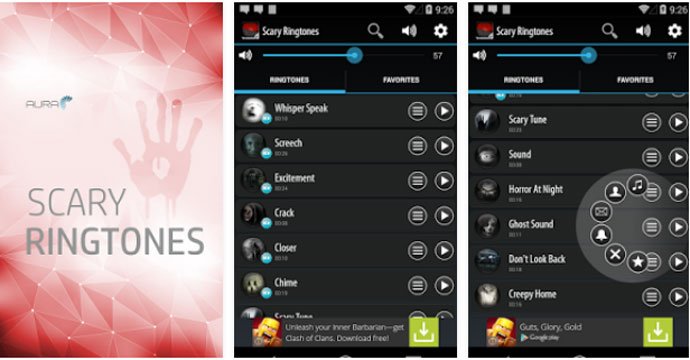 Scary Ringtones is something to change your typical ringtone experience. They are offering you the most amazing scary sounds ever. You would love to play and listen to these ringtones because it's different and worthy. Menu button for features. It's very easy to use. It has more than 100 scary ringtones. You can set these ringtone as your incoming call alert, assign to favorite contact, SMS tone, notification tone, and alarm sound.

Funny Saying Ringtones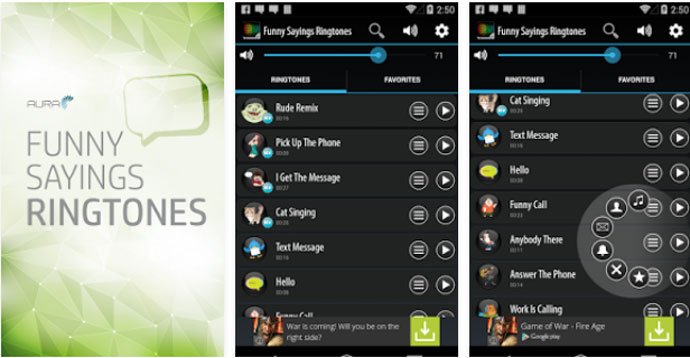 Make your device ringtone sound funny with Funny Saying Ringtones. You will never get bored with this app. Never ending collection of funny ringtones for you. There is some specific ringtone for your friends and family members like your dad and your mom. Set your ringtone for all incoming call or specific person of your contact list. Alarm sound, SMS tone, Notification alert are also available. Start your day with some fun.

Animal Sounds Ringtones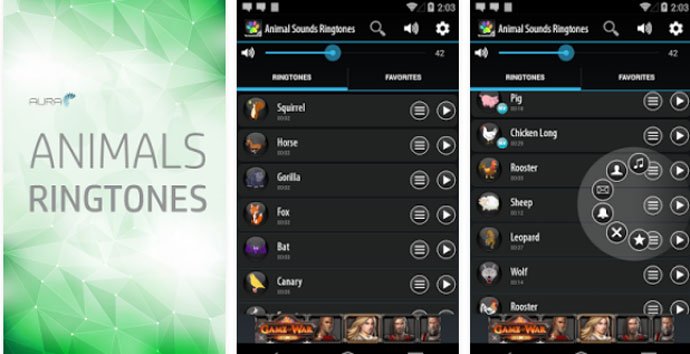 If you want something different than this one is for you. Animal Sounds Ringtones is a free Android Ringtone App. More than 100 animal sounds, you can set as your ringtone. Your kid also going love it. This app is very easy to use and very easy to navigate. All ringtones are fresh and nice to hear. HD quality sound. Set as your mood. Set as your ringtone or assign contact. You can also use for SMS tone, Alarm sound, or Notification alert.

Best Classical Music Ringtones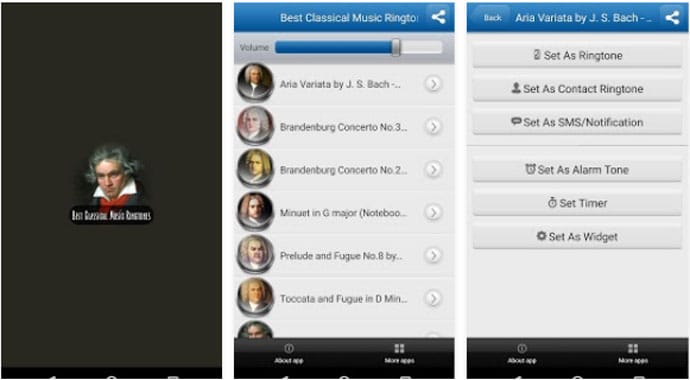 For the classical music lover, Best Classical Music Ringtones is a treat. This app is offering you the great classical test in your ringtones. You can have best classical music ringtone for free. When you are nervous or sad you can play the music to calm yourself. The built-in widget is ready to play your favorite sounds when you want to play. Widget for your home screen and for quick use.

Final Thoughts
So, we have reviewed these 10 Best Ringtone App for Android. Each and every app have some different features. Feel free to choose your favorite one by your demand. No doubt, your device going to sound better than before. You are going to have a great experience. All the apps are free and available on the Google Play Store.
Save