There are a lot of people who like to read a magazine, and they spent a lot of time for it. Breakfast table or leisure time, they keep reading their favorite magazine with love and passion. If you are one them, then you might face some problems like not having a new magazine or you traveling without a magazine. In this situation, your Android smartphone or tablet could be helpful to you. You can easily read your favorite magazine on your Android device using an Android Magazine App. After Google, there are plenty of option to read stories for free. Follow the article to have some great option for magazine app.
Best Free Android Magazine App 2017
Google Play Newsstand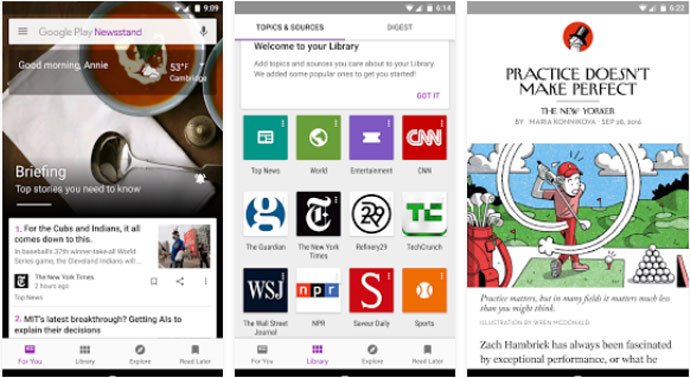 Google Play Newsstand probably have the best quality to play the role as an Android Magazine App. Basically, Google Play Newsstand is a personalized news reader which will take you to the another level of reading magazine and others. You can access to thousands of magazine including the famous magazines. At the same time, you can read the leading news from all over the world. The app will keep you up-to-date with a new magazine, news, and much more. Google Play Newsstand also has some features that will help you a lot. You will find this magazine app installed by default almost all Android phone or tablet. However, if the app not installed on your device, then you can get it for free from the below link.
Also Check: Best eBook Reader for Android
Flipboard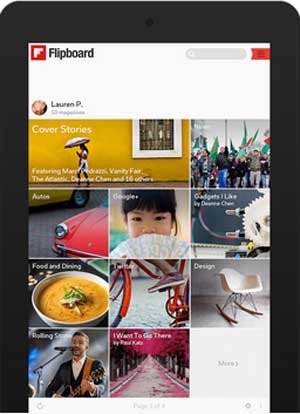 Flipboard is one of the best Magazine App for Android. Flipboard is a very popular app to read a magazine, and it's an editor choice app. Read stories from all over the world, and use the app easily with its elegant user-interface. Using Flipboard, you can get access to top 9 smart magazines in the redesigned home carousel. On the other hand, you can have automatically updated news from all genre, an article about the current issue, drama, lifestyle, fashion, and much more. It will also allow you to make a custom magazine with your favorite stories from any genre and source.
Zinio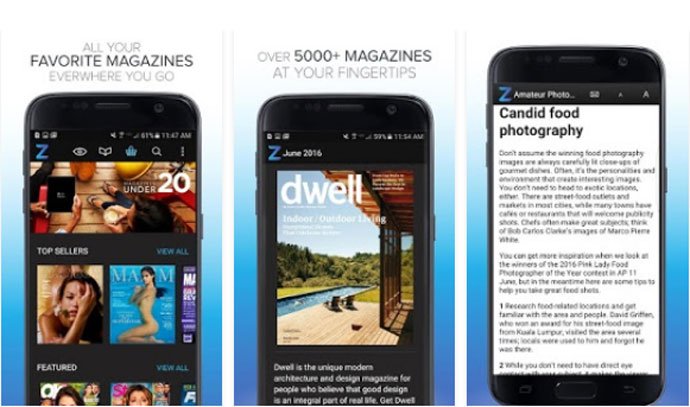 Zinio is an all-in-one app, where you can find over 5000 digital magazines for free. You can read stories from almost every genre including, news & politics, science & tech, celebrity & gossip, women lifestyle & fashion, and much more. Zinio update article and magazines in their library when it releases. As a result, you can read all the new content at the right time. With the offline feature and sync system, the user can read their favorite magazines without a data connection and can sync with their all device.
Feedly – Get Smarter
Use Feedly to follow the blogs, magazines, and other sources that matter to you. Feedly is one of the finest Magazine App which can serve you tons of facilities. The app offers you to get quick access to lots of different sources for news, information, stories, and others. So, you can have a bundle of the magazine to read stories from a different genre. In addition, Feedly integrates with Facebook, Twitter, Evernote, Linkedin, Pinterest, so that you can easily share stories with others.
Issuu: Read Magazines, Catalogs, Newspaper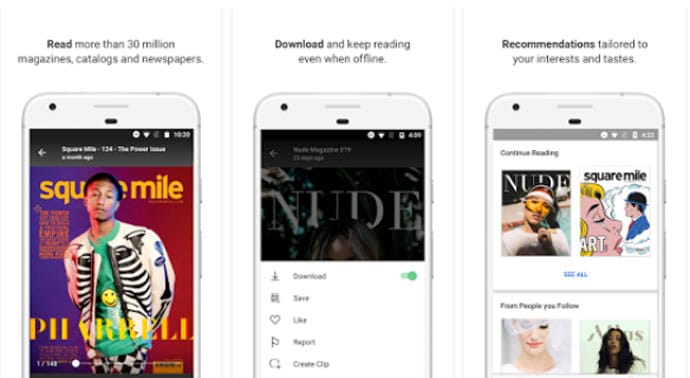 Issuu is another awesome Android Magazine App to read Magazines, Catalogs, and Newspapers. Issuu has more than 2000 new magazines, catalog, and added more every day in 30 different languages. So, you can read content about photography, food & drink, fashion, business, design, movies, technology, science, and much more from all over the globe. The app has an automatic suggestion mode to suggest you the new exciting content on your homepage. It also has a download option to read anytime anywhere, follow option to follow your favorite publisher, and share option to share content with others.
Magzter: All Digital Magazine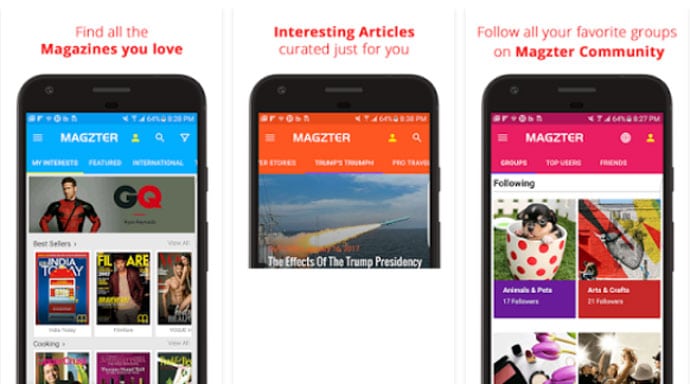 Get the best experience of reading Magazines from your Android device using Magzter. One of the largest digital magazine app with over 9000  magazines. You can read magazines from all over the world about tech to science, business to shopping, lifestyle to fashion. Magzter introduces "The Reading Destination" where they include all the article from the best sources. Just search for your desired magazine, their intelligent search engine will show you the correct result with a suggestion.
Pocket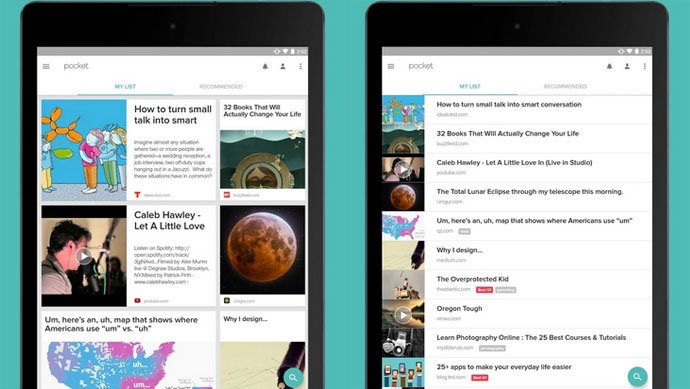 The pocket is a great app to read the news, article, stories, and others. Although this one is not a magazine app, you can still read stories, articles, news for free using the app. When you see something on the internet like an article or a news, you can keep them in your pocket to read later. Pocket keeps your save stories, news, article safe, and you can also read them even not having an internet connection. Once you download the app then you are not going to miss anything you like.
Digg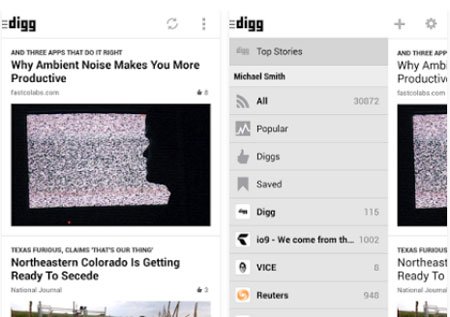 Read the most interesting stories on the internet using Digg. Digg is very useful Android Magazine App to read the most interesting and talked-about stories from all over the world. Through the app, you can easily follow your favorite online publisher, writer, and bloggers. It has organized RSS feeds to get quick access to the most popular items on the internet and social media. Digg also allows you to save stories to read later and share anything with your friends and family.
Inoreader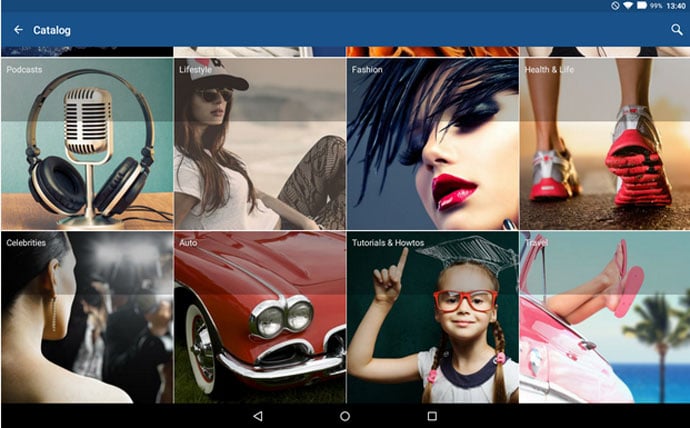 Get access to your all favorite newspaper to read news, stories, articles, and others without opening so many websites. Inoreader has an easy user-interface so that you can get easy access to their content. Once you download the app, then you can stay updated with the new stories, news, and others from the best news sources, blogs, magazines, and others. So, now you can have all the important stories, news, directly on your Android device which matter to you. It also works in offline mode.
Google App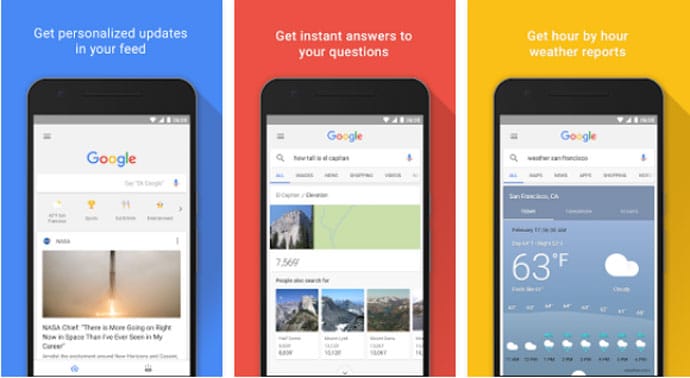 Here is the final solution to the magazine app problem. As we know, we can do many things with Google app including, reading news, stories from magazines, and others. Google app provides a lot of things that can make easy to read stories for free. When you search for something using Google app, you will find huge sources within a second. So, you can easily read your favorite stories, news, blogs using Google app.
Final Words
Reading stories from popular magazine, newspaper, bloggers, is easier than before. There are a lot of sources which providing the top stories from every genre. Now you can download one of our listed Android Magazine App to read stories for free. No doubt, you can enjoy an unlimited bundle of stories based on your choice.