If you are a student, you need to read lots of books. Or you may love to read books. It is not easy to carry printed books or magazine because of several limitations. So you can easily take lots of books and read anywhere, anytime with the help of your Smartphone and eBook Readers Apps for Android. eBook Reader Apps also called as eReader Apps. You can easily install an eBook Reader App on your Android Phone and Tablet and convert your Android Device as a book.
It is not easy to find a good eBook Reader App for Android phone or tablet. When you search for an eBook Reader app which comes with various functions and features, you will find a few apps. Also, most of the eBook Reader Apps comes with the premium version. Here, I'm going to share some Free and Best eBook Reader Apps for Android. Just choose anyone from this list, download it, install on your device and enjoy reading books for free.
Best eBook Reader Apps for Android
Ebook Reader
The Ebook Reader is one of the most popular and Best eBook Reader app for Android, which you can use for free. Enjoy reading books anywhere and anytime with your Android device using this eBook Reader app. This is a lightweight app specially optimized for Android Operating System and comes with several features. Save your favorite eBooks and sort the list according to book's name or author name.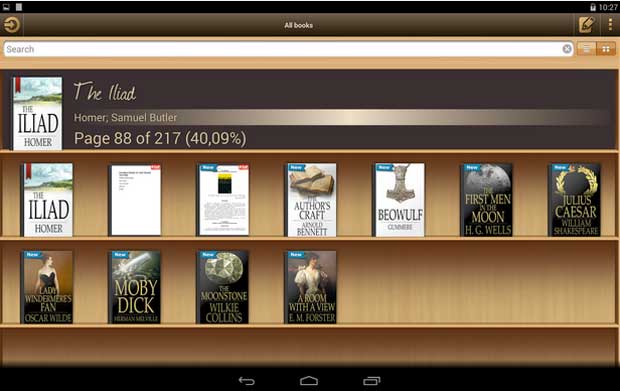 Key Features
Support Ephub3 format
Change page with tap or swipe
Landscape or partial view
Night-reading mood
Sync eBooks from any online eBook Shop

Aldiko Book Reader
The Aldiko Book Reader is a Free eBook App for Android, which is one of the leading eBook reader apps for Android OS. There is a Premium Version of this app available with more features and functions. More than 20 million people from 200 different countries use this eBook reader app to read their favorite books. The app comes with several customized features including adjusting font size, font type, background color and much more.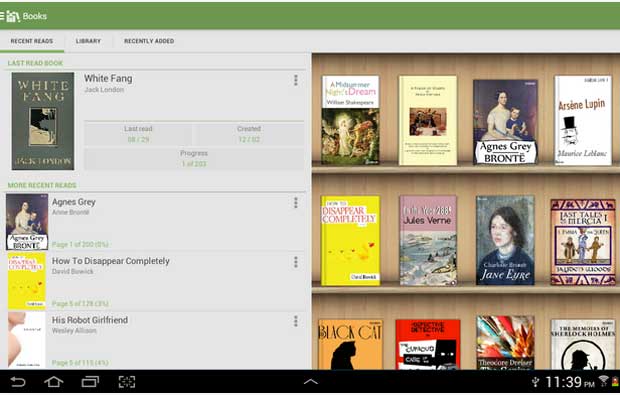 Key Features
Support EPUB and PDF formats
Import ebooks from public libraries
User-friendly interface for both newbie and advanced users
Advanced library management system
Purchase eBook using the app directly

Google Play Books
Want to read your favorite book from millions of books on Google Play including best-selling books, newly released books, and textbooks? Then the Google Play Books App is the perfect one for you. Using this eReader app, you can easily adjust the font size, choose the best front and choose colors to improve your reading experience.
Key Features
Best user experience with offline read feature
Bookmark page, highlight text or add personal note
Upload and save personal e-books with EPUB and PDF formats
Browse more than 4 million Free eBooks
Buy or rent textbooks directly using this app

Moon+ Reader
The Moon+ Reader is another free and best eBook reader app for Android that also comes with various functions and features. This is a highly customizable and functional app to take control of your eBook and get better user experience. Read thousands of eBook for free. You can also import your personal eBooks with PDF and EPUB formats.
Key Features
Support more than ten different formats
Various visual options including line space, font scale, font size, etc.
Comes with ten built-in themes
Three different font scrolling options
Adjust brightness and keep your eyes healthy with a long time reading mood feature
Highlight texts

Cool Reader
The Cool Reader is a top-ratted eBook reader app for Android, which supports EPUB, PDF, fb2, doc, txt, RTF, HTML, chm, tcr, pdb, PRC and MOBI formats. Get the best user experience with this app and read books for a long time. The app comes with Multilanguage support feature including Chinese, Japanese, Korean languages and much more.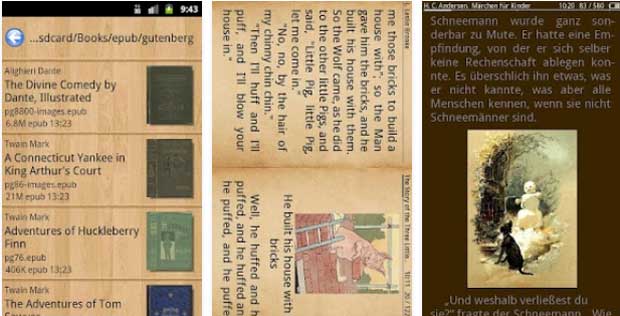 Key Features
Page flipping animation with pages or scroll view
Bookmark your favorite pages
Online book catalog and book store
Export bookmarked pages as text file
Day and night reading moods

Save
Save