Nowadays, people like to use their Android smartphone and tablet to browse the web, watching movies, play games, reading eBooks as well as store important data. If you are the lucky owner of an Android smartphone or tablet and use your device to store sensitive data, then you must take backup those data to keep it safe from any unnecessary damage. Sometimes our device may crash for various reasons, or we may lose/steal it. So if we don't use any backup app to take backup important data, then we lost all data, including contacts, messages, emails, etc.
Thankfully, there are several Backup apps for Android devices available in the Android app market for free and premium. Different backup apps come with different functions and features. So you can protect our Android device important data easily using any of those backup apps.
After researching on several Best Backup apps for Android, we found some backup apps that are really effective and easy to use to keep our data safe. So let's have a look at our selection of some best and free backup apps for Android and download any one now on your device to keep your data safe.
Best Backup Apps for Android
App Backup & Restore
The App Backup & Restore is one of the most popular and top downloaded backup app for Android devices, which comes with various features and user-friendly interface. The app comes with some basic backup functions to take your device backup manually or automatically. You can select apps which you want to take a backup, and that will help to save your device internal/external memory.
The traditional backup system of this app will let you save backup data to the SD card easily. The app also has the capacity to restore any apps or data easily and quickly. The application manager contains an uninstall option to remove it from your device easily. There is also an option to send the APK file of this app easily to other Android devices using Bluetooth or Wi-Fi connection.

Super Backup : SMS & Contacts
If you are looking for a backup app for your Android device to take backup only SMS and Contacts, then the Super Backup App is the ideal one for you. This app is mainly popular for taking SMS and Contacts backup, but you can also take apps and other data backup using this app. You can take backup automatically or manually to SD card, internal storage, Google Drive or Gmail easily using the Super Backup app.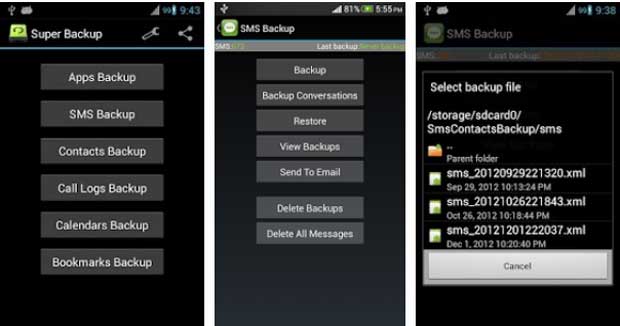 Choose each thing individually like SMS, Contacts, Calendar, Call logs, Bookmarks, etc. to take backup automatically. There is also an option to take backup of all app download links of Google Play which will help to keep all apps safe. You can restore contacts, SMS, bookmarks or calendar information from the SD card to the device quickly. The simple and user-friendly interface makes this app perfect for both beginners to advance level users.

Backup Your Mobile
If you're looking for a smart backup app for your Android device to take backup everything of your device, then the Backup Your Mobile is the best one for you. This app will let you take backup your device data automatically to popular cloud storage like Google Drive, Dropbox or OneDrive. Like other traditional backup apps, you can also store backup data to SD card or device storage.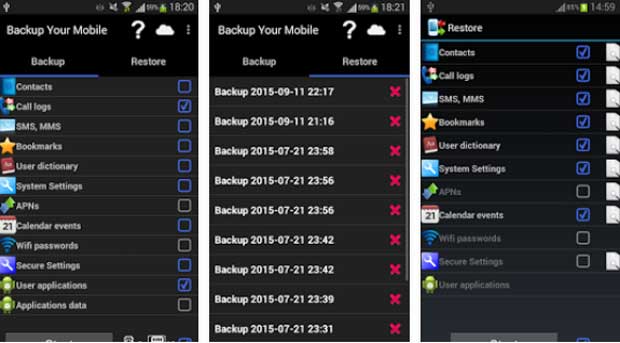 Using Backup Your Mobile App, you can take backup of your device Contacts, SMS, email, MMS, call logs, device settings, calendar events, bookmarks, browsing history, user application, Wi-Fi password and much more. You can create a backup schedule to take backup your data automatically to SD card or cloud storage.

Titanium Backup ★ root
The Titanium Backup is another most popular and top rated backup app for Android, which is considered as must have backup app for root users. As the app mainly designed and developed for root users, so the app has limited features for non-rooted users. This is a secure backup app which let's take backup your device data manually or automatically.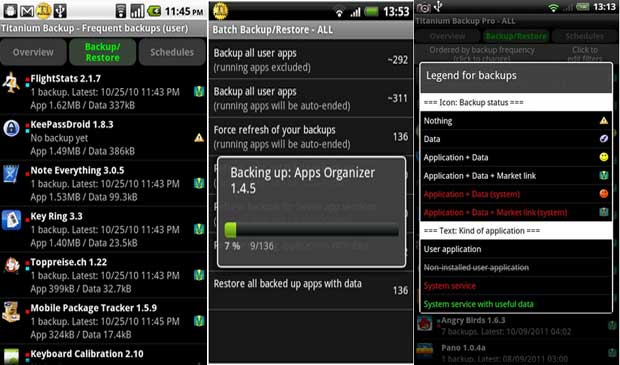 You can easily freeze, uninstall or backup to cloud storage/SD card using this app. There is a premium version of this backup app available with tons of features and functions. The most popular pro features are 0-click batch restores, multiple back-ups for each single app, take or restore individual data, create an unlimited backup schedule and much more.

CM Backup – Safe, Cloud, Speedy
The CM Backup is a popular cloud based backup app for Android, which is developed by Clean Master. Using the CM backup app, you can take backup of your device contacts, SMS, call logs, bookmarks, browsing history, calendar events, alarm, and dictionary. When you install CM backup on your device, you will get 5GB free cloud storage to keep your backup data safe.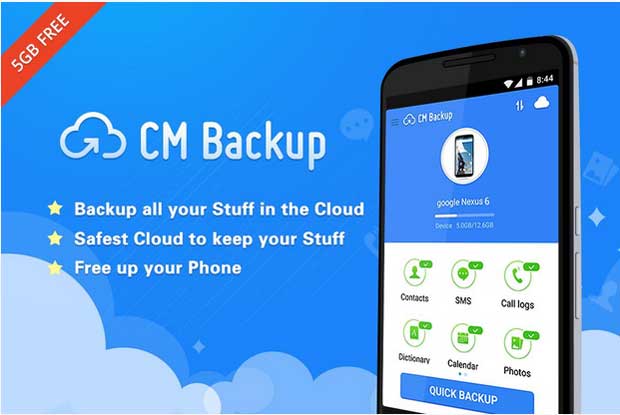 As CM uses secure data transfer and storage on Amazon S3 services, so you don't need to worry about your personal or business data. Create a scheduled backup time to take backup automatically. You can also download your backup data directly from their website using this link https:\\cloud.cmcm.com.

Save