Android devices are not only for simply make a call or having fun but also you can do some important task using your Android devices. At present, Android has become more powerful and useful to do so many things such as official tasks and much more. You can now use your Android device a variety of purposes like creating and editing spreadsheets and presentations, drafting and editing of complex documents, and much more. You can find such apps in Google Play Store to do office work on your Android devices. Our experts also recommend you the top 10 Free Office App for Android given below.
Best Free Office App for Android
Polaris Office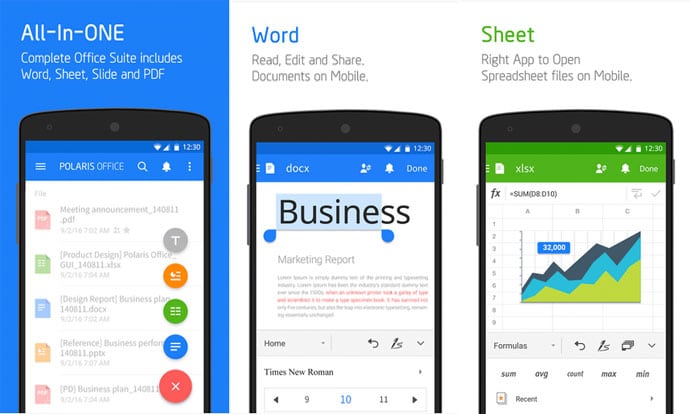 Polaris Office is one of the Best Free Office App for Android. Polaris is a top-rated office app, and it's an editor's choice app. Polaris Office will let you free to use your creativity. You can work on Docs, Sheets, Word and PDF Reader and can open almost all kind of files such as Microsoft Word, Microsoft Excel, Microsoft Powerpoint, Spreadsheet, Slide, and Google Doc using Polaris Office. It has so many editing options including Drawing tools, Editing tools, Direct photo and video insert option and much more. You can also use 24 templates, 20 2D/3D charts, 37 slide transition effects, 173 different shapes, and more than 300 formulas for your spreadsheet while you are using Polaris Office on your Android device to do the office work.
Microsoft Office Mobile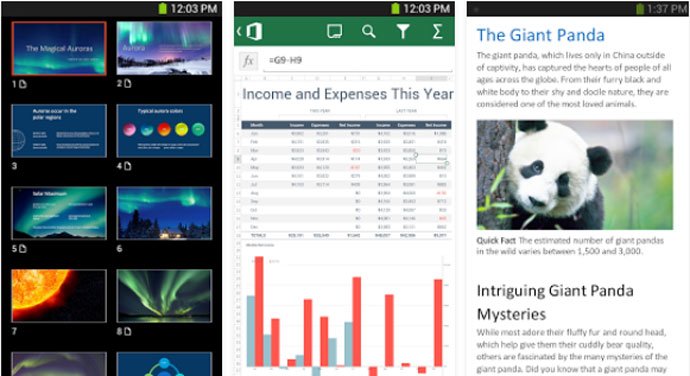 Microsoft Office Mobile is very well-known apps to do office work on your Android device. Microsoft Office is another Best Office App for Android. This one offers you to access, edit, and view your word, excel, power point documents from anywhere. Microsoft Office Mobile is Cloud connected app, so that, you can get easy access and can quickly find your recent file from recent file panel. It will allow you to create and edit your documents very quickly. In one word, you can comfortably use the app to create and edit your important files through your Android from anywhere.
Google Drive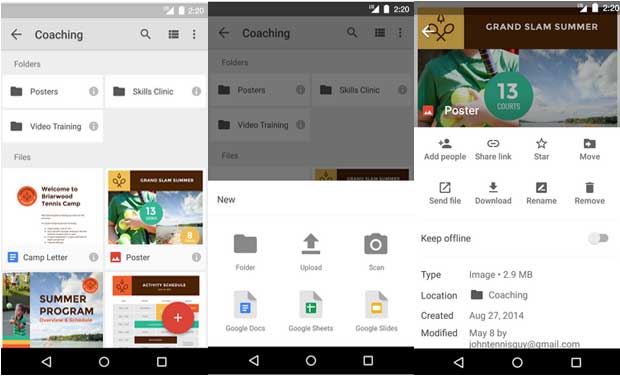 Another Editor's Choice App of our list is Google Drive. Google Drive is a Free Office App for Android with some useful features. Google Drive is a Cloud app, and its offers you to create and edit your file using Google Doc, Google Sheets, Google Slides, PDF reader. As a result, you will be able to do your all kind of official tasks with the help of Google Drive and your Android Device. At the same time, you can save your file to the Cloud storage and can access from your all devices.
Office Suite: Free Office + PDF Editor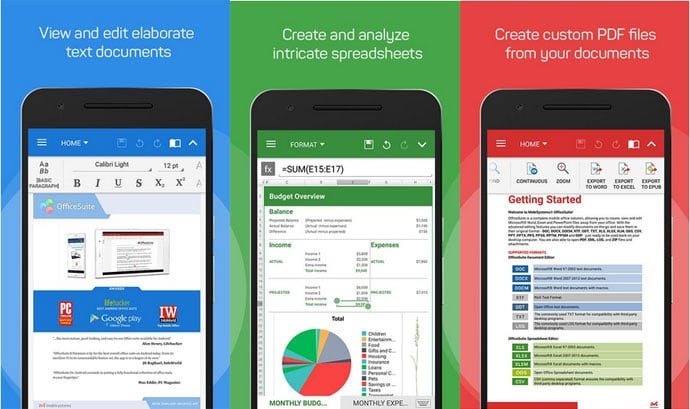 Office Suite will let you view, create, and edit your Word, Excel, and PowerPoint documents. You can create, edit, and view complex office documents with Office Suite's desktop style interface. On the other hand, Office Suite is compatible with almost every format of files. At the same time, it will support PDF file to view, create and edit. You can also use some useful features including, text-to-speech support, integrated with File commander, sharing option via Cloud, PDF editing and security, and much more.
WPS Office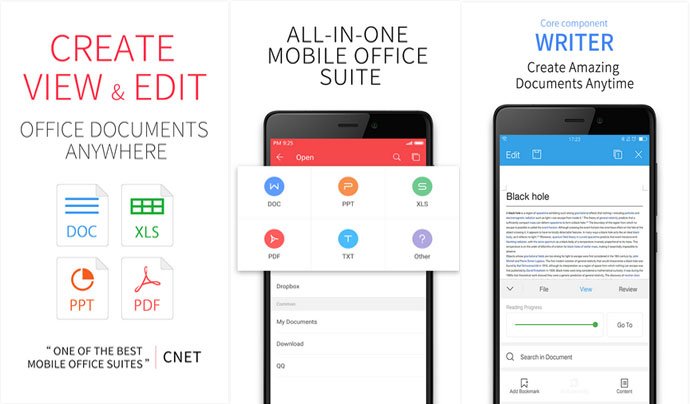 WPS Office is one of the popular office apps among the people, and probably it has the most number of user rating on Google Play Store. You can make quick office documents editing, creating using the WPS Office. The app is integrated with the memo, spreadsheets, and presentation. On the other hand, WPS Office has PDF converter to convert your all office files to PDF, and PDF files to Office files. It will also let you connect with Cloud to get easy access and edit from Dropbox, Google Drive, Box, and others.
Smart Office 2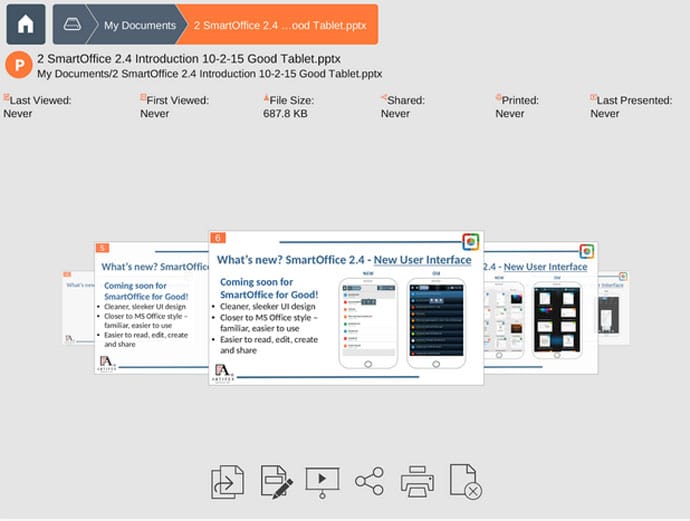 Smart Office 2 comes with all the basic and some advanced features that you need to do your office work using your Android. As a result, you can feel free to create Word file, Excel file, Spreadsheets, PowerPoint file as well as; you can view and edit those files too. It has all the basic editing tools for word files including, copy, cut, paste, undo and redo. At the same time, every format has the minimum essential editing tools. Cloud storage is also available to save and share your files on storage easily.
Docs To Go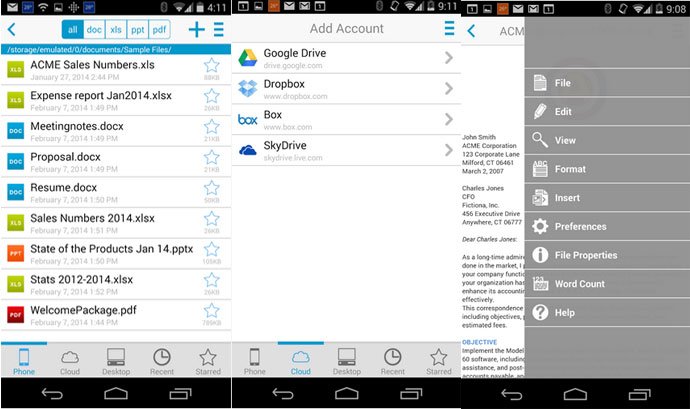 With the help of Docs To Go, you can now work from anywhere. Docs To Go is another Best Office App which can fulfill your demand as an office suite app. Create and edit word file with all the necessary format and editing tools like a desktop. Make multiple sheets, open a PDF file, or make a slideshow by Docs To Go with its rich features. As well as, you can save changes directly from your all devices including, memory, Android, Desktop, and others. Other features like file sorting feature, multi language option is also valuable for a perfect office suite.
OffiStar Word Excel PowerPoint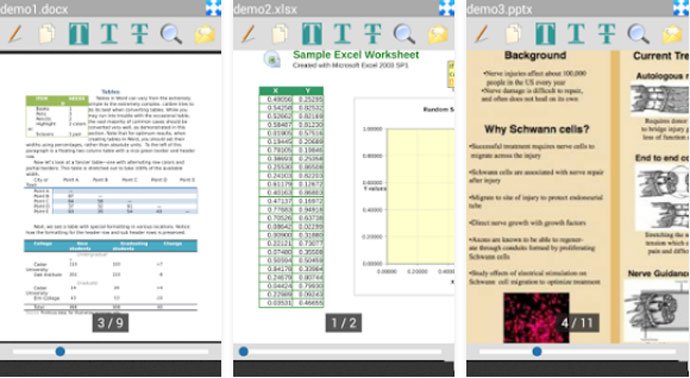 Wherever you are or what type of files you want to create and edit, now you can do it with OffiStar. Use OffiStar to create your word, excel, and powerpoint documents using OffiStar. OffiStar is compatible with Microsoft word, excel, and powerpoint, as well as you can open and edit your PDF files. Other important features like email attachment, highlight and underline in the text of the document, and much more are also available in OffiStar. Additionally, you will get the Cloud advantage to store and get easy access to your documents.
AndroOpen Office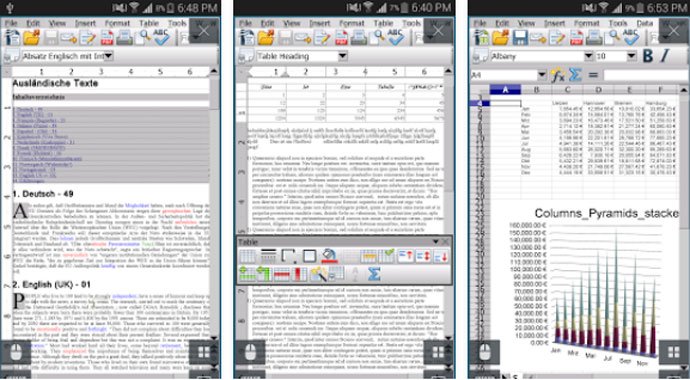 Use your Android Mobile or Tablets to view, edit, create, insert, and export office documents with the help of AndroOpen Office. AndroOpen Office is a complete office app with a rich amount of features for your official needs. So, you can work on Word, Spreadsheet/worksheet, Impress (presentation graphics), Drawing, Math, and Base, and the most important thing is AndroOpen Office support files from almost every format. AndroOpen also offers you, Cloud storage option, Password for files option, Spell checker, and much more.
Quip: Docs, Chats, Spreadsheets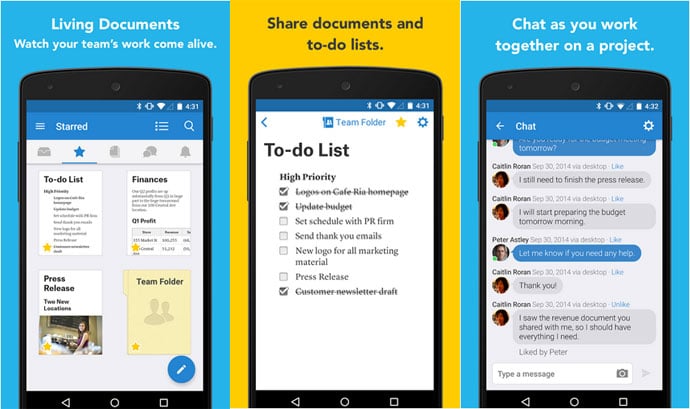 Quip is a new office app in this race, but the app already took place among the people with its useful features.  The main features of this app are Docs, Chats and Messaging, Spreadsheets, Export and Import, Access on Any Device. So that, you can do all of the basic tasks using Quip. Making a Documents, Real-time chat, Full featured Spreadsheets with 400 Functions, Easy Access from Your All the Devices, Import and Export Advantage from Cloud is very easy with Quip.
Final Thoughts
Office app is something that can help you a lot if you can choose the right one. As a result, you can check this list of Best Free Office App for Android to get the right one for your Android. Just test the features and functionality of these apps, and you will get an idea about the perfect office app. No doubt, you will get a better experience of using office app.