Android Tablets and Smartphone comes with tons features and functions. The most important and interesting things of an Android device is, you can change or customize its features and functions. The user can change the core app of their device. The gallery is one of the important parts of an Android Device, where you can store your favorite photos, videos, music etc, and you can preview them as well. So you need a useful Gallery app for your Android device. To get a perfect gallery app, we reviewed the 10 Best Gallery Apps for Android Tablets and Smartphones.
Top 10 Best Gallery Apps for Android
Google Photos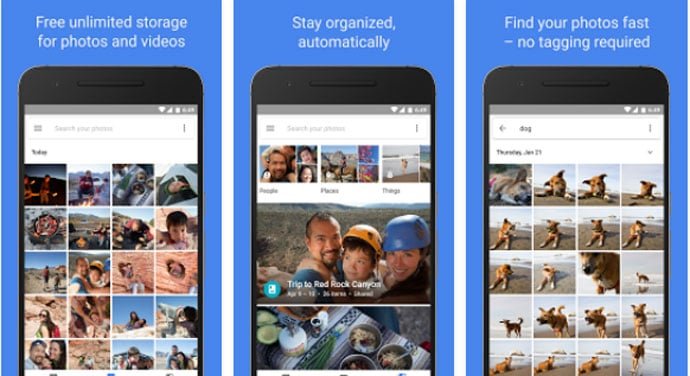 When you need a Best Gallery Apps for Android, you can try Google Photos. With tons of features, no doubt, you are going to have a great experience. Google Photos allows you to save unlimited photos and view from any device with your account. Strong search system to find out your photos. Automatic album creation for your special occasion or trip or etc, and you can invite others to see the album. Easy sharing system, advanced photo editing tools, and you can view your photos on your TV by Chromecast.

QuickPic Gallery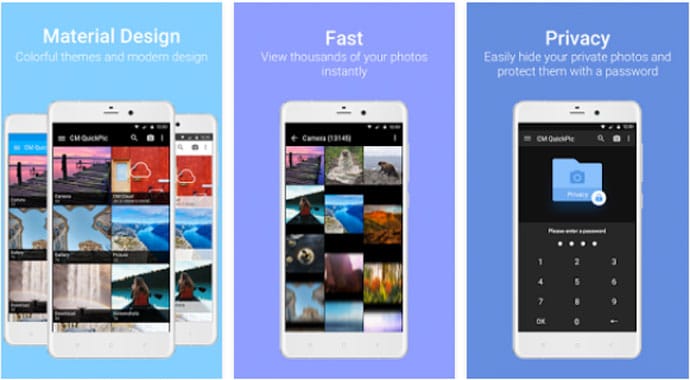 Quickpic is one of the Best Gallery App for Android. With a huge number of downloads and a good number of rating, Quicpic is very popular all over the world. Beautifully designed with colorful themes and a transparent layer. It's a very quick app and you can view thousands of photo instantly. It has a powerful file management system to manage your files. Privacy system of this app is cool, you can hide photos and you can lock the app with a password. CM Cloud for backup, HD quality slideshow support, a Built-in photo editor to edit your photos, and Storage support.

My Roll Gallery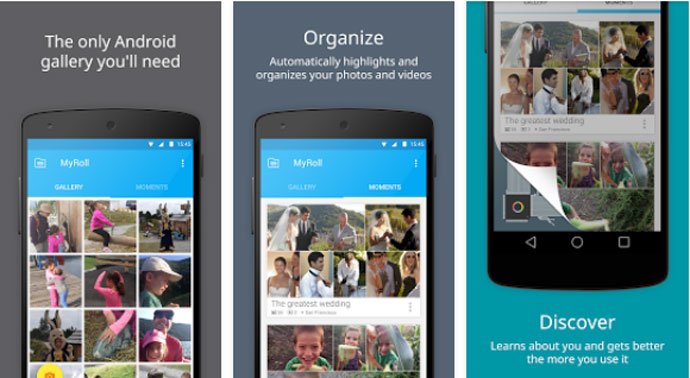 My Roll Gallery is another best Android gallery app from the top developers of Google Play Store. The user will get classic photo gallery feel with one slick gallery view. The app will organize all your photos and videos automatically based on date, time, and location. Smart mode to identify similar photos and best photos of your gallery. Easy sharing system will allow you to share your photos and videos with your friends easily, and you can share your photos on Facebook with one tap. Cloud storage of 50GB to store your files. My Roll also offers you to handle your gallery with your smartwatch.

A+ Gallery Photos & Videos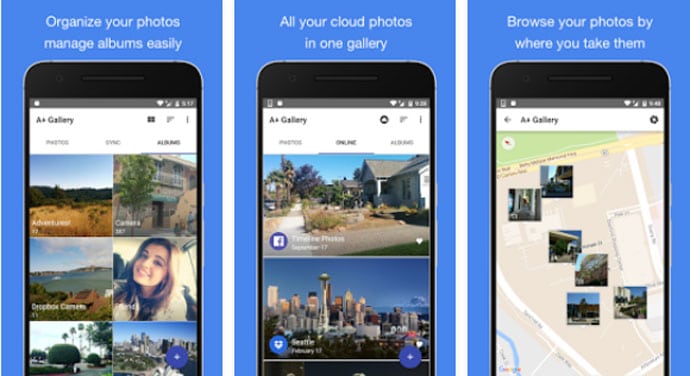 If your device run slow and you are getting bored with a slower view of your gallery than you can try this one. A+ Gallery is very fast to show your HD quality photos. Customize your gallery with hundreds of themes and use very easily. Automatic organize system and Google map view to show where you took the photo. You can create several Album to keep your photos separate. Search option to search your photos and videos. Privacy option to keep your photos safe and secure. Backup and sync option are also available.

Piktures – Beautiful Gallery
Piktures is a very fast Gallery App for Android. Presently, everyone wants a faster device to do their daily work. As a result, Piktures will be one of the best choices for its speed. Beautiful interface and bold design. Calendar view for fast and easy browsing. Secured with a pin-code and drive for your protection and backup. Cloud Drive to access your Dropbox account. Location view to see where the photo was taken.

FOTO Gallery
For HD quality photos, you need a super-fast app which can load your photo instantly. Foto Gallery is a super-fast light gallery app. It's very easy to find your photos on Foto Gallery. You can hide or exclude private folders and hide pictures with a passcode. Trash folder for accidentally deleted photos. Fully customizable apps, Set favorite photo as folder cover, Rename folders and pictures, Crop, rotate, edit, Change app theme, Set wallpaper.

F-Stop Gallery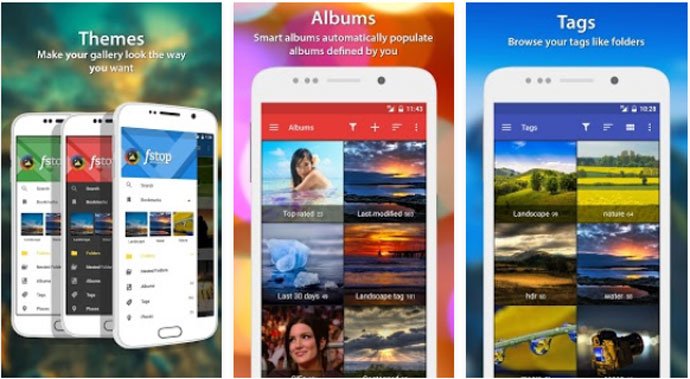 Replace your old and slow gallery app with one of the Best Gallery App for Android. F-Stop Gallery is fast and a lighter app which comes from the Top Developer of Google Play Store. Beautiful material design and fully customizable. Easy search system to find out your photos. You can change the themes to get a new look, or you can customize your theme. Share photos on popular social networking site with few taps. Hide private photo or Album or Folder with a Password. Play GIF, Slideshow mode with the transition. It has a pro version with more interesting features, but if you are not interested in purchasing the app you can continue with the free version.

Vyom Gallery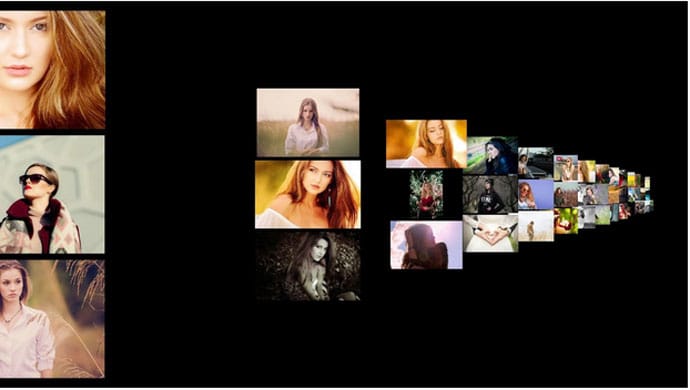 A better replacement for your built-in gallery app. Vyom Gallery is a very fast gallery app with the 3D look. Voymy introduces you the 3D style. Make your gallery photos alive with Vyom 3D style. Easy to customize and search for your desired photos. Easy share and high-quality slideshow. Set your favorite photo as a background image. Voymy also provides you configurable auto-hide bar, Folder excludes and restore, VR-mode video playing, etc.

Gallery KK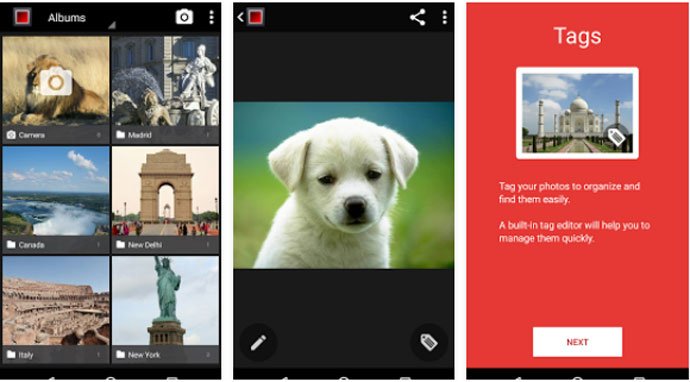 Gallery KK is a well-known gallery app for its simplicity and speed. It has the basic features with some advanced features. Very fast photo viewer to view your high-quality photos. Built-in photo editor and video trimming option are also available. Customizable action buttons, GIF supported, Gird view and Filmstrip view, Photo tag viewer. Gallery KK also provides you the freedom to hide your unwanted folder and secret folder.

Gallery – Phone Storage App
Finally, we are at number ten with Gallery by IKM Studios. Replace your old gallery apps with this beautiful 3D look Gallery apps. Fast and smooth gallery interface. Smart viewer for your photos and videos. You can view your high-quality photos within a second. Easy and HD quality built-in video player. Basic editing tools for photos and videos. Share to the social site from the gallery. To get a beautiful and professional look to your gallery you can try this app.

Final Thoughts
The gallery is an important part of our Android devices. For this reason, we all need something special and useful for our gallery. In this article, we reviewed these 10 Best Gallery Apps for Android Devices. You are free to choose your favorite one. In my opinion, you can get more useful gallery apps by replacing your old one with any of these gallery apps.
Save