Presently, having a great translation app is a blessing. From morning to night, we need a translation app for the various purpose of uses. For each and every one, it's like a personal assistant. If you are trying to learn a new language or you want to know something unknown, you need a translator app. You can find so many translation apps on the Google Play Store. You can pick anyone for you, but it might be unusual and irritating because of your lacking of having any idea about translation apps. For this reason, we have reviewed Top 10 Translation Apps for Android.
Top 10 Best Translation Apps for Android
Google Translate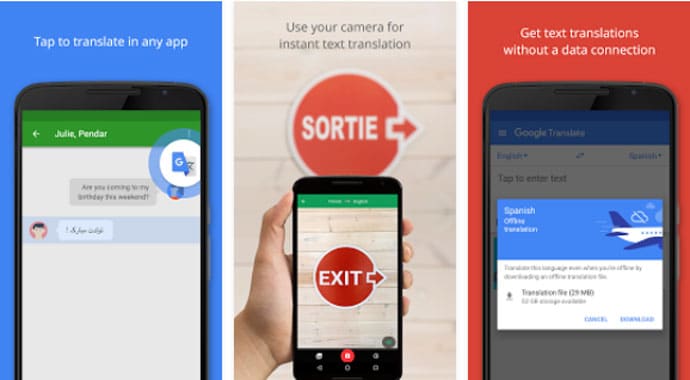 Google Translate is our top pick because it is one of the Best Translation Apps for Android. The app is very popular across the world. Because of its reach collection of language, probably this one is the most downloaded translator app. Google Translate offers you to translate 103 languages by typing. Translate from 52 languages when you don't even have the internet connection. Another key point, you can translate using your camera, and its allow to 30 languages. At the same time, it has a camera mode which allows translating 37 languages by clicking photos. You can even translate 93 languages through your handwriting. In addition, it also has two-way instant speech translation mode to translate 32 languages by voice.

iTranslate – Free Translator
iTranslate is one of the most accurate Translation App for Android. So that, you can get the accurate results for 90 languages. You can get a sufficient result from iTranslate if you have some knowledge about the language you want to translate. Huge resource in the dictionary with synonyms and different meaning for the same word. Male and female voices to listen to the translations. In one word, with the help of this app, you can easily translate text or voice-to-voice conversation in over 90 languages.

Microsoft Translator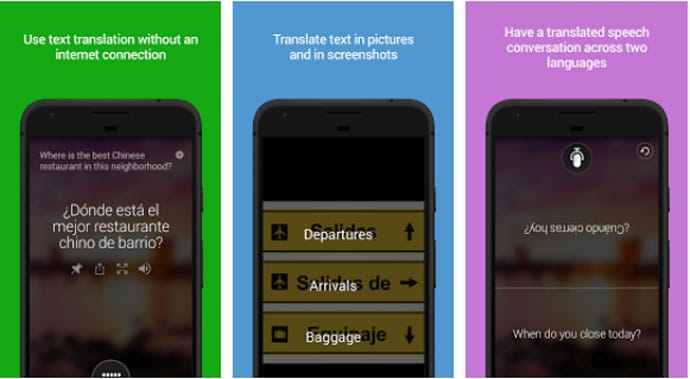 Microsoft Translator is another Best Translation Apps. This free translator app offers you more than 60 languages to translate. Text translation for 60 languages as well as online and offline use. Camera mode to translate from photos and screen shots. It has all the basic and some advanced features including, Voice translation to translate speech and voice-to-voice conversations. Built-in phrasebooks for verified translations and pronunciation guides to help to learn. It also provides offline mode, and you can pin or save the translation you use frequently.

Yandex. Translate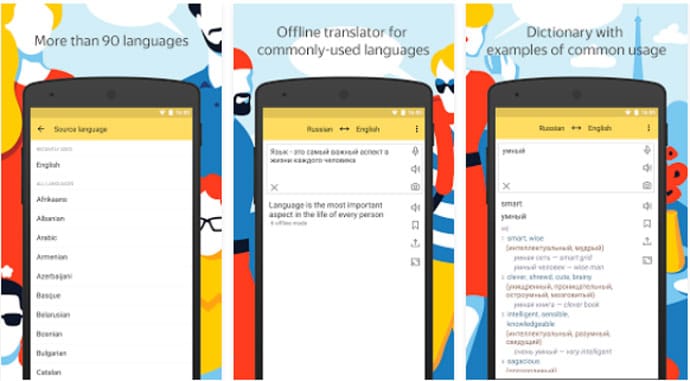 Let the app help you to translate more than 90 languages. This easy and simple app comes from the top developer of Google Play Store. So, you can translate from about 90 languages using this app. Other useful features including, camera mode to translate from photos, road sign, and book page. You can translate a whole site through the app. Visual text recognition for 12 languages. Automatic language detection mode to detect the given language automatically. It also allows you to save translation in favorites. Although, this one don't allow offline mode for all languages.

Translate Voice – Translator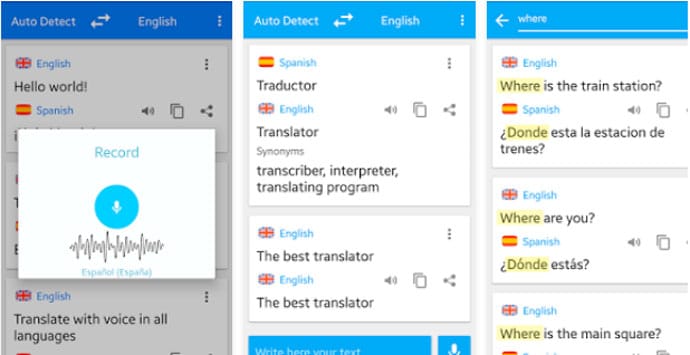 Best for voice translate across the world. Translate voice offers you the best voice translation apps to have a great experience. Translate more than 80 languages over the voice as well as translate from typing text. With the help of this app, you can translate and learn languages easily. Other key features including, Spelling correction, word suggestion. It also saved the latest translations automatically. One thing to remember, input for all languages and output for 44 languages.

Easy Language Translator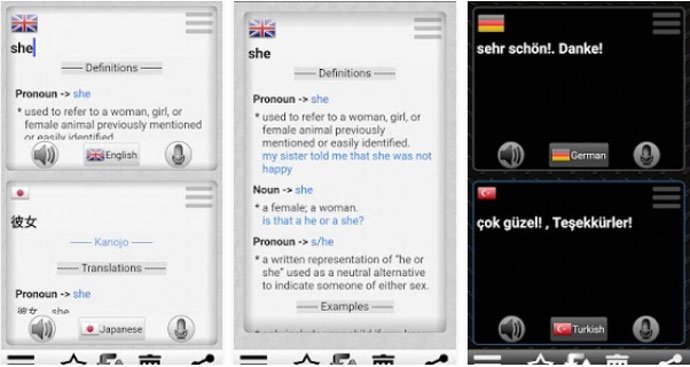 Easy Language Translator is very easy to use and fast to translate. Translate more than 79 languages, and learn quickly. Not only for text, but also for voice translate. While translating something, you can listen to your translation. Use your voice to translate over the voice. Add to favorites to use frequently. Copy the translation and send it to your friends and family. Other useful features including, speech to text, and text to speech. At the same time, it has very nice graphics to enjoy the using moment.

Translator Speak & Translate
Turn your mobile into a simultaneous interpreter using Translator Speak & Translate. This translator automatically detects and converts speech into one of 100 foreign languages. Another key point, this one use Google Translate and Microsoft Translate services to provide you better service. The user can use dialog mode to communicate without clicking. Save your favorite phrases to the favorite list to use when you are in offline mode. In addition, the app has a home screen widget to get faster access to the app and favorite list.

PONS Online Translator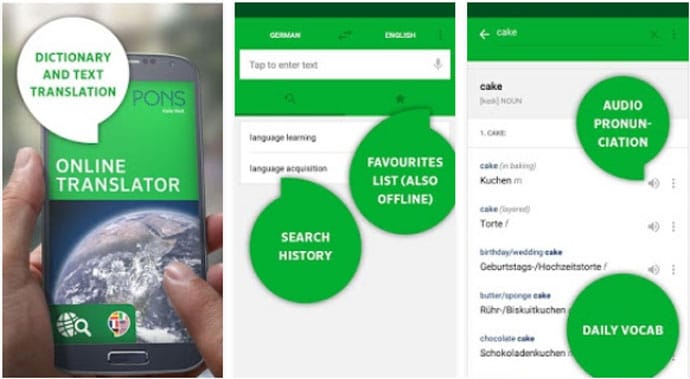 Although, this one is an online translator app, but still this one is another best Translation Apps for Android. Get quick, accurate, and reliable translation for 36 languages with 40 PONS Dictionary. As well as, you have access to a total 40 dictionaries. Intelligent search system to find words and phrases. As a result, you can search for words or phrases just type in and say the search term. You can save the important searched and entries to the favorite which you use frequently.

Instant Translator (Translate)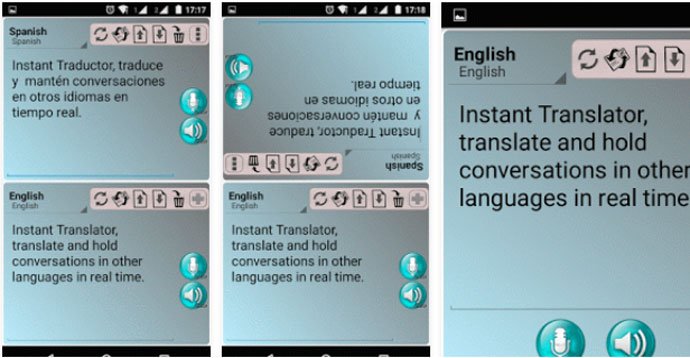 Translate any word or phrases instantly with Instant Translator, which is one of The Best Translation App. Simply use the app without facing any problem because of its easy user interface. Translate more than 96 languages by typing text. At the same time, translate more than 40 languages by voice. It has audio playback system for the translations. So that, you can listen it for better use. It also allows you to copy and paste in the clipboard.

Reverso Translation Dictionary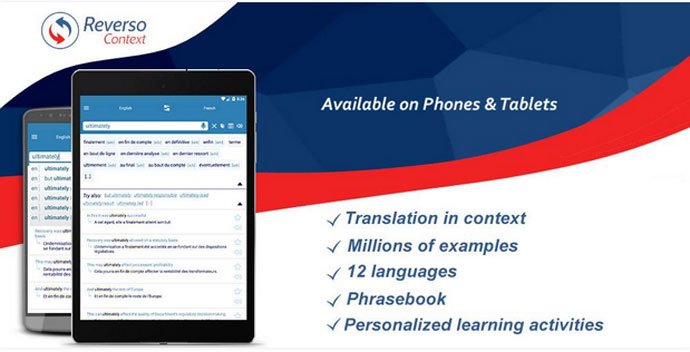 Learn millions of words and instant translation for 11 languages with the Reverso Translation Dictionary app. Intuitive design and user-friendly interface make it very easy to use. It's suitable for both beginners and professionals. Vocabulary lists based on your personal selection of example and translations. At the same time, it has offline features for your travel use. You can learn the complete pronunciation of complete example sentences. Sharing option also available to share your finding via email or social sites.

Final Thoughts
In your everyday life, you might face a problem with languages. For example, sometimes we need to read something written in the foreign language, or we want to learn a foreign language. In this purposes, we need a useful translator app to help us. For this reason, we listed the top 10 Translation Apps for Android. Get your favorite one to have a great experience in translating and learning foreign languages.