Nowadays, An Android Tablet is one of the most important elements for most of the people to do their personal/business tasks, reading books, browsing the web or playing games. If you are the owner of an Android tablet, you may search for some apps for your tablets to make your tasks easier and increase your productivity. There are thousands of Android Apps for Tablets available in the Google Play Store and the other Android app marketplace, so you need to find some excellent and essential apps which are really important for you.
So in this post, I'm going to share some Best Android apps for tablets, and you can use these apps for free. Just check the list and download those apps which are really essential and important for you.
Android Apps for Tablets
Amazon Kindle
With a large size screen Android tablet, you may love to read books, and Amazon Kindle is one of the best options for you. If you have already a Kindle device and have an account, you can easily sign in and sync your account information as well as books on your Android tablet using this app. So if you love to read books, then this is an essential app for your Android tablet.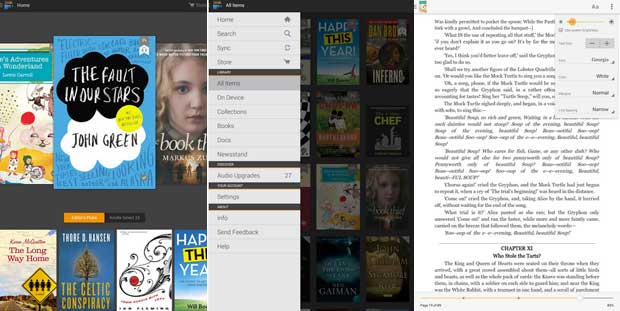 The Pros
Huge library of free and premium books
Comes with built-in dictionary app, Wikipedia and Google search feature
Customize everything including brightness, screen size, background color, etc.
Read thousands of free books, newspapers, and magazine
Read a sample copy before buying any books
The Cons
May not perfect for free users
Several users find difficulties with updates

myMail—Free Email Application
The myMail is one of the most popular email apps for Android, which is also an essential Android App for Tablets. Using this, you can easily mail to the people for personal and business purpose. You may use more than one email service and need to follow-up all email accounts from one place. If that, then this is an ideal email app for you because you can easily connect almost all popular email services using this app.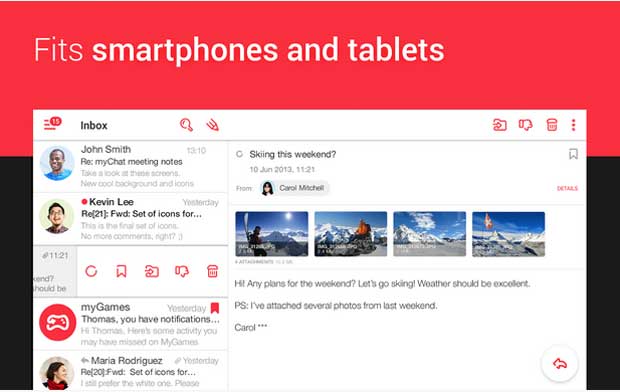 The Pros
Support Gmail, Yahoo, Hotmail, AOL, Apple, My Mail, etc.
You can easily set-up any mail service using IMAP or POP configuration
Real time email notification feature
Advance spams filtering option
Built-in email search feature
The Cons
May not perfect for business or corporate users who need to send and receive bulk emails
Several users find bug issue

CalenGoo
The CalenGoo is one of the most popular free calendar app for Android Tablet that comes with the highest rating. You can easily sync Google Calendar with CalenGoo. This is a lightweight, and a faster calendar app comes with five different user-friendly views. There is a free and a premium version available for this app with various features to organize your schedule and meeting.
The Pros
Drag and drop feature to cut, copy, remove or move any entries
Built-in widgets for home screen
Advance time and date picker
Advance search filter
Sent appointment, event or schedule through SMS or email
The Cons
Free version available with a few features
Print function only available in the Premium version

OfficeSuite 8 + PDF Editor
The OfficeSuite 8 is another most important and best Android app for Tablets to read, create and edit office files easily and quickly. You can work on your Tablet like your PC to view, create and edit Microsoft Office, Excel or PowerPoint files and documents. With over 50 million downloads and 55 thousand daily activities, this is also one of the popular office suites.
The Pros
Integrated with several cloud services
Built-in file manager feature
Built-in PDF reader and editing feature
Use digital signatures to sign in the PDF document
Several features available with the PRO version
The Cons
Poor bullet style and no merge option
May not user-friendly for beginner level users

Opera Browser
A browser is another essential app for the people who need and love to browse the web from their Android Tablet. You will find hundreds of free and premium browser app for Android, but you must choose the best one to enhance your web browsing experience. The Opera Browser is one of the most popular and user-friendly browsers for both beginner and advanced level users. The browser comes with secure, private and easy to browse features.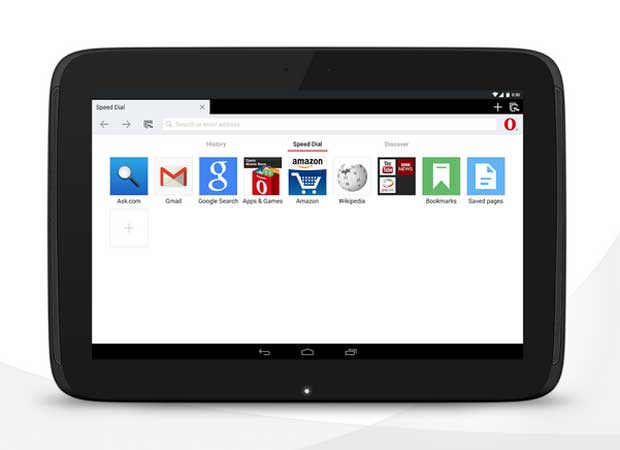 The Pros
Sync your bookmarks, speed dial and others data with an Opera account
Private browsing option with the private browser tab
Built-in search option to search the web instantly
Organize your bookmarks, favorite pages and much more
Text selection menu
The Cons
Not good enough to download files and documents from the web
Some user finds difficulties with the updated version

WhatsApp Messenger
The WhatsApp Messenger is a popular messenger app for tables that you can use to send unlimited messages to your friends. Easily connect with your friends and family and chat with them with this messenger app that is also available for other operating systems.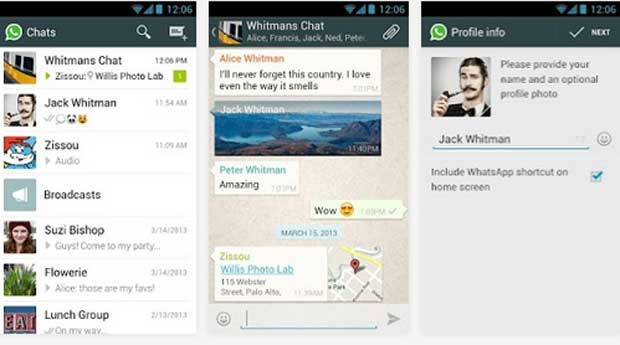 The Pros
Send images, videos, voice message, files and documents through the messenger
Call your friends and family through WhatsApp calling feature
Create and enjoy group chat
Connect with your buddy one using your tablet contacts list
Offline message feature
The Cons
No automatic backup for old messages
May not good to transfer the large size image with good quality

CM Security Antivirus AppLock
The CM Security Antivirus AppLock is great and user-friendly antivirus app for Android Tablet. This is the number 1 Antivirus App for Android device by the AV-Test, and the AV-Test is the leading independent organization in Germany. This app helps to identify and delete malware or virus from your Android device easily and quickly. The AppLock feature also helps to lock any app or image gallery to keep safe your privacy.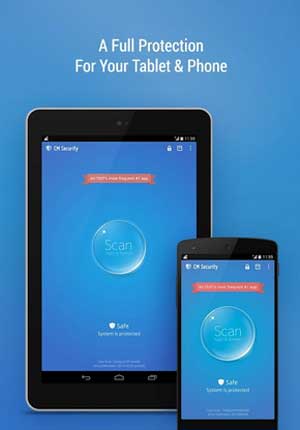 The Pros
Protect your device with the help of local and could antivirus engine
The Multilayer protection system helps to protect your device by scanning files, documents and newly installed apps automatically
Junk file cleaner and boost your device speed
Secure AppLock with selfie feature
The Cons
Take updates frequently
May slow down your device

SwiftKey Keyboard
The SwiftKey is one of the most popular, top downloaded and top rated Free Keyboard App for Android tablets. This is an award winning keyboard app that comes with more than 70 colorful themes and user-friendly interface. With the large size layout, you can frequently type anything for a long time.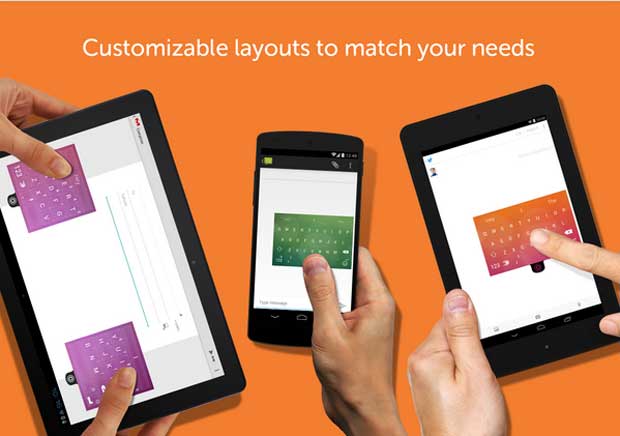 The Pros
More than 800 Emoji characters included
Trusted keyboard app by millions of people
Smart autocorrect feature for fast typing
Customize layout, color, theme and much more
Ideal keyboard app for SMS, Chat, text, and email
The Cons
Auto correction features not working fast
Update is terrible

ES File Explorer File Manager
The ES File Explorer File Manager is one of the most popular and top downloaded file manager app for Android device which comes with various functions and features. With more than 300 million downloads and supported by 30 different languages, this is the best file manager app for your Android tablet. You can use this file manager for free to manage your device files & folders, kill tasks, manage downloads and control cloud storage including Dropbox, Google Drive, SkyDrive, etc.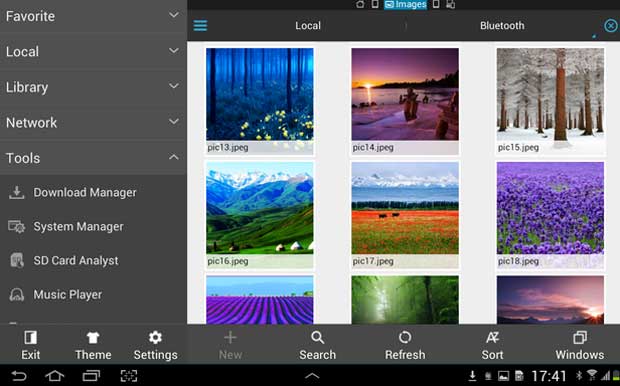 The Pros
Manage your files as like as your PC with the multiple select for cut, copy, paste and delete
Application manager helps to uninstall, take backup and create shortcut for apps
Remote file manager helps to control files and folders from your PC
Built-in file viewer and audio/video player
Tasks killer to boost tablet speed
The Cons
Some users find bugs in this app
May not good for Android 4.4 or higher version

Netflix
The Netflix is another popular and essential Android App for Tablets for the people who love to watch movies and TV shows from their Tablet. With more than 50 Million downloads, this is also a popular movie app for Android, which you can use to watch live movies. To watch live movies and TV shows using this app, you need to take the Netflix membership from their official website.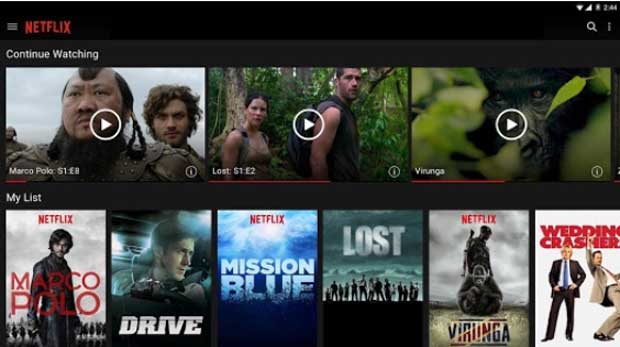 The Pros
Access unlimited TV show and movies with low monthly subscription fee
Thousands of TV episode and movies added regularly
Built-in search option to search your favorite movies or TV show
One month free trial membership
Low subscription rate
The Cons
May not perfect for slow internet connection
No password lock option

Save
Save