HP is one of the leading printer brands across the world. HP printers provide one of the best services from a long. Home or office, you can get a better service from HP. Presently, HP giving you an advanced level of printing. In this digital era, you can directly print from your Android device through HP printer apps. Using your HP printer and HP printer apps, you will be able to print anything from your Android device like Smartphone and Tablets. In this article, we recommend you these 5 best HP Printer Apps for Android. Hope it will help you to find a better HP printer apps for your Android Smartphones and Tablets.
Free and Best HP Printer Apps for Android
HP All-in-One Remote Printer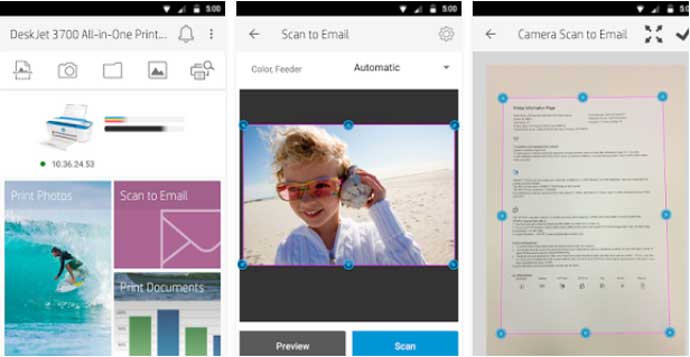 In the first place, HP All-in-One Remote Printer is one of the best HP Printer Apps for Android. The app will help you to scan and print documents and images from your Android device to HP printers. The app has an intelligent mobile scanning feature which will help you to create high-quality PDFs and images to your documents. You will be able to connect the printer with your mobile via a wireless network or wifi connection. Easily share your documents and images through cloud storage and social media sites.

HP ePrint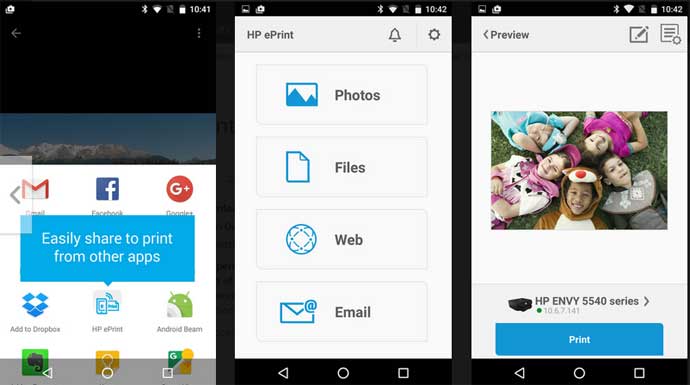 HP ePrint is one of the best HP Printer App for Android Tablet. Make your printing easier than before from your Android tablet, whether you are at the office, in the home, or on the go. You can print from your device over a Wi-Fi network, or directly to an HP wireless direct, or HP Wi-Fi direct supported printer. It will allow you to print from anywhere via the Cloud to a web-connected HP ePrint printer. It will allow you to print all kind of version including, PDFs, Photos, Web Pages, emails, and Microsoft Office documents.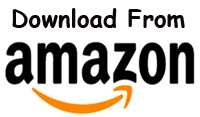 HP Print Service Plugin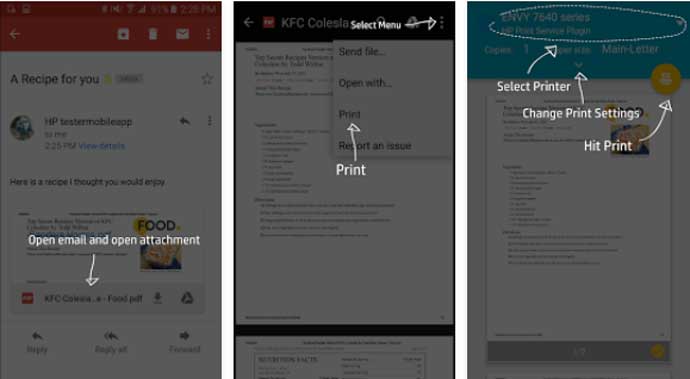 HP Print Service Plugin is another option for your Android device to print something directly from the device. This plugin enables printing on your Android device without any drivers. As a result, you can use this plugin to enables your Android device to print directly from your device. It will support almost every HP printer, and you can print from Gallary Photos, Emails, Chrome, Google Drive, etc. Easy to print and useful setting to have a great experience of printing.

Mobile Print – PrintShare
Mobile Print is one of the top printer apps to have an Android friendly printing advantage. You can use Mobile Print as an HP Printer Control App. The app is very popular, and it comes from the top developer of Google Paly Store. Print directly from your Android phone or tablet, and it works with almost any printer. Print almost everything you want including, emails, invoices, documents, images, web pages, bills, and much more. On the other hand, it has almost all the editing tools to have a great printing experience from your Android device.

StarPrint – Mobile Print App
StarPrint is another best choice for HP lovers. Through this mobile print app, you can control your HP printers. You will be able to print directly from your Android Smartphone and Tablets using this app. It's very easy to use, simply connect your printer and print via Wi-Fi, Bluetooth, USB, and Shared Networks. So, now you can print directly without installing any drivers or without using your PC. The printer app is free with ads.

Final Thoughts
Although there are so many printers and printer brand, HP is one of the best band ever. Most of the people trust the brand because of its high-quality service and tons of features. At the same time, the digital version becomes more popular. To control your HP printers we recommend you these best HP Printer Apps for Android. No doubt, your printing experience will be better than before with one of this app.
Save