Almost all the popular mobile manufacturer companies offer the Android operating system. Sony to Samsung, Xiaomi to Huawei most of the devices comes with the Android operating system. In this situation, if you want, you can bring a change on your device. With the help of some third party apps, you can enjoy full windows experience. Windows Launcher apps will help you to enjoy Windows 7, Windows 8, and Window 10 themes, and some features too. Lots of Windows launcher app are available on the Google Play Store, and this list includes the 10 Best Windows Launcher for Android.
Best Windows Launcher for Android
SquareHome 2 – Launcher: Windows Style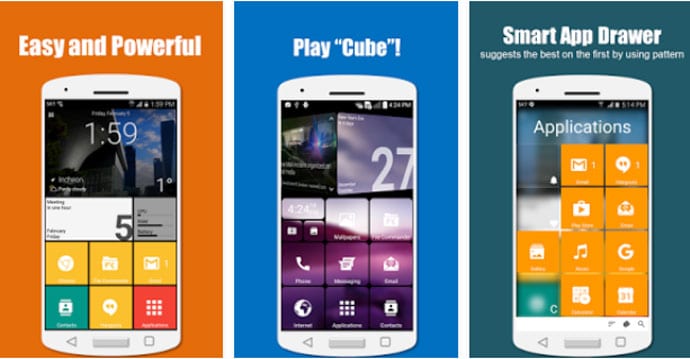 SquareHome 2 is one of the Best Windows Launcher for Android. The app comes with the metro UI of windows 10 to bring you the real taste of windows 10. The main features include the vertical scrolling in the page and horizontal scrolling from page to page. You can also enjoy the perfect metro style UI & tablet support, and beautiful tilt effects. It has lots of option to customize and smart app drawer to show your recently & most used apps. Apart from that, you can see the notification on the tile, and it will be count automatically.
Recommended: Stylish Launcher Apps for Android
Launcher 8 WP Style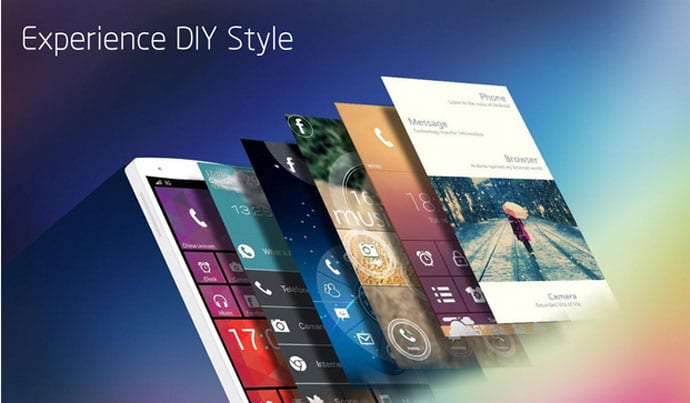 Let the app to enjoy you customizable windows phone layout on your Android phone. You can customize every site of the home screen including, Tile customization, choose different size of tiles, modify colors & icon, lock screen customization to manage your lock screen with your thoughts and ideas, status bar customization to manage your status bar with style, time display, & color setting. In one word, you will be able to enjoy the perfect windows layout with the help of this app.
Win 10 Launcher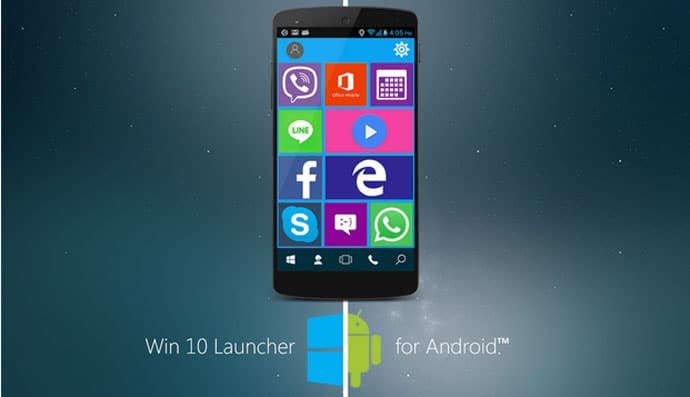 If you are bored with your typical Android UI and want to enjoy something new, then this Windows 10 Launcher is for you. With the help of this app, you can customize your phone with a new stylish look. This one is swift, clean, & it's very efficient to save your battery. The app offers you the classic & stylish home screen. It will also provide the option to customize theme color, tiles style, lock screen, and others. All the features to enjoy windows phone experience on your Android with an easy navigation system and home screen with best apps.
Arrow Launcher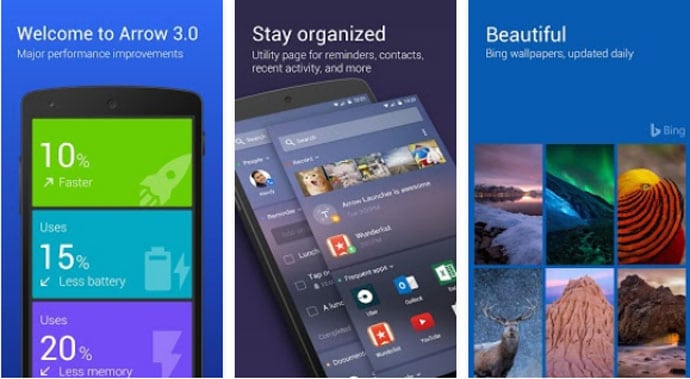 Arrow Launcher is another best Windows Launcher for Android,  and its comes from the Microsoft. It offers a radical simplification of the Android experience with this lightweight, fast, and efficient windows launcher. The most important thing, the app will let you customize it to your taste. Along with this, the launcher will help you to customize your home page layout, icon packs, icon color & size, wallpaper, and much more. Additionally, it has the Bing wallpaper of the day feature, which will add a new wallpaper every day to look fresh & new.
Metro UI Launcher 10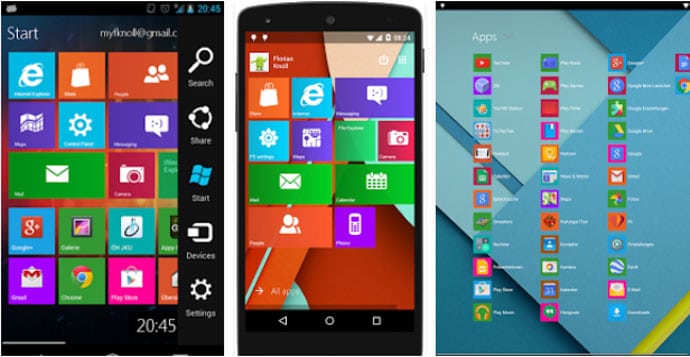 Metro Launchers are one of the best options for your Android phone to look new & stylish. Customize your home screen with Metro UI Launcher 10 which is inspired by windows 10. The app allows its user to customize the home screen with favorite apps, widget, and contacts, as well as tablet mode. With the help of this app, you can get quick access to your primary functions and can rearrange tiles with drag 'n' drop feature. You can also change displayed name & image and can customize the background with live wallpaper.
8.1 Metro Look Launcher – Theme, Smart, DIY
8.1 Metro Look Launcher will change your Android device look like never before. The app comes with a beautiful design, and it's effortless to use. Highly customizable, smooth & faster, multi color metro theme and less battery consumption will give you a better experience of using a launcher app. It's drop & drag feature will help you to set the tiles with finger tips. You can also have some other useful feature to control your device including, easy folder creating system,  the directly wallpaper set system from the gallery, quick access, and much more.
8 Metro style launcher Theme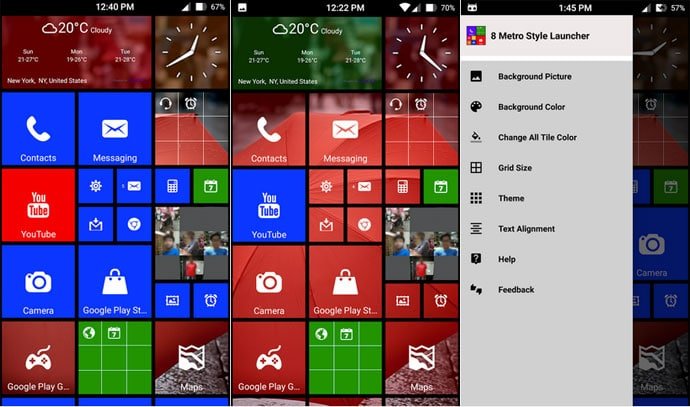 8 Metro Style Launcher Theme is another best Windows 8 Launcher to bring the windows style theme. It's quicker and smooth. The app has tons of features including, drag & drop feature to set the tiles easily, fast speed processing, easy folder creating system, specific tile settings, and much more. The app also provides HD 22 color, text alignment, easily uninstall with a single tap, tablet screen support, 9 HD launcher theme, and much more to continue.
Launcher 10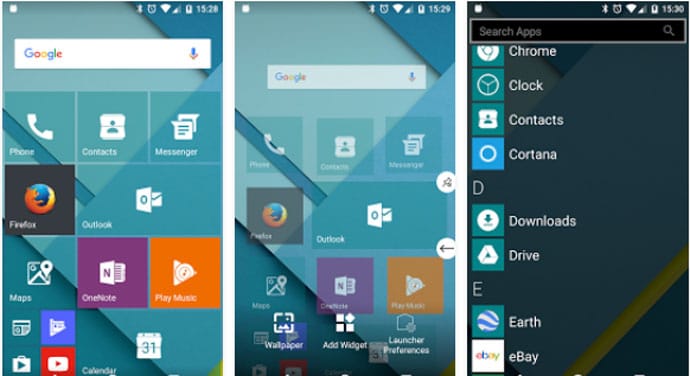 Launcher 10 is speedy and highly customizable windows launcher app for Android which is similar to windows phone. One of the perfect launcher with all the useful features. It has live tiles to show all the notification & contacts, calendar, clocks, and gallery. Pin app will appear on the home screen as tiles, and you can add the widgets to your home screen. The user can use landscape mode and can customize many things such as wallpaper, tiles color, tile transparency, tiles size, and much more.
Win 10 Metro Launcher Theme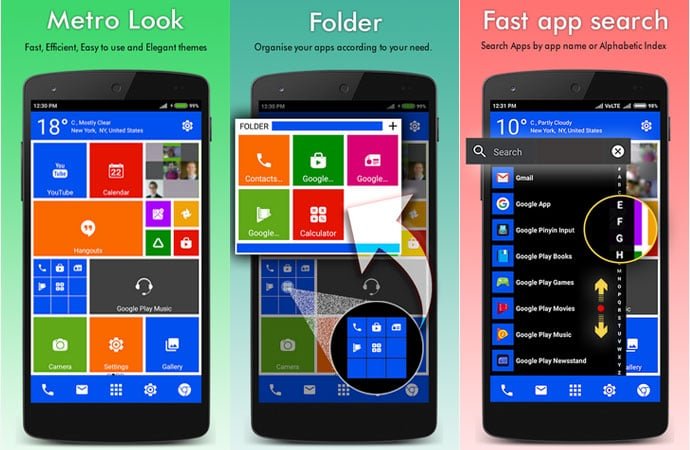 Win 10 Metro Launcher Theme is another best launcher to have a fresh look of windows theme on your Android phone. With the elegant theme, the launcher designed for mobile and tablet both. Ready to serve you a smooth and faster launcher experience. It designed to give you the Metro look with lots of customization option. It also has beautiful theme collection, easy user interface, quick access, weather information, extra widget, and much more.
Win 10 Launcher for Android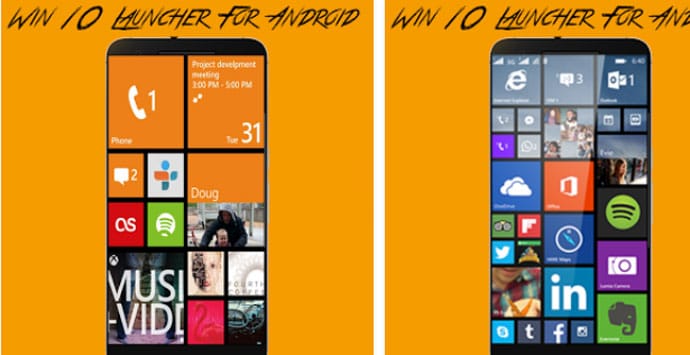 Win 10 Launcher for Android is an awesome option to bring windows phone look on your Android phone and tablet. This launcher is fresh, fast, clean, and very energy efficient. The launcher will fit on your Android phone and tablet both at a time. Customizable tiles, easy folder creation, resizable tiles with big & small tiles, beautiful lock screen, 5 HD theme, amazing animations, more than 15 languages support, quick access to the menu, and much more to give you a perfect launcher experience.
Closing Words
Want to surprise your friends with a new and stylish look? Well, windows launcher is the best option for you. With the customizable tiles, HD themes, resizable tiles, quick access, everything for a great look, we have listed the best 10 Windows Launcher for Android. Now it's up to you, which one you want to choose to have the best look at your demand. No doubt, you are going to enjoy a lot.